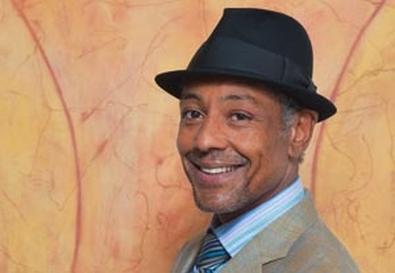 Giancarlo Esposito is an eloquent gentleman, capable of speaking at length on topics ranging from balancing his Italian and African-American heritages to the types of yoga he has studied over the years. So it's somewhat amusing that he is currently receiving such massive acclaim for a role that often requires him to be virtually silent. As low-key drug distributor Gustavo "Gus" Fring on AMC's hit drama "Breaking Bad," Esposito achieves maximum impact with a minimum number of words.
Take the recent Season 4 premiere, in which high school teacher–turned–meth manufacturer Walter White (played by Bryan Cranston) knows he has crossed Gus and is waiting in his elaborate laboratory to talk to him. Gus enters the room silently, and as Walter proceeds to babble apologies and negotiations, Gus slowly descends the stairs and dons a jumpsuit. The tension is unbearable as Gus calmly approaches Walter and his associate, Jesse Pinkman (Aaron Paul), while two of Gus' henchmen look on. Quietly, wordlessly, Gus picks up a box cutter—and abruptly slits the throat of one of the henchmen, holding him while he bleeds out. After taking off the jumpsuit and climbing the steps of the lab, he turns and says, "Well? Get back to work." And as he exits, not only Walt and Jesse but every contender for next year's supporting actor in a drama Emmy suddenly realizes what he's up against.
"Breaking Bad" creator Vince Gilligan calls the scene "an acting class in itself—a study in stillness and economy and then underplaying that astounds me repeatedly." But he admits that Esposito wasn't the first actor who sprang to mind for the part. "If you had asked me prior to seeing his audition, 'What do you think of Giancarlo Esposito?,' I would have said, 'He's this animated, expressive individual who's probably not right for this role,' " Gilligan reveals. "But once the audition was before us, the proof, as they say, was in the pudding. All of us—my writers, my producers, everyone—saw instantly that he was the guy. And so much of what Giancarlo brings to this character has further illuminated how we should move forward and write for this character. We see certain things in earlier episodes that Giancarlo brings to this character, and we enforce that in the writing. It's a group effort, in a sense."
Esposito has been a professional actor for more than 40 years, with a wide range of celebrated roles to his credit, but even he is surprised at how playing Gus has changed people's perceptions of him. "People can be very deferential when they spot me sometimes," he says. "Not until I smile does it give them an opening to shake my hand and say hello." While attending the Albuquerque Film Festival over the weekend, where he taught a master acting workshop, Esposito encountered a number of fans. "There were some guys on the elevator last night who were very, very drunk. And one of them was sober enough to whisper to the other, 'That's Gustavo Fring!' And they all sobered up really fast," he says with a laugh. "They were all very kind and respectful, saying, 'You! You're the don! Respect!' "
Broadway Baby
In a way, performing has always been in Esposito's blood. His mother was an opera and nightclub singer who once performed with Josephine Baker on a split bill. While performing in a tour of "Porgy and Bess" in Naples, Italy, she met Esposito's father, a stage carpenter. As a child, Esposito and his mother would recite poetry together—he was a particular fan of Edgar Allan Poe's "The Raven."
After his parents separated, Esposito says, there was never enough money; his father was on the road, and child support was $15 a week. So an 8-year-old Esposito decided to pitch in, first by getting into voiceovers for RCA. "I remember one day in the recording studio asking, 'When can I be on screen?' " he says. Not long after, while watching "Gigantor" with his brother, a television commercial came on featuring a black child. "I looked at my brother and I thought, 'I could do this to help mommy out and pay our rent.' Me and my brother agreed that it didn't look so hard."
His mother took her sons to an agent for young actors, and two days later the agent called and told them to go to an audition at Broadway's Winter Garden Theatre. Because he didn't have a song prepared, Esposito sang "Happy Birthday." His brother, a year older, was sent to one side of the stage, Esposito to another. "I was standing there, scratching my head, thinking, 'Wait a minute, something's wrong here,' " he says. "I could feel it was the kids on the other side who were going to get chosen." Fortunately, his agent shoved him forward and asked if he could sing again. This time, Esposito belted "Happy Birthday" as loud as he could. "They said, 'Oh, can you go to the other side of the stage and join your brother?' And I did, and I got the part."
The role was a slave child in the Broadway musical "Maggie Flynn," opposite Shirley Jones. Other Broadway musicals would soon follow, including "The Me Nobody Knows," "Lost in the Stars," and "Seesaw." He dropped out of acting for two years when he was sent to Mt. St. Joseph Military Academy. There, Esposito says, he "started to pursue my relationship with God" and considered becoming a priest. (Other rejected career ideas: archeologist and chiropractor.) "I eventually realized I wanted a spiritual life, but wanted to be an actor. But I credit that period with teaching me that acting can be a spiritual journey. And if you can quiet yourself enough to listen to your inner voice and organic movements, you will make the right choices on stage."
After military school, he returned to the stage. "I did all these great musicals back to back," he says. "It was a time when all these great shows were chock-full of African Americans, but only a few were making inroads and really making a difference as actors. One such person was Sidney Poitier, who I deeply admired. He was getting some roles that had never been offered to any black person."
At 17 and looking to branch out into on-camera work, Esposito auditioned for casting director Shirley Rich, who was casting the military drama "Taps." "I didn't get it," he says. "She sat me down and said, 'Giancarlo, I really like you, but I have to tell you that you really need to learn how to act for the camera.' " Esposito had been acting for nearly a decade yet had never had any formal training. He enrolled in Elizabeth Seton College in Yonkers, N.Y., where he received an associate degree in radio and television communication. He then spent a year at the Actors Institute in New York, where the teaching was based in Werner Erhard's est training. "During that time," the actor says, "I truly learned that what I was doing could affect people and was not to be taken lightly."
The lesson was further reinforced when Esposito joined the cast of Charles Fuller's 1980 play "Zooman and the Sign" for the Negro Ensemble Company, playing a teenage thug who murders a girl. "One night, there was a social worker in the audience who said I reminded her of one of her cases, and she was crying and hysterical and wanted to kill me," he recalls. "That's when I truly got the fact that what you do on that stage can affect people very seriously."
For his performance in the play, Esposito won the first of two Obie Awards. Shortly thereafter, he received a call to audition again for "Taps"—the film still hadn't been made. After this audition, Rich asked him to come back later that day and read with producers and star Timothy Hutton. "I came back, I read, and I got the part this time," he says. "And that was the beginning of becoming the dramatic actor I always wanted to be."
Career Spike
"Zooman and the Sign" introduced Esposito to Spike Lee, with whom he would make four movies. After Lee saw a performance, he and Esposito met for lunch, and the filmmaker asked him to be in "The Messenger," based on Lee's experiences as a bicycle messenger. The film fell apart, but Lee cast him in "School Daze," a project on which Esposito admits they bumped heads somewhat. "I used to change my lines," he confesses. "I would say to my scene partner, Laurence Fishburne, 'You know, Spike didn't really finish writing this, so I'm going to finish for him. I'm going to say something else.' Laurence would say, 'Okay, I'll go with it.' The scene ended, and Spike's on this 12-foot ladder with a bullhorn screaming, 'Who said that? What was that? I didn't write that!' I was like, 'I said that.' Then he said, 'It was good! Keep it!' "
Next, Esposito appeared in Lee's "Do the Right Thing," in perhaps one of his most memorable roles, as Buggin' Out, who escalates racial tension in his Brooklyn neighborhood when he demands that the Italian pizzeria owner put black men on his restaurant's wall of fame. Esposito says the film struck a personal chord for him: "It really helped me to put away a part of my past. I went to a high school with Italians and blacks. I wasn't accepted by the blacks because my name was Giancarlo Giuseppe Alessandro Esposito. I wasn't accepted by the whites because I had dark skin. You want to give both sides equal. This was something I tried—through what I do and what I say and my friendship with Spike—to understand. If this were to come to a head, as it did in 'Do the Right Thing,' what side would I pick? I would choose no side. I would choose the side of peace, because I have brothers and sisters on both sides."
Esposito continued to work with some of the most interesting independent filmmakers—including Bryan Singer ("The Usual Suspects"), Abel Ferrara ("King of New York"), Jim Jarmusch ("Night on Earth"), and Wayne Wang ("Smoke," "Blue in the Face"). He also took on regular TV gigs, including a season on Fox's "Bakersfield P.D." and two years on "Homicide: Life on the Street." And he continued to return to the stage when possible, earning his second Obie for his work in the 1991 play "Distant Fires." The play introduced him to the Atlantic Theater Company, with which he has remained active, teaching a master class once a year, and he hopes his schedule will permit him to be in the company's production of Gabe McKinley's "CQ/CX" in January.
'Breaking' In
Esposito had never seen an episode of "Breaking Bad" when he got the call for Gus. At the time, he was focusing on his directing career, having spent years on his directorial debut, "Gospel Hill." His directing manager, Josh Kesselman, urged him to look into the part, as "Breaking Bad" happened to be Kesselman's favorite show. "I said, 'Josh, I'm trying to raise money for my next movie; I don't know if I want to get involved,' " Esposito recalls. "He said, 'It's a guest spot.' I said, 'I'm always doing guest spots.' But he said the show was fantastic."
Originally, Gus was slated for only two episodes, but the role grew as the writers and producers saw what Esposito was bringing to the character. "I made the decision for Gus to be extremely still, more of a listener than a talker," Esposito says. "As actors, we like to perform; it's what stirs us up inside. So I had to find a way to stir myself up inside and yet do less." Key to the performance are yoga, meditation, and breathing exercises. "I meditate every morning. And the first thing I do when I get in the dressing room is cross my legs and take a few minutes to take deep, deep breaths and drop into this other place."
Esposito in "Breaking Bad." (Courtesy of AMC)
Gilligan compares Esposito's range to Al Pacino's, noting, "Pacino is known for his more expressive roles—'Scent of a Woman,' 'Glengarry Glen Ross,' 'Any Given Sunday.' Then you think back on him in 'Godfather' I and II and he's just a study in stillness. His every move is economical; his every expression is considered. He moves with such economy, even a subtle shift of his eyes is going to mean something. Giancarlo can play both ends of that spectrum—expressive, full of life, as well as guarded."
Though Gus' screen time has been economical as of late, Esposito reveals that upcoming episodes will delve more into the character's life, including flashbacks explaining his backstory: "You'll start to find out more about Gus, which I'm happy about. You'll get a chance to see where he comes from; you'll have a little more insight into who he is." But as good as Esposito is at playing bad, Gilligan wants to assure audiences that they are witnessing a performance. "I'm continually struck seeing this huge difference between Gus the character and Giancarlo the man," Gilligan says. "He could not be a sweeter, more pleasant individual, especially when he's with his lovely daughters. He's got a smile for everyone. He's a big hugger. He's full of love. You see that in the way he treats the crew and his children."
Outtakes
-Name is pronounced "John Carlo"
-Recently joined the cast of the new ABC series "Once Upon a Time" in the dual role of a journalist and the Magic Mirror
-Other films include "Fresh," "SherryBaby," and "Rabbit Hole," and he stars in the upcoming "I, Alex Cross," with Tyler Perry and Cicely Tyson
-Says when he first read the box cutter scene in "Breaking Bad," he had to put down the script: "It was so disturbing, I was shaking a bit."