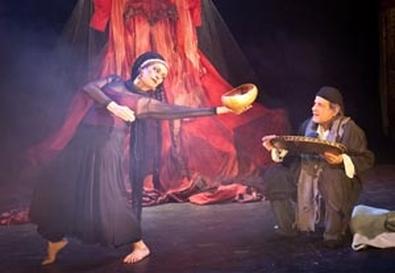 Two one-acts based on short stories by Jewish authors are on view at La MaMa, and while they share a few common elements—both originated in Israel and feature a bare-bones production—they couldn't be more different in style and execution.
The curtain-raiser, "Gimpel the Fool," is derived from Isaac Bashevis Singer's comic fable about a simpleton who gets hoodwinked into marrying the town slattern. She subsequently bears six children, none of them his. The butt of cruel jokes by not only his cheating wife but the entire town, Gimpel accepts the humiliation with patience and maintains his faith in a loving God despite the inhumanity of his fellow man. Howard Rypp has adapted the piece into a one-man work that he performs himself in concert with recorded voices. In addition, he designed and directed, which may be one hat too many. This is a light, sweet little tale with one premise—the townspeople taking advantage of Gimpel's gullibility—played out in numerous variations. At close to an hour, the piece could do with some cutting, and Rypp fails to lend much variety to his limning. There are a few mild giggles but nothing to write home about.
"The Lady and the Peddler," adapted by Yosefa Even Shoshan from S.Y. Agnon's story, depicts a Jewish peddler shacking up with a mysterious gentile woman living alone in a remote forest. The situation appears to be paradise for the wandering salesman. His hostess provides all of his needs—food, lodging, and sex—and asks for nothing in return. But he has never seen her eat or drink. Eventually, this cozy setup is shattered when the peddler realizes that his lover is a demon waiting for her chance to literally devour him. Written in 1943, the original story can be seen as a metaphor for the displacement and destruction of European Jews.
While "Gimpel" is rather straightforward, director Geula Jeffet-Attar uses video and dance to give "Lady" a weird, nightmarish quality. The seductress is mutely played with earthy sensuality by dancer Ilana Cohen, while Jeffet-Attar ably provides the character's voice in a rough, Eartha Kitt–like growl. Victor Attar gives the peddler a shabby dignity, resembling one of the tragicomic tramps from "Waiting for Godot." Together they perform a powerful push-pull pas de deux of opposites attracting. One particularly effective sequence deals with the first meal the lady offers the peddler. Using only a tray and her expressive hands, Cohen tempts and teases while Attar greedily mimes licking the tray clean. It's a funny and suggestive duet, giving just the right hints of carnality and hunger.
This could have been a scary little gem, like the best episodes of the old "Twilight Zone," but Shoshan's adaptation stretches out the material, so there are several dead spots, and Jeffet-Attar overuses a fog machine, delivering a smoky haze rather than a spooky atmosphere. In addition, her use of Hadas Ophrat's videos of battling insects projected onto the peddler's sack is just confusing, not evocative. However, Yuval Mesner's eerie music and Uri Rubinstein's graveyard-at-midnight lighting turn the right macabre trick.
Presented by and at La MaMa ETC, 74A E. Fourth St., NYC. Jan. 19–29. Thu.–Sat., 7:30 p.m.; Sun., 2:30 p.m. (Additional performance, Sun., Jan. 29, 7:30 p.m.) (212) 352-3101, (866) 811-4111, (212) 475-7710, or www.lamama.org.