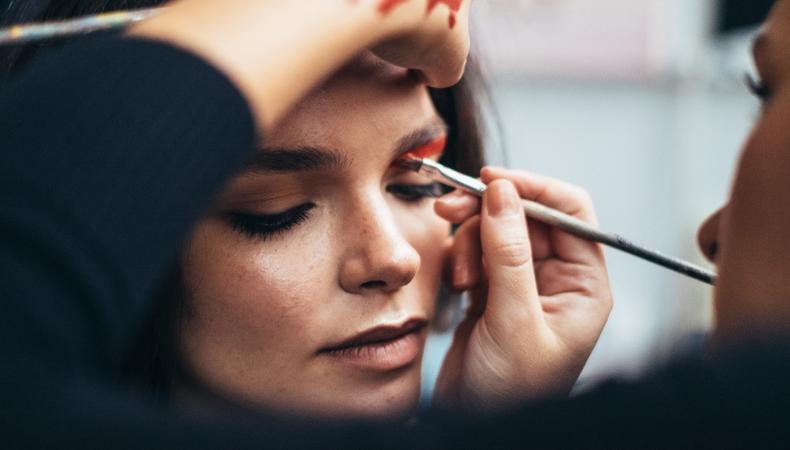 For actors on set, it's incredibly important to cultivate a good relationship—even a friendship!—with makeup artists. They're the ones getting in your face (literally), making you camera-ready and even magicking you into something fantastic.
As such, it's wise to form a healthy friendship with them, not because it's what you should do, but because of all the amazing things they do for you, not least of which is making you look perfect for the role.
One of the easiest ways to cultivate and nurture this relationship is to show up early. No, not just "on time"—early. Not only will this mean they're not rushed, but if it's a complicated makeup job that involves aging or prosthetics that can take hours to apply, they'll appreciate the extra time.
Next—and this may seem obvious—but do your best to sit still in your chair. I've been on several sets where the makeup department only had a short window to change an actor's makeup and instead of being able to just get the job done, they had to wait for the actor to stop snacking or joking around. It's important to have fun on set but make sure you're still honoring the makeup artist's time.
READ: A Makeup Artist Shares the 1 Thing Every Actor Should Always Carry
Also, avoid touching your face between shots. Don't scratch, itch or wipe away sweat. I know it's so easy to do this absentmindedly, but it can ruin part of your makeup and it's annoying for the makeup department. If you do scratch, immediately check in to see if you've done any damage.
Going the extra mile never hurts, either. Buy the makeup department coffee. Showcase their work on your social media (contracts and NDAs permitting). Mandy Moore does an excellent job of this on Instagram for the "This Is Us" team that help her age 40+ years. She's constantly posting and tagging her makeup/hair team for the amazing work they do for her character.
Jennifer Holt of JB Just Beautiful has worked on several film projects with me. When I asked her what actors can do to help a makeup artist, she said, "Actors must trust us with hair and makeup as we are instructed by directors or heads-of-department [based on] how they want the look to be for that scene. Unfortunately, it's not always glamorous for the actors."
I love this answer! So many times I see actors fiddling with their hair or dabbing at their face after the makeup/hair team have finished with them. It may not always look how you want, but trusting the team around you is the best thing you can do to develop a beautiful friendship.

When all else fails, do what you can to brighten their day. Even just saying "thank you" can go a long way.
Get all of your acting questions answered by peers and experts on the Backstage Community forums!
The views expressed in this article are solely that of the individual(s) providing them,
and do not necessarily reflect the opinions of Backstage or its staff.