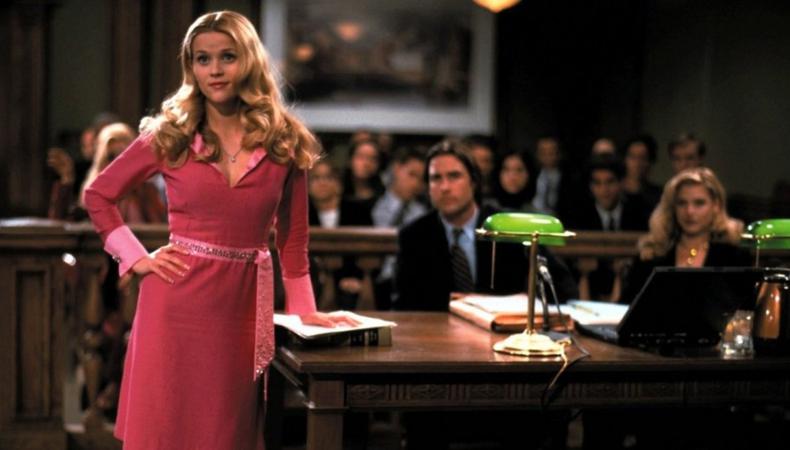 Greenlit means a project is officially a go, so all you have to do is follow these leads to stay up to date. You never know where you'll find an opportunity to land an audition!
"Legally Blonde 3"
Elle Woods is bending-and-snapping her way back to theaters with some help from an all-star writing duo. Nearly two years after MGM announced it would be making a third movie in the "Legally Blonde" franchise, Deadline has reported that Mindy Kaling and Dan Goor have signed on to write the new picture. The original film's writers, Kirsten "Kiwi" Smith and Karen McCullah, were initially on board to write the script, but Kaling and Goor's screenplay will reportedly have entirely fresh spin. There's still no director signed on, but Reese Witherspoon is on board to produce and reprise her role as Elle Woods. Joseph Middleton has cast both the previous "Legally Blonde" movies, so he could also return.
"Tuca & Bertie"
Animation's favorite avian girl gang is being given a new life! After Netflix canceled the comedy series one season in, the critically acclaimed and fan-favorite "Tuca & Bertie" will be revived at Adult Swim. The network has ordered 10 episodes of the adult animated series and plans to premiere Season 2 sometime next year. Tiffany Haddish and Ali Wong lead the voice cast of the series created by Lisa Hanawalt. Voice casting director Linda Lamontagne is the series CD—read what she thinks makes a perfect voiceover actor here!
"Mission: Impossible 7"
In the production hiatus, the upcoming "Mission: Impossible 7" is doing a bit of recasting. Esai Morales will replace the previously cast Nicholas Hoult as the villain in the upcoming action sequel. The Paramount Pictures and Sky Media blockbuster had started production when the industry shut down in March due to the coronavirus pandemic, and Hoult, whose role was still unknown, will not be able to return once filming picks up due to scheduling conflicts with Hulu's second season of "The Great." Tom Cruise, who will reprise his role of Ethan Hunt in both the seventh and eighth follow-ups, will also star, and the two new installments will shoot back to back with Christopher McQuarrie scripting and at the helm for both. "Mission: Impossible 7" is scheduled to hit theaters on Nov. 19, 2021 with the eighth installment out on Nov. 4, 2022. Mindy Marin is the casting director for both.
"Hustle"
After his critically acclaimed starring role in last Oscar season's "Uncut Gems," Adam Sandler is returning for another leading basketball-adjacent role. As part of his Netflix contract, Sandler will lead the upcoming "Hustle," directed by Jeremiah Zagar and produced by LeBron James and Maverick Carter's SpringHill Entertainment. Written by Taylor Materne and Will Fetters, "Hustle" follows an American basketball scout (Sandler) who, after being unjustly fired, discovers a talented player abroad and brings him to the U.S. to prove that they both have what it takes. No further casting has been announced. This will be Zagar's first major project since 2018's coming-of-age flick "We the Animals." On that feature, he worked with casting director Ann Goulder, but no casting director has been announced for "Hustle" yet.
"Mother Nature"
Few actors are as familiar with horror as Jamie Lee Curtis; now, she will try her hand as a director in the genre. The "Halloween" star is set to direct "Mother Nature" as part of a three-year, first-look deal with Blumhouse. The film will be centered around climate change, though no further details have been revealed, and Curtis will both helm the feature and co-write the script with Russell Goldman. This will be one of Curtis' first feature directorial projects—she is concurrently working on "How We Sleep at Night: The Sara Cunningham Story" for Lifetime—but she has previously directed episodes of "Scream Queens" and "Anything But Love."
"Scream"
Speaking of actors familiar with horror franchise, the upcoming "Scream" reboot, which is already courting Neve Campbell, has signed back on one of its major stars. David Arquette, who has played Sheriff Dewey Riley in the previous films, will return for the relaunch. Spyglass Media Group is also in talks to bring back more of the franchise's legacy cast members to the fifth installment. Feature production is scheduled to begin later this year in Wilmington, North Carolina. "Ready or Not" helmers Matthew Bettinelli-Olpin and Tyler Gillett will take over the directing duties from the late Wes Craven. Keep an eye on the 2011 film's CD Avy Kaufman to see if there is any movement in the coming months.
"Good Bad & Undead"
Peter Dinklage and Jason Momoa may have never gotten to work together on screen in "Game of Thrones," but the A-listers are teaming up for a new project: "Good Bad & Undead," an action-adventure feature from Legendary. Max Barbakow has signed on direct from an original idea by Mark Swift and Damian Shannon. The story follows Dinklage as Van Helsing, the last in a long line of vampire hunters who develops an uneasy partnership with a vampire (Momoa) who has taken a vow to never kill again. Barbakow has most recently directed the Andy Samberg–Cristin Milioti film "Palm Springs," his feature directorial debut. Allison Jones was the casting director for that film, but Barbakow will probably team with someone more familiar with the genre for "Good Bad & Undead."
"Our Lady of Tears"
Also at Blumhouse, the production company is developing a new timely horror feature and has officially found its writer-director. "Tigers Are Not Afraid" scribe and helmer Issa López will also write and direct "Our Lady of Tears," a feature based on a recent article from Epic Magazine and Vox about a mass hysteria epidemic that spread through an all-girls Catholic school. No further casting or creative team details have been released at this time.
Looking for remote work? Backstage has got you covered! Click here for auditions you can do from home!