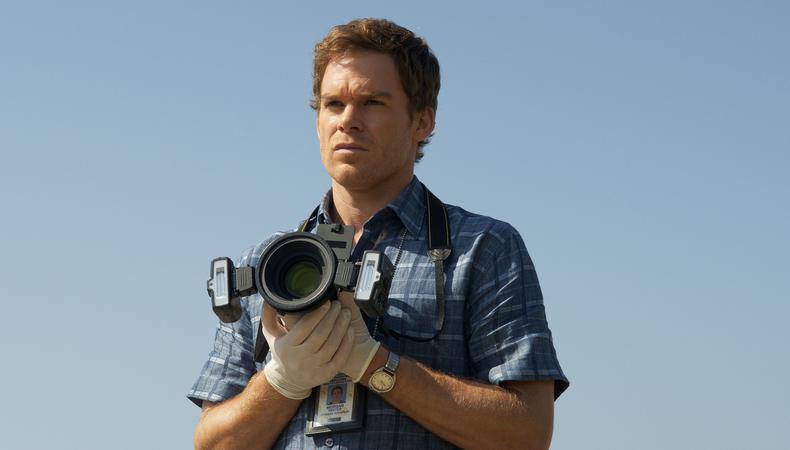 Greenlit means a project is officially a go, so all you have to do is follow these leads to stay up to date. You never know where you'll find an opportunity to land an audition!
"Dexter"
It's going to happen again and again: seven years after its original run wrapped, "Dexter" is back. The Showtime thriller series starring Michael C. Hall has been given a limited series 10-episode revival with former showrunner Clyde Phillips set to return and with Hall back in the starring role. The eight-season series followed Dexter Morgan, blood spatter expert for the Miami Police Department by day and serial killer by night. Plot details for the series are being kept under wraps, but no doubt fans are hoping for a retcon of the series finale. Production is set to begin in 2021 for a fall debut. Tucker/Meyerson Casting is staffing the revival.
"Furiosa"
More than a year ago, filmmaker George Miller discussed the likelihood of a "Mad Max" Furiosa spinoff project coming to light eventually, and now, it has officially been given the greenlight. First reported by Deadline, Warner Bros. is in advanced development with "Furiosa," a spinoff feature of Miller's multi-Oscar winning blockbuster "Mad Max: Fury Road." Miller wrote the script with "Fury Road" co-writer Nico Lathouris. "Glass" actor Anya Taylor-Joy will star in the title role in the standalone movie, which will follow the genesis of Furiosa before she teamed up with Max Rockatansky in "Fury Road." Additionally, Chris Hemsworth and Yahya Abdul-Mateen II will star. A casting team has yet to be announced, but Nikki Barrett and Ronna Kress were the casting directors on "Fury Road."
"Caste"
Following a successful documentary and miniseries at Netflix, Ava DuVernay will bring the platform a feature film. The filmmaker will write, direct, and produce a feature adaptation of Isabel Wilkerson's "Caste: The Origins of Our Discontents." The film adaptation, simply titled "Caste," will, according to Variety, "use a multiple-story structure to examine the 'unspoken system that has shaped America and chronicles how our lives today are defined by a hierarchy of human divisions dating back generations.' " DuVernay has previously produced the aforementioned "13th" and "When They See Us" for the streamer, both of which have been met with critical acclaim (as well as an Oscar nomination for the former and 11 Emmy nominations for the latter). Aisha Coley is DuVernay's usual casting director, though she hasn't been officially named to this project yet.
"The Women of the Movement"
While her Tony-nominated role in the Broadway musical "Tina: The Tina Turner Musical" is on pause, Adrienne Warren will headline ABC's "The Women of the Movement." Warren will star as Mamie Till-Mobley in the six-episode limited series, who devoted her life to seeking justice for her son Emmett Till. This is the first casting in the project from creator-writer Marissa Jo Cerar, and the series is still casting another major role: Emmett. "The Women of the Movement" is set to premiere in 2021. Aisha Coley is the casting director for this project; while you wait for the new series, you can learn about her casting process here.
"Don't Look Up"
Netflix and Adam McKay are assembling what may be the biggest cast of A-listers for their next project, "Don't Look Up." Announced last week, joining Jennifer Lawrence will be Leonardo DiCaprio, Cate Blanchett, Jonah Hill, Himesh Patel, Timothée Chalamet, Ariana Grande, Kid Cudi, Matthew Perry, and Tomer Sisley, as well as the previously announced Rob Morgan. The film will follow two low-level astronomers who embark on a media tour to warn mankind of an approaching asteroid that will destroy Earth. McKay will write, direct and co-produce along with Kevin Messick under McKay's Hyperobject Industries Banner. Francine Maisler is the casting director.
"Doctor Strange in the Multiverse of Madness"
A new actor has been added to the Marvel Cinematic Universe and, more specifically, Doctor Strange's "Multiverse." "The Baby-Sitters Club" star Xochitl Gomez has joined the cast of the upcoming sequel "Doctor Strange in the Multiverse of Madness." As previously reported, Benedict Cumberbatch will be back to reprise the title role with Benedict Wong and Chiwetel Ejiofor also expected to reprise their roles from the original film and Elizabeth Olsen tapped to reprise her role as Scarlet Witch. Sam Raimi will direct the sequel, which will begin production after Cumberbatch finishes filming on the next Spider-Man pic. Marvel veteran CD Sarah Finn is the film's casting director.
Looking for remote work? Backstage has got you covered! Click here for auditions you can do from home!