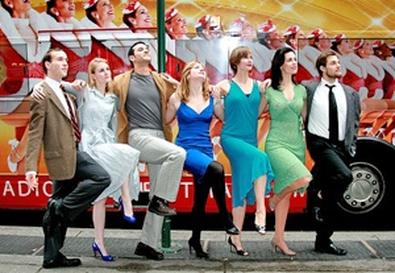 For most of us, Frank Capra's classic holiday film "It's a Wonderful Life" is a celebration of the American individual, illustrating how even the most unsung of heroes touches the lives of many. But for more cynical types, it's a suffocating depiction of failed dreams, small-town entrapment, and the oppression of familial responsibility. Merry Christmas indeed, Bailey Building and Loan.
The creators of the misguided "Hee-Haw: It's a Wonderful Lie" are clearly in the second camp. Forget about everyman hero George Bailey, who thanks to his guardian angel gets the opportunity to see what life would be like if he were never born. The real story is about George's overambitious friend Sam Wainwright. Like an Iago to George's Othello, Sam seethes with malicious jealousy throughout this metatheatrical cabaret, in which he finally gets to tell us what really went down in Bedford Falls.
While there's certainly something worthwhile in tearing down the illusory sentimentality of Capra's 1946 film, "Hee-Haw" simply isn't subversive enough to make it work. Furthermore, the tentative production's sprawling amalgamation of theatrical genres—vaudeville song and dance, piano-underscored melodrama, Irish drawing-room drama (complete with brogues)—adds up to less than the sum of its rambling, underwhelming parts. What's more, the tiny stage of the Nuyorican Poets Café doesn't really help matters, as the production unwisely struggles against the ramshackle qualities of the decidedly downtown venue instead of embracing them.
The evening's few glimmers of success derive mostly from postmodernist referencing and the re-appropriation of the original source material. Thankfully, director-playwright Daniel F. Levin finds inherently theatrical ways to stage the film's most iconic moments, and as George Bailey, Michael Sutherland serves up a dead-on Jimmy Stewart stutter. But these glimmers aren't enough to turn "Hee-Haw" into Christmas gold. Sadly, this may be one instance where an angel doesn't get his wings.

Presented by Wainwright Plastics at the Nuyorican Poets Café, 236 E. Third St., NYC. Dec. 4–20. Thu.–Sat., 7 p.m.; Sun., 5 p.m. (212) 505-8183 or www.nuyorican.org.