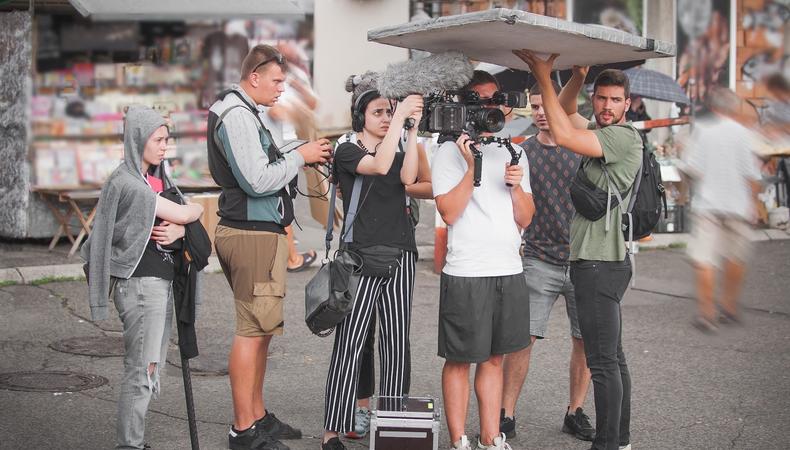 From a brief beach wedding video all the way to the next hit blockbuster, hiring the right film crew is necessary to bring your vision for the project to life. Here's everything you need to know about how to get a film crew for your project: where to find crew members, how much to pay them, and tips on how to form your dream film crew.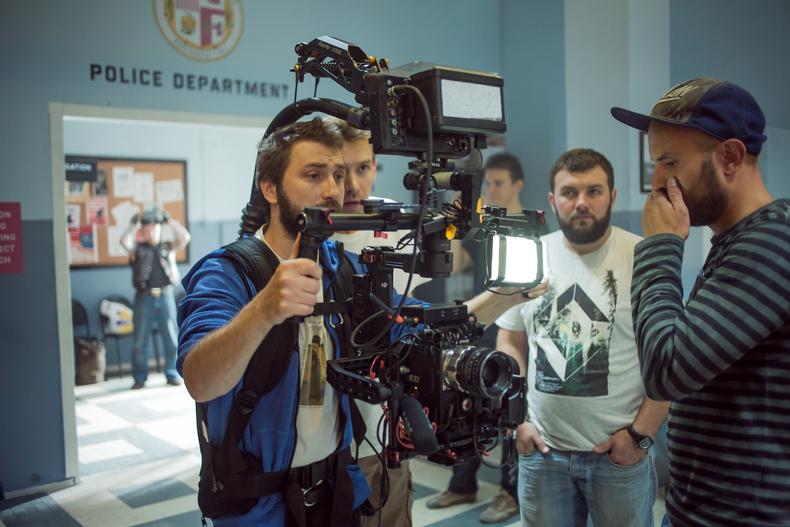 Lia Koltyrina/Shutterstock
A film crew is the group of people who work together to create movie magic. The crew is made up of the producer, director, camera department, sound department, wardrobe, hair and makeup department, stunt and SFX department, transportation departments, and assistants. Filmmakers hire crews to create better, more professional final projects, and so that they can focus more on bigger-picture elements.
Here's a detailed breakdown of each part of a full film crew and what they contribute to a film project.
Producers find and provide funding for the project.

Directors guide the film with their creative vision.

Cinematographers are responsible for lighting, shot composition, and the visual style of the film.

Camera operators hold the camera and execute shots and angles.

First assistant cameras are in charge of the camera's focus ring.

Second assistant cameras load film, start off each take, and organize footage.

Digital imaging technicians assist with real-time color correction and digital troubleshooting.

Gaffers light the scene.

Best boys electric are in charge of cables and generators.

Electrical lighting technicians run cables to power lights.

Generator operators run the in-studio and on-location generators.

Key grips work with gaffers to set up nonelectrical support gear.

Best boy grips manage the grips on set and keep track of equipment.

Grips set up and move rigging equipment.

Production sound mixers record audio on set in real time.

Boom operators hold and move the boom microphone.

Cable people run power from the generator to mics.

Production designers design sets and create a film's aesthetic.

Art directors are in charge of the set's art department.

Location scouts find locations for the shoot.

Location managers ensure the location is ready for the shoot.

Construction coordinators help build sets in-studio and on-location.

Greenspeople take care of plants on set.

Gang bosses supervise and direct other set workers.

Set decorators take care of interior decoration on set.

Set dressers physically place each scene's decorations and furniture.

Prop masters create and maintain all props.

Key makeup artists design actor makeup and prosthetics.

Makeup artists apply makeup.

Special effects makeup artists apply prosthetics and more outlandish makeup.

Key hairstylists are in charge of actor hairstyles.

Hairstylists execute these hairstyles for shooting.

Costume designers create and establish the wardrobe.

Wardrobe supervisors manage clothing on set.

Set costumers assist with any costuming needs.

Costume coordinators keep records of the costumes.

Stunt coordinators design and cast a production's stunt work.

Fight coordinators choreograph fights.

Intimacy coordinators choreograph intimate scenes.

SFX supervisors determine how to capture special effects.
For smaller-scale projects, you'll likely want to hire at least a director (although that may be you, depending on the project), cinematographer, production designer, and sound mixer.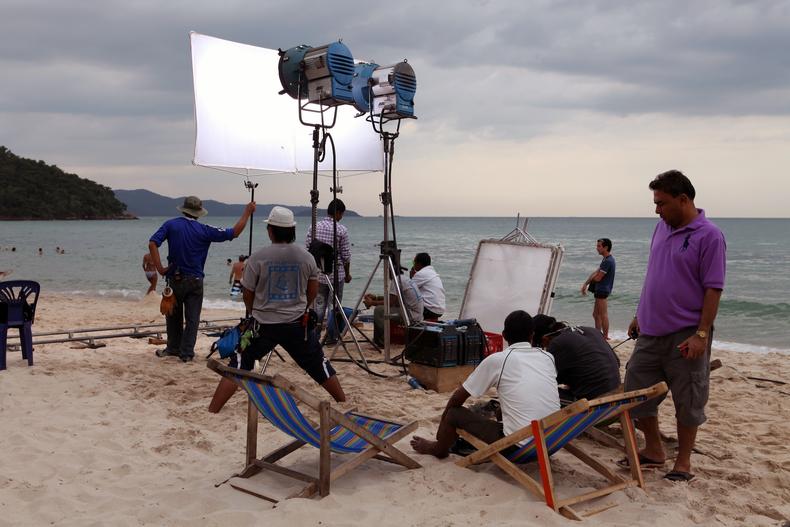 ssuaphotos/Shutterstock
Expect to spend between $25 and $300 an hour per crew member. "When pricing out a camera crew, what you pay is going to depend on all what your project entails," explains an industry insider. "Generally, hourly rates for members of a camera crew can range anywhere from $25 an hour to $300 an hour, depending on the service." How much to hire a film crew varies depending on the size and length of the project and whether the crew member is union or nonunion.
Project size: If you're making a feature film that entails traveling to different locations, elaborate costuming, and Michael Bay–style explosion scenes, you can expect to have a much higher budget than if you're shooting a five-minute infomercial.
Project length: Generally, the day rates for film crew increase in four-hour chunks for days that go longer than eight hours; pay rates usually increase to 1.5x for days that take 8 to 12 hours and 2x for days over 12 hours.
Union vs. nonunion: Payments for union members must abide by the union's minimum day rate. The International Alliance of Theatrical Stage Employees, Moving Picture Technicians, Artists and Allied Crafts of the United States, Its Territories and Canada (or the much less of a mouthful IATSE) is the most prominent union in the U.S. that establishes minimum day rates for film crew members.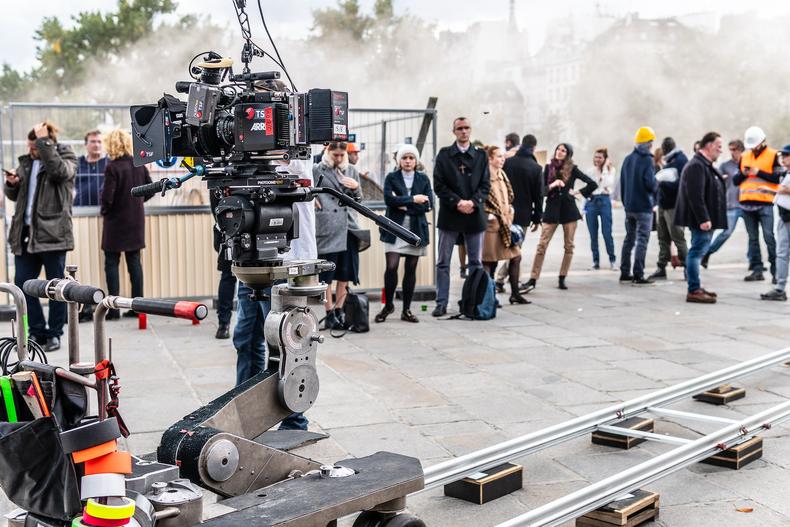 Grzegorz Czapski/Shutterstock
Job boards: Find film crew on hiring databases such as Backstage and Mandy and freelance platforms such as Upwork and Fiverr. Look for résumés with solid work histories, verifiable credits, and reels and portfolios for qualifying positions.
Referrals: Alert the people you know and trust about your desire to build a film crew. You can also post requests for crew referrals on social media. Be sure to inquire about both professional experience and personal attributes, since a crew that gets along well is one that works well.
Outsource: Begin with department heads, since they usually have a roster of crew members they like to work with. Outsourcing the crew-finding process will save you time and effort, plus the added bonus that the crew will already be familiarized with one another.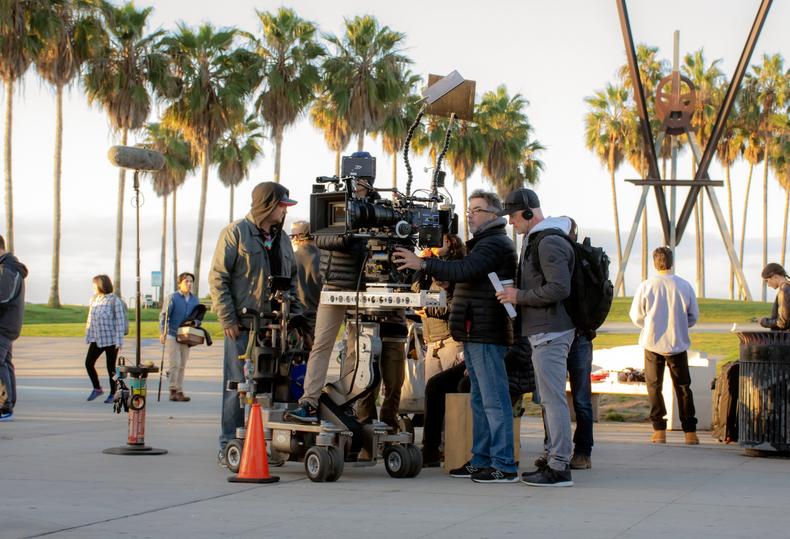 John Dvorak/Shutterstock
To hire the best film crew, establish a clear budget and timeline, find people with the right skills and experience level for your project, and do research before hiring.
Establish budget and timeline: Your budget and timeline are the biggest factors determining how robust a film crew you can hire. If you're a big-name producer working with a major studio, the sky may be the limit; but if you're working on an indie film, you'll likely want just a skeleton crew consisting of a director of photography, production designer, production assistant, hair and makeup artist, location sound recordist, and gaffer/grip.
Consider skills and experience: Make sure to hire crew members whose unique skill sets and experience levels match your vision for the project. It wouldn't make sense to hire a fabulous SFX makeup artist for your graduation video, just as hiring a traditional makeup artist likely wouldn't translate to spectacular prosthetics for your horror film.
"Great directors hire great crew," filmmaker Liz W. Garcia advises. "Great directors know that it isn't their job to know everyone else's job better than they do. Ask the experts. Ask your AD about the schedule. Ask your script supervisor what angle you haven't gotten. Ask your producer if this scene is working the way it should. You are not an island."
Research: Review the work of potential crew members to see if it aligns with your vision. Look into the type of project they've worked on and the directors and other crew members they've worked with. Reach out to their references and ask about their work personality, skills, and anything else you should know before hiring them.