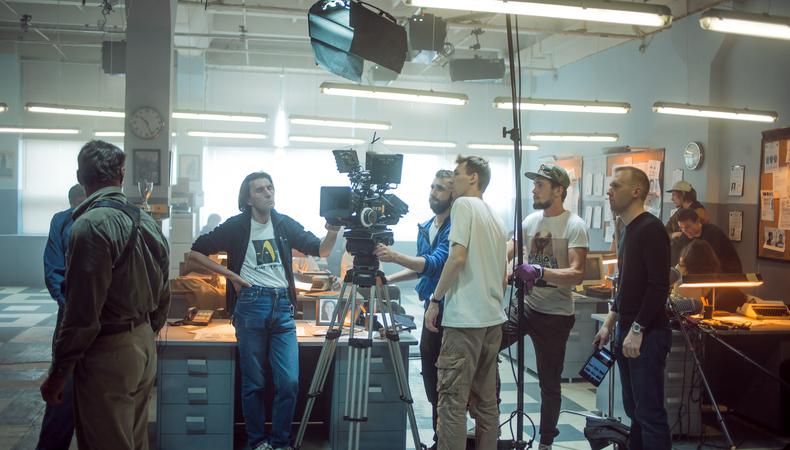 It's a phrase famously repeated in the industry: 90 percent of directing is casting. The same could be said for hiring a crew. Whether you're running a small budget new media project of a multi-million dollar studio film, the people you hire to do below-the-line work make or break a production experience: it's the people on the set who create the work environment. As such, here are some tips on how to evaluate potential crew members to make sure you assemble the best team possible for your project.
Tap your network for recommendations.
Who better to help you build the team that will bring your project to life than the people you already know and trust? Let it be known that you're staffing a production and looking for crew recommendations—the people you know definitely know other people in the industry.
If you've already hired department heads, even better, as they likely have a roster of people they like to work with. The familiarity that comes with working with the same crew over and over means a more efficient set: less time required vetting potential hires, less time needed to train and onboard, less time spent getting familiar with each individual's style.
Dave Childers, key grip on projects like "The Matrix Reloaded," "Venom," and "The OA" says he prefers hiring for his department based on people he's worked with before. "[I] have a core group of guys who work together, we work together quite a bit…. I've known [some] for as [20 years]. "
Don't put too much stock in the physical resume.
This one might seem counterintuitive, but consider that crew resumes might look a little different than traditional ones. Crew members are constantly working, which means they're constantly updating their resumes. Spending hours playing with a fancy layout only to update it after a few months on one job is not how professional crew members want to spend their free time.
The stuff to focus on? Credits and references. A resume that's simple, straightforward, and gets to the relevant information quickly is a good sign. Gayle Woodruffe, production service manager at Northern Film + Media, prefers resumes that are short and specific. If she's looking to hire someone for the lighting department and "[the applicant] hasn't gripped in the first half page [of their resume], I may not read the rest."
How to Attract + Hire the Best Crew for Your Low-Budget Production
Look for signs of personality.
"Below-the-line work is so much about personality," says Tripp Clemens, co-founder and creative director of creative production agency, Windy Films. Clemens recalls when, as an undergrad, he added the line "puts a mean hustle on a broom" on his resume when applying for a PA position on a Wes Anderson film. The next day, he got a call saying the project needed a mean hustle. Check for glimpses of life and specificity on a resume—note the people who took the time to make their application unique and detailed.
Consider non-traditional experience.
While traditional industry experience is nice, it shouldn't be the only thing you consider. Does someone have less crew experience but a lot of administrative and communication work under their belt? Those skills are immensely helpful to a production, no matter the scale. From call sheets to gear logistics, an organized team-player could make the perfect PA.
Additionally, pay extra attention to resumes that list multiple areas of experience to potentially kill two birds with one stone. A DP who's proficient in ProTools and Final Cut Pro X? You may just have found yourself a shreditor!
Take passion into account.
In addition to personality, look for passionate, involved, dedicated applicants. Name-dropping is fine if it's earned, but are you more interested in hiring a backup-backup grip on a Hollywood blockbuster, or someone who filmed and directed a short film of their own? The patience and passion required by the latter—as well as all the skills and experience they undoubtedly gained—may just make for a more engaged hire.
VFX artist Franceso Panzieri ("The Walking Dead," "Spider-Man: Homecoming," "Creed II") says that despite a lack of professional experience, he landed his first industry gig thanks to his dedication after flying cross-country to interview for an internship with Flash Film Work Studios. The founder himself, Academy Award recipient William Mesa, offered Panzieri the gig after he "proved my enthusiasm and passion" for the craft.
Check references and do your research.
Small budget shoots are intimate workspaces—co-workers have to share close quarters, travel to unusual locations, and work at odd times. So you want to make sure that the people you're sharing this time and space with are not only productive but tolerable.
When you have your list of finalists, ask references what the applicant was like to work with, get a sense of their habits, skills, and personality from their prior collaborators. Look into their previous projects. Investigate the type of work they've done, the sorts of directors they've been around, and the settings they've worked in. The internet will be your best friend here—who among us hasn't done a little LinkedIn stalking or IMDb search? Watch clips of their work on their personal sites or via search. This background knowledge could help you determine who is the most compatible crew member for the set climate you're trying to create.
Keep diversity and representation in mind.
Be mindful of creating a diverse workplace. The entertainment industry has not only been criticized for its lack of representation on-screen—but off-screen, too. Be conscious that within your network, you have access to qualified and capable crew members who represent different communities, backgrounds, and experiences. Remember, if people make the workplace, then it all starts with deliberate and purposeful hiring.
For more on how to get work on a film crew, visit Backstage's crew hub!