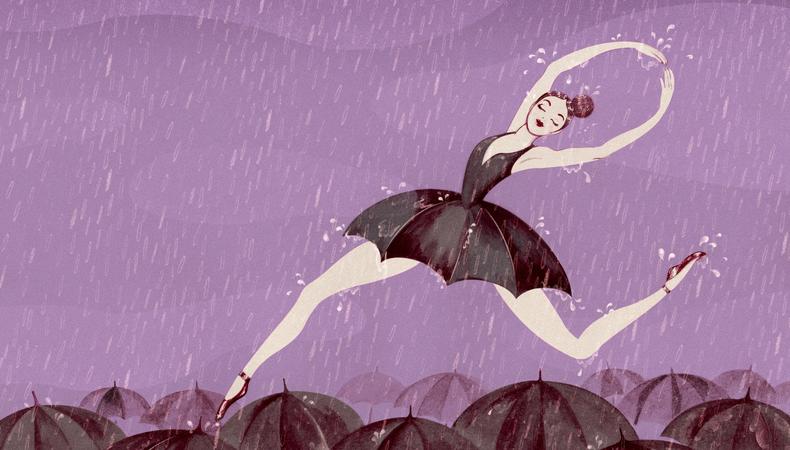 Landing a spot in a dance company is what dancers train for their entire lives. But almost no two companies are alike, so decisions have to be made about where to set their sights. Some dream of joining a traditional ballet company, and for that, the only way to see it through is to join the company's dance school. For other companies, like the Martha Graham Dance Company in New York City, an open audition is the way to be invited in. Learning just what the companies look for—and in the case of Martha Graham, what Artistic Director Janet Eilber looks for–could be the key to claiming a coveted spot. Technique is obviously important, but it's not everything. Here, Eilber—who was a dancer at Martha Graham before moving on to Broadway, television, and more—shares the keys to catching her eye in an audition.
What are Martha Graham auditions like?
We audition annually. It's usually two days. The first day is open to everyone who applies, and the second day is usually callbacks. Occasionally, if we have an injury or something happens during the year and we need someone in an emergency, we'll do private auditions. This generally means we turn to our second company, Graham 2, who are usually the people who are most prepared to jump in in an emergency. For the most part, it's our annual audition. It's an open call that can be found on our website, on Facebook, Instagram, and the like.
What can dancers expect from audition day?
They can expect to have to dance some Graham movement as well as movement from some of the new works we're commissioning. In the past, we were all Graham all the time, so you really had to be an expert in the Graham technique and style. But in the last decade, we've been commissioning new works, so our dancers have to be much rangier. Sometimes in auditions, we'll find someone who's a beautiful dancer in other techniques who maybe is an intermediate Graham dancer, and we feel we're able to upgrade their Graham and make good use of the experience they've had in other techniques because we commission so many new works these days.
So if someone isn't the most spectacular Graham technique dancer, that doesn't preclude them from joining the company?
Exactly.
READ: What Every Dance Résumé Needs to Stand Out
What do you look for in dancers other than their dance talent and technique?
The physical attributes are only 50 percent of what we're looking for. The self-expression, the ability to bring your unique self into the room, to showcase your personality and showcase the way you communicate, is the other piece of that. Martha's work is so emotionally descriptive that we have to see someone who has the ability for that right off the bat.
What helps set someone apart during the audition process?
It's technical excellence, but also that ability to be vulnerable, to be present as a person, and showcase who you are without being nervous and rotely following the exact steps. Even if they don't do the steps exactly like what we're asking for, we'd rather have them let the steps go and showcase their communicative skills than be perfect in the steps and be a blank page.
Is there anything else involved in the auditions besides dancing?
With the finalists, we usually do sit down and talk with them. We all travel together. Most of our performances are on the road, and you need to have some idea of the offstage professionalism and personality of the people to make sure that they'll be good for our community.
What shouldn't a dancer do in an audition?
There are plenty of things they should not do. They should not come to an audition unprepared. I sometimes get emails that say, "Oh, I wasn't feeling well that day," or "I'm planning to lose weight," or "I really need to get back into class." You have to come to an audition company-ready. There are so many people competing with you, the panel needs to say, "I can see that person on our stage tomorrow." I would also say don't think if you wear your hair in some wild style or neon striped tights, something that will make you stand out in terms of outfit, that it works to help you stand out. A teacher said to me once, "Why would you wear something that's more interesting than you are?" Let yourself shine through.
READ: Going to College for Dance vs. Going Pro Right Away
What elements factor into your decision of who will be invited to join the company?
When I do have a spot, Graham is sort of a repertory company. Sometimes I need a hero, sometimes I need comic relief, sometimes I need the ingénue, sometimes I need the Earth mother. It depends on who has left the company. If I've lost a tall woman who's an Earth-mother person, I'm often looking for a tall dancer. If I've lost one of the shorter people, I'm looking for a little person. The best person in the room may be 5-foot-9 but I can't hire her; we're sort of like an acting ensemble in that way.
That's a surprise to me.
It's a surprise to the dancers, too. They just think if they show up and they're the best person in the room, they're going to get the job. I tell them at the beginning of an audition there is so much that is out of your hands. Just dance your best and show us who you are and think of it as the workshop that you enjoy, because there are so many things that go into our decision that they have no control over.
Of the panel in the room, does everyone contribute to making the decisions about who gets invited?
Yes. I'm the ultimate decision, but my senior artistic associate and rehearsal director Denise Vale is always there; Virginie [Mécène], who runs Graham 2, and usually one of our dancers joins us. I'm eager to hear their opinions.
What advice do you have for prospective Graham dancers?
They should come to the school. The best way for me to get to know you as a dancer [and] the best way for you to understand if you really are attracted to Graham and it's something you want to steer your career toward is to try our school. We have wonderful programs, we have a fantastic international setup for student visas, and there are open classes as well as certificate programs and more. And, as I said early on, if we have an emergency opening, the first place I look to fill it is the school.
How is the Martha Graham Dance Company different from and similar to a "more traditional" ballet company?
I think we're smaller than most of the ballet companies, so we're a little more personality varied. We don't have a row of 50 swans in any of our ballets; even members of the chorus are expected to be individuals. So that's a piece of it. A fully formed personality needs to fit into our group of 15; it's not just someone who can be a nondescript member of the chorus in the background. They have to be a force even if they're the youngest in the company.
What do you wish dancers knew about dancing at Martha Graham Dance Company?
I wish they knew that we were user-friendly, dancer-friendly. I try to talk to the assembled group before each audition and say, "All the people on this side of the table have been on that side of the table. We've all auditioned before, we all know how it feels, and we're really rooting for you to do your best." When you are within the company, there is this atmosphere of collaboration and community. I think because of Martha's own reputation as sort of a goddess, people think of us as a little austere and forbidding, but it's really not true. We have a great collaborative atmosphere in the company.
Want to hear more from casting directors of film, television, theater, and dance? Check out our full In the Room series right here!