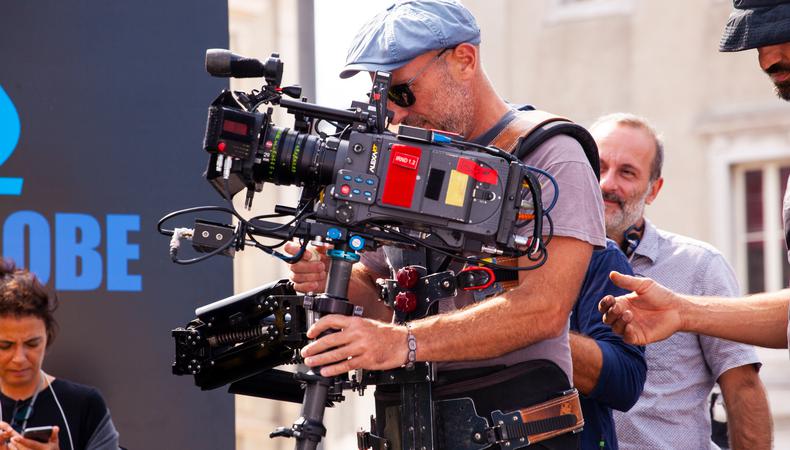 A cinematographer, also known as a director of photography, is responsible for building the visuals of a film or television project. Without a cinematographer, a movie might just be a blank screen with sounds—or still only living in the director's head. If you have a tendency to study compositions, color palettes, and lighting on the big and small screens, a career as a cinematographer—working with the cameras and lenses that bring those elements to life—may be for you.
Read on for our guide to finding entry-level cinematography jobs and how to increase your chances of booking them.
The most important building block in any successful filmmaker's career is on-the-job experience. For cinematographers, that can mean years of working in full-time positions at established production companies or movie studios. But those at the beginning of their careers are more likely to work on a freelance basis. In the latter case, applying for jobs to work on film sets is the key to growing your skills and connections.
The cinematography team on a film production is typically its largest, so many DPs begin in entry-level positions within that department. On big-budget movie and TV productions, that usually includes production assistants, gaffers, key grips, and camera assistants. PA work, in particular, enables aspiring filmmakers to gain fundamental knowledge about how a set operates. From there, early career cinematographers might become colorists in postproduction, assistant directors, or senior camera operators on their way to the role of DP.
Formal education is another path you can take toward a flourishing career behind the camera. Bachelor's degree and graduate school programs in cinematography or film production often include opportunities to gain on-set experience, even if that means student films. (Check out the link below for some of the best cinematography programs available for film students today.)
Internship opportunities (which can be found on job sites like Chegg Internships and Barefoot Student) and film trainee programs (which are often at major movie studios) are another route you can take. They combine an education-based approach with on-the-job training. All of these options are great ways to make future connections within the filmmaking industry.
When deciding which path is right for you, consider your existing network, budget, and timeline. Do you have a few contacts in the industry? Reach out and let them know you're looking for work; getting an on-the-ground education on a film set might be within your reach. Alternatively, do you have the disposable income and time to go to school or take on an internship? Great! Then you can start your search with that in mind.
A wide range of technical and creative skills are necessary to excel in the field. Here are some to keep in mind as you proceed in your career:
Strong visual skills:

A keen eye for visible details, such as how lighting, shadow, color, and composition affect moving images, is essential for any cinematographer. Their job is to translate the vision of screenwriters and directors into shots that, individually and collectively, tell a distinct story.

An understanding of filmmaking equipment:

Cinematographers handle cameras and lenses constantly during a shoot, so firsthand familiarity with the best hardware and latest filming technologies is required to become a DP.

Collaboration and communication skills:

Like any crew member, cinematographers must be in constant communication with their teammates, particularly directors and camera operators.
The ability to juggle details, priorities, and deadlines: Filmmaking is a fast-paced, varied environment, requiring both big-picture organizational abilities and detail-oriented management skills.
Freelance jobs in film production, including for cinematographers and camera operators, can be found, first and foremost, online:
Industry job sites

include more specialized search engines and resources specifically for those looking for work in film and TV. Productions seek behind-the-camera services in online marketplaces like

Backstage

,

Mandy

, and

Production Beast

.

Print and online databases

like

Production Weekly

and

Production Bulletin

are key resources for those looking for film and TV work. These databases are kept up-to-date with what's filming where, so aspiring cinematographers should subscribe to keep track of various productions.

Online communities

that facilitate networking between entertainment industry members at all levels also post job opportunities; check out

Staff Me Up

, or type relevant terms into LinkedIn's search bar to connect with fellow cinematography enthusiasts or film industry professionals. Monitor the activity on Facebook

groups pages such as

Film Production & Jobs

and

Paid Film/TV Production Jobs: Los Angeles Area

.
Another way to look for entry-level work is through your professional connections. Networking with mentors and fellow filmmakers remains the most essential skill in navigating the entertainment industry. Getting freelance jobs can often be the result of who you know. Reach out to both professional and amateur filmmaking contacts you have, or reach out cold to those you don't with a portfolio. Keep building relationships, and professional opportunities are more likely to fall into your lap.
Like any working film or TV crew member, a cinematographer needs a résumé that includes all relevant production information. In order to apply for jobs on sites like Backstage and Mandy, you must typically submit a polished résumé and a thoughtful cover letter explaining why you're the right fit for the job.
Aspiring cinematographers should also think about their online presence. For many, that means a professional-looking website showing off video and still images of their best work. As your body of work develops, you'll want to create a reel (or multiple reels, depending on what you're showcasing) that doubles as a calling card to show potential employers.
Producing your own work is another great way to cut your teeth as a cinematographer and familiarize yourself with the filmmaking process. If you can get your hands on camera equipment and team up with fellow aspiring artists to create a visual project from scratch, no matter how small, you'll be one step closer to becoming a professional cinematographer.
For more on how to get work on a film crew, visit Backstage's crew hub!