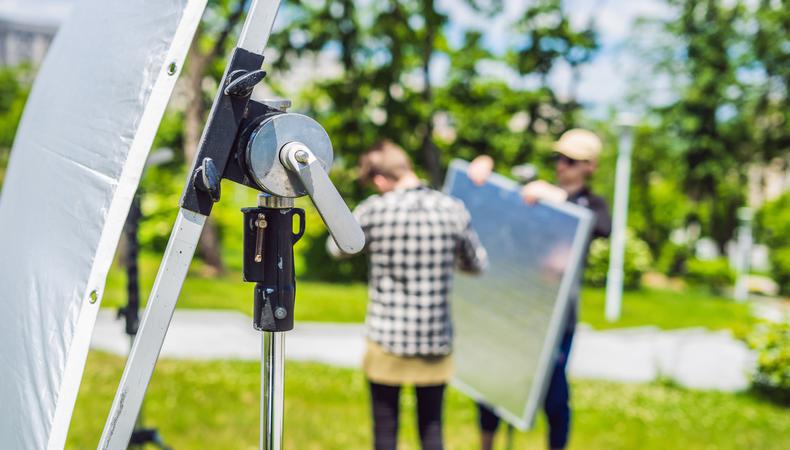 As head of the grip crew in the electrical department, the key grip is a valuable player in the film industry. Not only must they manage the positions within their division, such as lighting and rigging, they also oversee all of the non-electrical support gear on set. In most cases, a successful key grip starts out as a production assistant in the grip department, or sometimes as a grip. From there, they can move into a more specialized position, like dolly grip or rigging grip, before becoming a best boy grip (who works directly under the key grip), and ultimately a key grip themselves.
Interested in learning more about this position? From salary averages to the day-to-day responsibilities of this job, here's everything you need to know about becoming a key grip.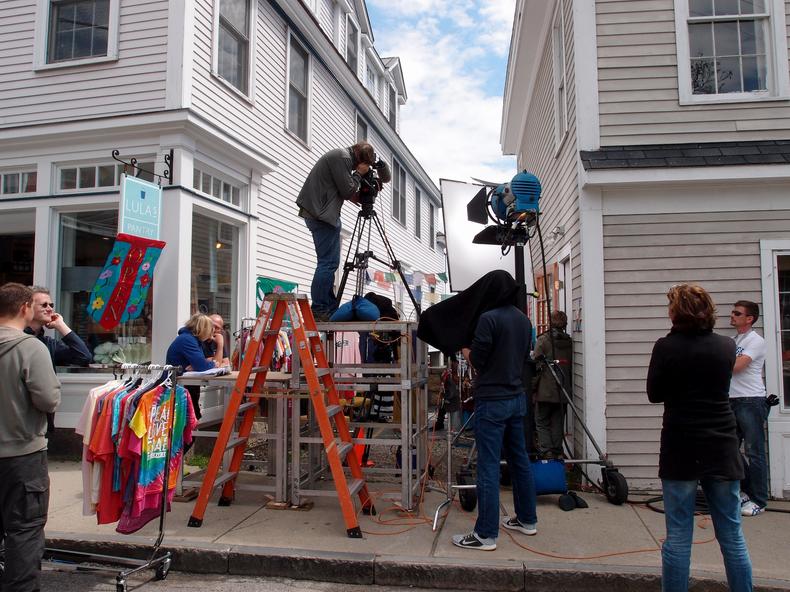 Eric Broder Van Dyke/Shutterstock
The key grip is a supervisor crew role. Depending on the size and budget of the production, this head of department position oversees a team consisting of grips, best boys, electricians, mechanics, and crane and dolly operators. They report to the director of photography (DP) and work closely with them throughout production.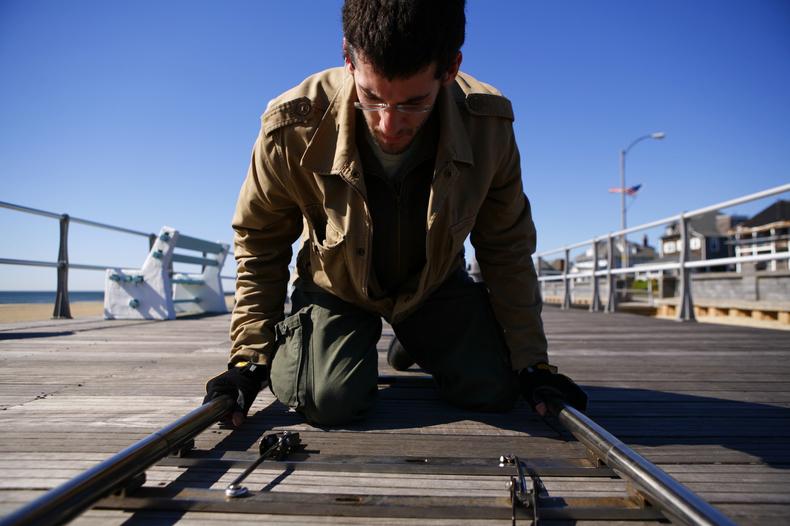 9387388673/Shutterstock
Key grips are responsible for all non-electrical support gear on a set. This means that camera rigs (to stabilize movement and get a specific angle), rigging (equipment that lifts other equipment), and lighting rigs (to apply lighting effects and techniques) all fall under their supervision. During pre-production, the key grip works closely with the DP and location scouts to determine and order the necessary equipment. "We control anything over people's heads," says key grip Tana Dubbe ("Iron Man," "Straight Outta Compton," "A Star Is Born"). "We're mini-engineers on the fly."
The key grip is also "in charge of shading, shaping, cutting, coloring, and diffusing light," says Chris Birdsong, who has worked as the key grip on projects like "Thor: Ragnarok," "Hidden Figures," and "Rectify." "The electricians [and] the gaffer bring in the light. And then grips come in behind them and make it pretty. We also do a lot of the rigging, so if a light needs to be funneled from the ceiling, we'll build the rigging and hang light to make sure it's safe and secure and not going to fall on anybody."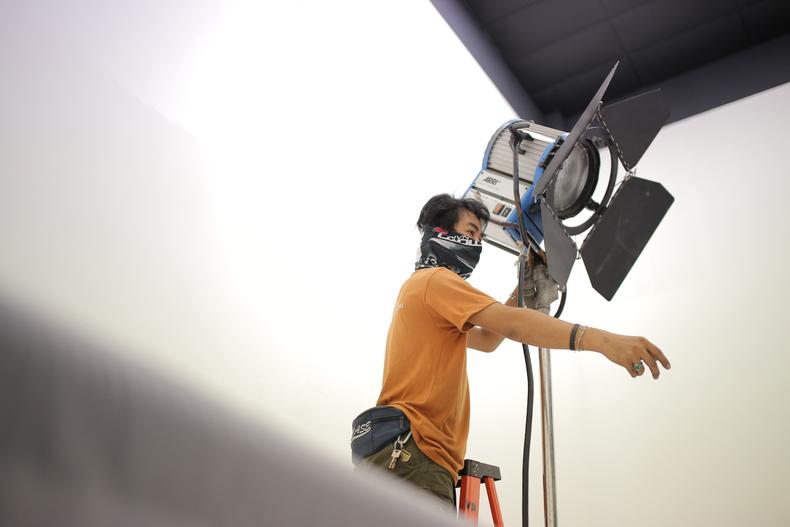 DOPTOON/Shutterstock
A gaffer is the only person on set who actually touches the lighting during production. A key grip, on the other hand, sets up the equipment that facilitates the light—such as rigs—for a gaffer to use to hang their lights. Many people often confuse the role of a key grip and gaffer. In other words, while they both involve lighting, the two titles are very different.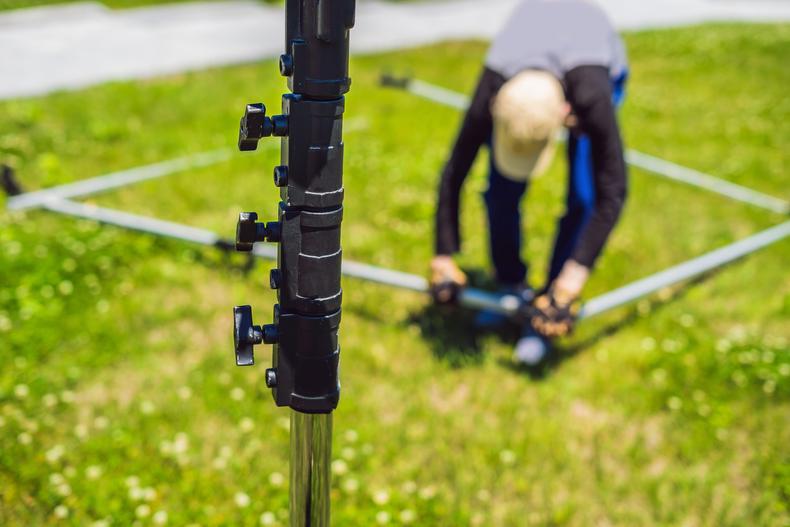 Elizaveta Galitckaia/Shutterstock
According to a Hollywood Reporter survey, experienced key grips make an average of $131,068 per year working on multimillion-dollar studio films. For TV shows and low-budget films, they make anywhere from $41,000 to $59,0000 ($25–$35 per hour) in a 40-week year. Key grips can stand to earn even more if they have their own gear and trucks to rent out when they're hired on a production, too. As with any crew position, a key grip's salary depends on experience, how frequently you work, and the size/budget/union status of the projects you work on.
Key grips are represented by IATSE, which guarantees a minimum pay rate on union productions.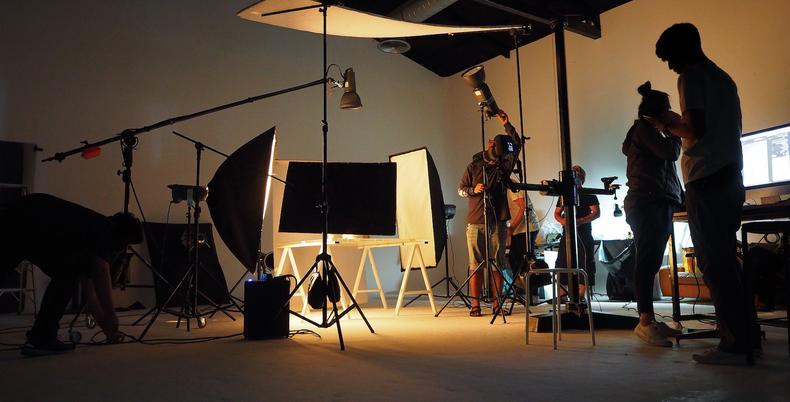 gnepphoto/Shutterstock
To be a successful key grip, you need extensive carpentry, rigging, and electrical skills, as well as experience and knowledge of crew equipment. Since it's a physically demanding job, it also helps to be in good shape. According to Dubbe, the job also involves "a million little math problems all day" to determine if a floor can hold a certain amount of weight or a rigging will be stable. While film school is a good place to get started and make connections, a key grip learns the most on the job. Therefore, it's always a good idea to get involved in student films and other low-budget projects as soon as you can to get your foot in the door.