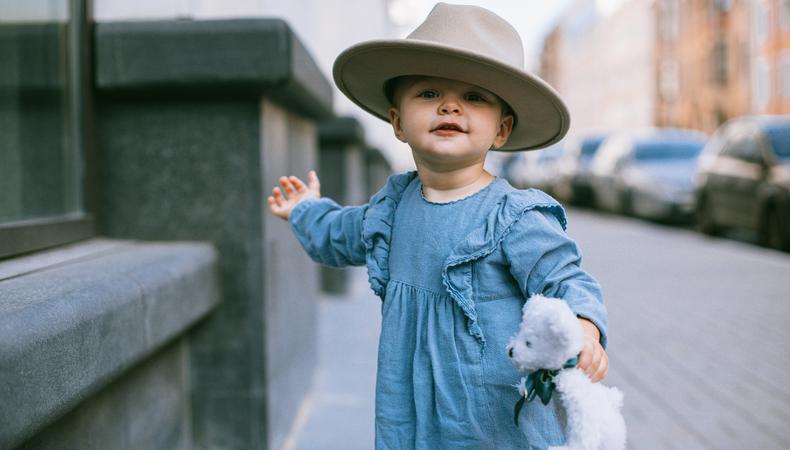 There are many entertainment hubs in the United States where you can find work as a TV and film actor, and Los Angeles is one of the largest. Parents of starry-eyed children often flock to the city throughout the year in hopes of finding work for their child actor in Los Angeles.
So if you're a parent looking for work for your child actor in L.A., how do you find it? All actors need a set of materials in order to market themselves and then submit themselves to projects. From there, a casting director receives submissions for available roles and determines who they want to read for a part so you need to be prepared.
Here are the materials you need and the resources you should use to find work in Los Angeles.
Headshots
A headshot is what's referred to as an actor's calling card. The visual representation of not only how an actor looks, but also what type they play and what personality shines through. It's imperative to get great headshots in order to be submitted for casting opportunities and find work for your child actor in Los Angeles. Headshots are a specific type of photography that often is confused with portraits. Actors should seek photographers who are headshot specialists for these photos. There are industry trends, composition techniques, lighting, and posing that headshot photographers can easily execute. Having a competitive headshot is going to be the most important tool for your child actor.
Headshots should be updated for children twice a year. This investment should be a priority and not worked around. Many inexperienced parents will seek out a friend or local photographer to take headshots and most often these photos are not usable or effective in submissions.
You'll need at least two different types of headshots. One is a commercial headshot that's used primarily to submit for commercial castings. A commercial headshot is full of energy and happiness. A great smile, preferably with teeth showing, is required. The headshot should make the viewer of the photo smile because the positive energy is contagious. This is not a posed portrait. The headshot should have movement, thought, and communicate feelings. Some of the best commercial headshots are caught mid-laugh or in an obvious joyous moment.
The second required headshot is called the theatrical headshot and is used to submit for television and film castings. This headshot is commonly misunderstood as people think it's referring to theater work. A theatrical headshot should be a more confident, relaxed, thoughtful, and serious photo. I like to refer to it as the non-expression. It should not display one singular emotion. It should be confident and strong. It should have a purpose and thought. The eyes should be easily accessible to the viewer to get a glimpse of what the actor is about. It's not moody, pouty, or angry.
Résumé
A résumé is generally printed and trimmed to fit to the headshot and stapled on each corner. The résumé should be in a three-column format and list credits in film, TV, and theater and commercial. It should also display your parent contact info as well as agency and/or management. Training and special skills are also highlighted here to give casting directors insight into what else a child can do and where they study. Don't feel bad if there are few or no credits at all when you arrive in L.A. Everyone understands that a child is a beginner and children famously get a lot of opportunities regardless of experience. Be honest and follow format.
Video
Creating examples of your child's acting skill on video is vital to getting auditions from your submissions. Clips that showcase types they can play and accentuate their skill are helpful to casting. Only a small fraction of the thousands of submissions received per role will get a call in to read or self-tape by a casting director. Materials like video justify why you should have one of these few opportunities to be seen.
With small children, a 60-second personality interview is usually a fine example to post on a profile. They can be engaging in a story or talking about their favorite toys. Older children at a minimum should have at least a comedic and dramatic monologue that's one minute in length. Demo clips and scenes are good videos to have as well.
Casting Profiles
To find casting opportunities with or without representation in Los Angeles, you'll need to set up profiles on casting websites like Backstage. On these websites, you'll input the résumé and add a variety of headshots to create a profile. A mix of 3–5 headshots is perfect. You'll also have the ability to add video media in the form of a reel, demo clips, footage from bookings, monologues, personality interviews, slate shots, singing or dancing examples, and other special skills clips.
Finding Casting Opportunities Online
Casting websites will list opportunities in L.A. by type of production. You can go through and find roles that match your child's age, ethnicity, or type. Roles in projects like student films, web series, commercials, feature films, theater, and television are available to submit to. Make sure you submit in a timely manner after a casting listing is released as things move very swiftly in Los Angeles. You'll be called or emailed if selected to audition in person or asked to send in a self-tape of the reading for that particular role.
Everything You Need to Know About Becoming a Child Actor
Talent Representation
Agents and managers get a much larger amount of castings to submit to than is publicly available. They also have established relationships with casting directors. This is an obvious reason why many parents opt very early to find representation to help their children book work and build a résumé. Agents and managers will never charge for their services upfront. If they do, it is likely a scam. Talent reps make a living off of commissions from work an actor books so you can see why they're very choosy on who they devote time and energy to. Agents take a 10 percent fee on union work and up to 20 percent on nonunion bookings. Managers take anywhere from 10–20 percent on all actor bookings.
My philosophy is that any actor that wants to be a working actor will find work. There's a ton of opportunity for your child to find work in Los Angeles alone. It's important to understand this is a big business industry. It's not always fair and rejection can sting. But when opportunity meets preparation then magic can happen. Make sure while you're finding work for your child, you're not ignoring they get the training they need too. Training is very important to stay competitive against the many child actors in the L.A. area also looking for work.
Be sure to check in periodically to make sure your child still wants to pursue a career in entertainment as well. They must treat it like it's serious, but also have a passion for the art form to make it fun!
The views expressed in this article are solely that of the individual(s) providing them,
and do not necessarily reflect the opinions of Backstage or its staff.