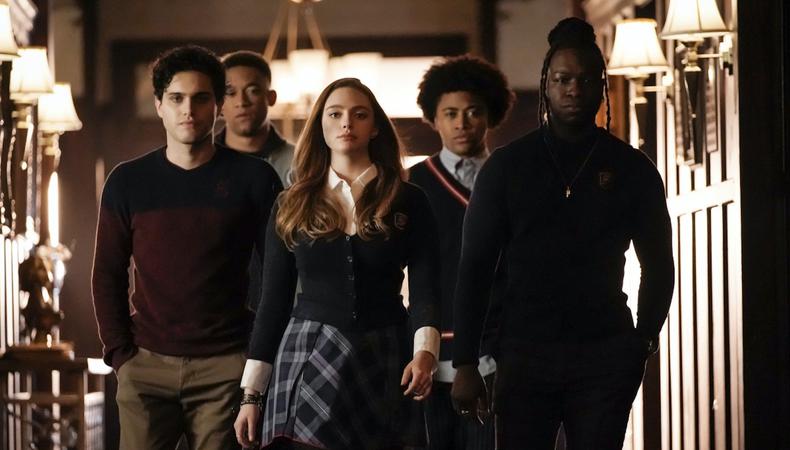 The CW's "Legacies" is a teen fantasy drama about a group of supernatural beings (vampires, werewolves, and witches) who come of age and try to live harmoniously in the hallowed non-human halls of the Salvatore School for the Young and Gifted. A spin-off of "The Originals" and its predecessor "The Vampire Diaries," the series follows 17-year-old Hope Mikaelson—the orphan daughter of werewolf-vampire hybrid Klaus Mikaelson and crescent werewolf Harley Marshall from the previous shows—who, along with her peers, strives to hone and control her abilities and impulses in the midst of supernatural obstacles.
Season 1 of "Legacies" focuses on the main pack of students—Hope, Rafael (werewolf), MG (vampire), twins Lizzie and Josie Saltzman (witches), and Landon Kirby (human/phoenix)—as they balance football games, romance, and an onslaught of evil mythical creatures. Season 2 sees an awakening of erased memories and terrifying new creatures, and its cliffhanger ending saw Hope and Landon's fates in the air as she is locked in a sleeping spell and he has been stabbed by a golden arrow. It's unclear what will happen in Season 3, but we're guaranteed to at least see these monsters do the mash: "I can't believe we're finally able to continue our stories," show creator Julie Plec tweeted in Oct. 2020, "and I CAN'T WAIT FOR YOU ALL TO SEE THE SALVATORE: THE MUSICAL EPISODE!"
"Legacies" was created by Julie Plec, creator of "The Originals" and co-creator/developer of "The Vampire Diaries." Plec also serves as the showrunner and as the show's executive producer, alongside Brett Matthews, Leslie Morgenstein, and Gina Girolamo. The series first aired on The CW on Oct. 25, 2018 to good reviews and ratings. It was renewed for a third season on Jan. 7, 2020, but production was delayed and then shut down due to the COVID-19 pandemic. Production on Season 3 began again on Oct. 15, 2020 and will premiere in Jan. 2021.
Background/extras

All genders,

18-24

Looking for actors to portray supernatural high school student vampires, werewolves, and witches

All ethnicities

Required media: Headshot/photo

Pays $75/8 hours
Background/extra

Ages 18-26

Seeking talent from Atlanta, GA

All ethnicities

Required media: Headshot/photo

Pays $75/8 hours
Background/extra

All genders, 8-26

Seeking talent from Atlanta, GA

All ethnicities

Required media: Headshot/photo

Pays $75/8 hours
Background/extra

All genders, 25-50

Seeking talent from Atlanta, GA with unique, edgy looks

All ethnicities

Required media: Headshot/photo

Pays $75/8 hours
Danielle Rose Russell as Hope Mikaelson

Aria Shahghasemi as Landon Kirby

Kaylee Bryant as Josie Saltzman

Jenny Boyd as Lizzie Saltzman

Quincy Fouse as Milton "MG" Greasley

Peyton Alex Smith as Rafael Waithe

Matthew Davis as Alaric Saltzman

Chris Lee as Kaleb Hawkins

Ben Levin as Jed

Leo Howard as Ethan
Throughout its first three seasons, "Legacies" has been cast by Lesli Gelles-Raymond and Greg Orson of GO Casting, the talent-seeking duo behind "The Following," "Containment," "The Vampire Diaries," and "The Originals."
Because the show is a spin-off and part of a large established universe, many characters (and actors) carried over to "Legacies." Before Danielle Rose Russell auditioned for the role of Hope for the fifth and final season of "The Originals," she was a huge "Vampire Diaries" fan but didn't realize until the audition that the shows were connected. "When I got an audition for this, I was very familiar with the characters and the concept," she said. "But I hadn't seen anything of 'The Originals' until I was down to the end for the role and I watched the whole fourth season, and then when I got it I did my proper homework.'"
On the experience of reading for the part, she said: "The audition process was a little trying. I remember going in for the callback and I saw like three other girls there and I was like, 'I'm definitely not going to get this. Definitely.' and then I got an email that Julie [Plec] wanted to get on a Skype call with me, and then I was like, 'I feel good about this one.' And it was a great Skype call and I found out like two weeks later. It was a long two weeks."
When Plec set her sights on a series about the offspring of characters from "The Vampire Diaries," she aimed to establish a younger, hipper, more "anything goes" tone than the franchise's previous installments through its cast. "I love it," she said in anticipation of the first season. "It's about the young kids at the Salvatore Boarding School. It's young, it's fresh, it's funny in a way that the other shows didn't have a chance to be.... We are just going with it and getting our Harry Potter on and having a good time!"
Similarly, executive producer Brett Matthews described the spin-off as "more of a high school show, which is fun because it's teen love…and that's hard enough when you're human, but when you're supernatural, it's even worse. I'd say our tone's a little lighter but we still have all the things that are our brand, which is horrible tragedy and epic romance and it'll always have that. But it's a little more high school, a little more fun…[and] it's very much an ensemble cast. 'Vampire Diaries' was always an ensemble. 'The Originals' always was, so it's still very much in that tone. We want it to be a reflection of modern youth and modern reality."
The number one priority among producers and casting directors? Chemistry—especially on a series dealing with young love. According to David Rapaport, the CD for such CW hits as "Gossip Girl" and "Riverdale," casting an ensemble like on "Legacies" "falls into place based on the way the casting works."
He continued: "In an ideal world, we'd cast the roles at the same time, but most of the time it doesn't work out that way. I really have to take a leap of faith. Sometimes we'll do chemistry readings for love interests to make sure there's a palpable onscreen chemistry, but a lot of times, you don't even get to do that and actors read with a reader, usually an associate from my office. I'm piecing together the chemistry in my brain; I never quite know what's going to happen until I get on set or see the first edit of a pilot. We read people so many times to make sure that there are no questions left unanswered so you know what to expect of what you're going to get...You have to go through the auditions, studio tests, network tests, screen tests, lots of conversations and back and forth and questioning who's right and who's wrong."
CDs and producers are rooting for you to do well: "I've said this before: Selfishly, I want you to do well because it makes me look good," Rapaport said. "I really want actors to come in and feel comfortable and do their best. It's a weird process, auditioning. You have to come in and be completely open and vulnerable in front of people you don't know in a room you've never been in before. I think some actors assume we want to embarrass them or make them feel less than when it's the exact opposite. I want them to feel as safe as possible; I want them to do well; I want them to see it as an opportunity to perform, to act, hopefully, to get some direction, workshop it if we can. I think it can be a really fun learning experience in the office. Ultimately, we want you to succeed."
They want to discover new talent: In an interview for "The Vampire Diaries," Plec pointed out that "the very first thing the network said to us was, 'Don't worry about stars...you don't need stars, you don't need name casting, you don't need stunt casting. You find who you want to bring these characters to life because you've got [source material] books and a genre that people are already into.'" This freedom when it comes to casting has continued throughout "The Originals" and "Legacies" with mostly fresh, new faces making up the ensemble.
Rapaport agrees with this approach: "In TV, I'm casting [up] to 15 roles a week on each show, and the actors are typically pretty unknown. They're not household names. It gives me a chance to really discover and audition people who are closest to the character for a show like 'Riverdale,' 'Arrow,' or 'Supergirl' as opposed to casting them for name recognition or face recognition. It's really about who gives the best performance, so to me, it's exciting in TV on a weekly basis to be able to really put forth the best talent I've been seeing."
Fans' dreams do come true: Kaylee Bryant and her mom were avid watchers of "The Vampire Diaries" years before she ever got to audition for what was, at the time, an untitled Julie Plec project. "It really is a dream come true," she said. "I never would have thought that—I was the kind of person where three years ago, five years ago, I was watching videos from 'The Vampire Diaries' Comic-Con panel and I was watching videos of Julie Plec talking about watching all the actors audition. It was something that I genuinely spent my spare time enjoying watching and diving into the backstory of it all. Actually going to Comic-Con last week and sitting next to Julie Plec and explaining my character, and trying to explain to the fans that I would be sitting in their spot right now if I didn't have the opportunity [to be part of the show]. It feels very strange. I feel like I need to prove to them like, 'Guys, I made it on the inside. It's possible.'"
Though there have been no public casting calls for "Legacies" since the series resumed production on Season 3, be sure to keep your eyes out for notices right here on Backstage and the show's official Twitter for updates and audition opportunities. It seems that producers and writers have no shortage of ideas for future high-stake adventures for the fanged-up characters, so chances are good that more and more new characters will be added to the roster!