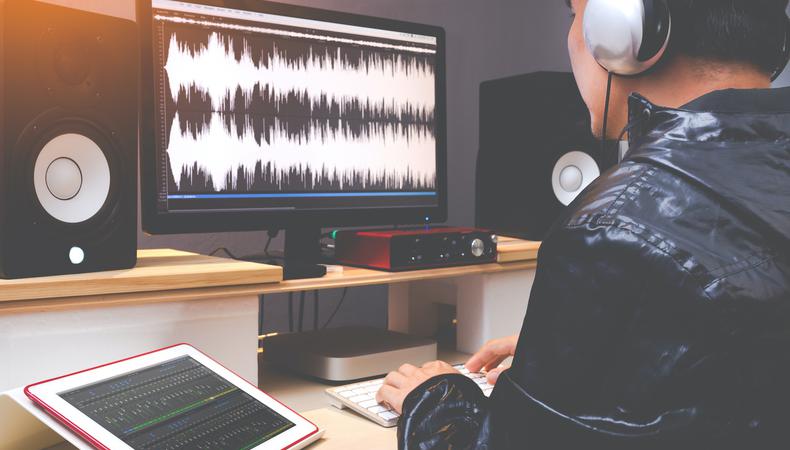 While it's true that video is primarily a visual medium, it's the pairing of sound with a moving image that makes for a truly cinematic experience. Luckily, there are many jobs in the sound department: a sound designer is responsible for designing the specific effects that go onto a soundtrack; a sound mixer is often the head of the department, ensuring that all recorded sound is properly leveled; and a sound editor will take all the elements that make up a soundtrack—score, dialogue, effects—and weave them seamlessly into the final cut.
Whether you're interested in mixing, designing, or editing, there are several routes to landing that first job. Here's some career advice from the best in the business—listen up.
Always be looking for teachers and mentors.
I went to film school with this notion that I was going to be a cinematographer. My film professor, when I graduated, said, "I have a job you might be interested in working for [the] Saul Zaentz Film Center in Berkeley in the sound department."
I said, "Oh yeah, thanks, I want to be a cinematographer." And he said, "Chris, take the job, you're gonna be rubbing shoulders with the biggest name in the business. Then see what you wanna do." I started working with a lot of [really talented].... and I started to watch what they did and how they took all of these sounds and how they folded them into this track that became [an] integral part of telling [the] story in a movie. —Christopher Boyes, sound editor, designer, mixer
Offer to work for free.
I was always drawn to sound; I was always intrigued by it. [I] used to walk around the house and record stories just with sound. As I was getting ready to go to college, I thought, "maybe there's something to this." But it wasn't something people talked about; you just weren't taught to do that.
We had two [sound] designers come and speak to us, Richard Anderson and Mark Mangini. They were speaking about sound design and I basically was like, "oh my god, this is it." I went up and asked if I could work for them, for free, as an intern. And that's how I started, with them, and just kind of worked my way up. —Karen Baker Landers, sound editor
Take a job that will get you on set with the pros.
I went freelance and did a lot of documentary work before I met a cameraman who invited me to a party where I met a sound mixer who asked me to be a boom operator for him. It was a four-week job, there was no money, but I was young and hungry, so I grabbed that opportunity.
His name was Lee Orloff and he [now has] got a [Cinema Audio Society Filmmaker Award]. So somehow I hooked up with the best, which was an amazing learning experience. While I was working with him, I got the bug to mix on my own for narrative work. —Matthew Price, production sound mixer
Be patient.
I started off as a runner-come-tea boy in an audiovisual company which was more to do with audio slideshows. Then I managed to get a job as an assistant picture editor in commercials, which took me about two years of applying for lots of different jobs.... You really had to have a passion to get in.
As an assistant picture editor on commercials, it was my responsibility to lay up the sound effects, which is where I became aware of that particular discipline…. I then worked on lots of TV shows before going back to features. They were good ground to learn the skills I needed.—Harry Barnes, sound designer
Don't be afraid to knock on doors and volunteer.
I went knocking on doors of production companies asking if I could help out on any shoots. Most of what I've learned has been on the job. I learned by doing: making films with equipment and other enthusiasts from a film and video workshop.
I started volunteering on more professional shoots, then I got on a trainee scheme where I was attached to various productions assisting in different departments—but mostly in sound. After that year, I worked [as an assistant] but was quickly pushed into recording sound for corporate videos and documentaries. —Stuart Wilson, sound mixer, recordist
This story originally appeared in the May 27 issue of Backstage Magazine. Subscribe here.