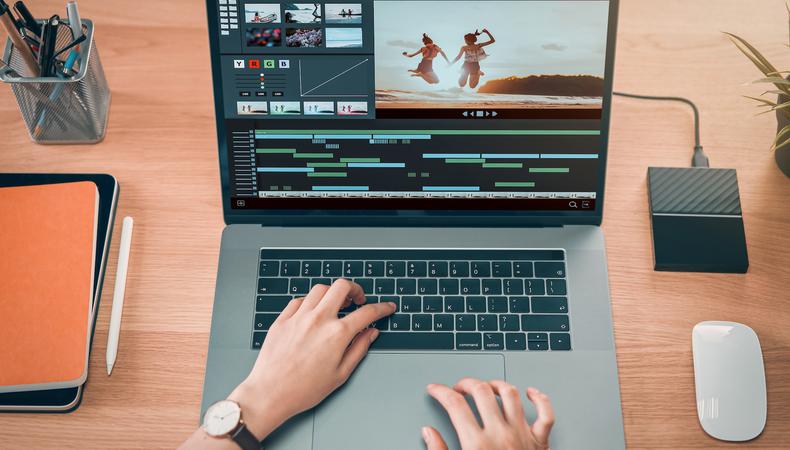 If you're a digital creator in the brand marketing space and beyond, finding the professionals skilled at putting videos and related media together is as important as ever. Editing footage, in particular, can take a lot of time and resources, so unless you're taking a DIY approach to producing videos, you should be looking to hire a professional video editor. There's a lot to look for in a potential video editor candidate, including their experience level, where you're looking to hire them, and how much it costs to hire them both freelance and full-time. What's your budget for all involved in your production crew? Below are some tips on what to consider when seeking video editing services: where to look, how to hire, and estimated costs.
What should I look for in a potential video editor?
First, know exactly what your project needs. Do you have hours of footage and need an editor to trim it into a cohesive story? Are you looking for quick-paced transitions and flashy sound and visual effects? A clear video editing job description complete with details about the desired end result will exclude any potential hires who don't fit that bill and focus on the ones who do.
Quality video editor candidates should have a portfolio of their best work available, which will give you a sense of their editing style, artistic vision, and personality. Do their samples match the tone or genre of what you're hoping to produce? If an editor displays a wide range of styles, that likely means they're adaptable and able to execute your vision, even if you don't see exactly what you're looking for in those samples.
Prospective video editors should also have a complete and updated résumé available. When evaluating a video editor's résumé, pay particular attention to the special skills section, where editing software applications should be listed. If a candidate doesn't know ProTools, Adobe Premiere Pro, or Final Cut Pro inside and out, they are likely not a fit. The same goes for any subscriptions; an experienced video editor will have access to stock image, video, and music resources needed to heighten a video's quality, so be sure to verify what subscriptions and resources they have in their arsenal.
The video editor you hire should also have access to and knowledge of the digital software you're using to create your videos. Ask what kinds of editing software they typically use, and determine how and in what format files will be shared between you. In general, the more you can familiarize yourself with a candidate's workflow style and work ethic, the likelier it is you'll be a good match.
When you've whittled down options and are ready to make an offer to a video editor, checking professional references can be a helpful extra step. Contact previous collaborators or employers to get a firsthand account of their skills, attitude, and any other relevant information. You're looking for a glowing endorsement.
Where can I find video editors to hire?
No employer's candidate search is complete without the internet. If you're creating content for an online video platform like YouTube or social media platforms like TikTok, you're likely looking for one-off or quick editing services. Freelance video editors are everywhere, often specializing in other areas of film production or postproduction; for example, "shreditors," or shooter/producer/editors, take on the roles of multiple team members in producing videos and make a living on one-off freelance assignments.
General and industry-specific job sites like Backstage and Mandy are especially helpful for connecting video editor freelancers and employers who require such services.
Alternatively, if you're working at a corporation or media business that needs video experts on call to generate content, you're looking for full-time or outsourced editors. The latter option involves contacting video editing companies like VideoCaddy or Business Film Booth, who work together to complete jobs.
Your own network of professional contacts is another method of finding editing talent that is not to be overlooked. The entertainment and media industries are built on recommendations from friends and colleagues; if you know of filmmakers who have gone through the freelance editor hiring process before or work at companies that employ them full-time, tap them for thoughts or specific editors who might be a fit.
How much does it cost to hire a video editor?
Career Explorer estimates a full-time or freelance film editor's average wage is about $25 an hour, but can be as high as $50 an hour. ZipRecruiter similarly says their average wage is around $23 per hour. According to the U.S. Bureau of Labor Statistics, video editors and camera operators made approximately $30 an hour across the country in 2020.
One of the most important considerations in hiring a video editor is how your budget aligns with their pay rate. Production costs can vary widely depending on the size of the project in question, what kind of editing is needed (working with animation costs more than traditional video, for example), and what other postproduction services they might provide. (For example: Are you hiring just one person to cover editing footage, sound, and color correction, or are you looking for multiple freelance editors for the same project?)
On the freelance job sites listed above, video editors advertise their services for anywhere between $15 and $100 per hour of work. If they have years of experience, a variety of applicable skills and digital software, and plenty of satisfied clients, professional editors may charge up to $150 per hour.

Once you're ready to hire your video editor, be sure to create a written contract that is as professional and detailed as possible so you and your hire can see in no uncertain terms what's expected of them, when filming is scheduled, your completion deadline, and payment information. This is especially important for long-term editors or full-time staff, as payroll and time-off policies come into play.
Follow the tips above and you'll find your video editor match—within budget—in no time!