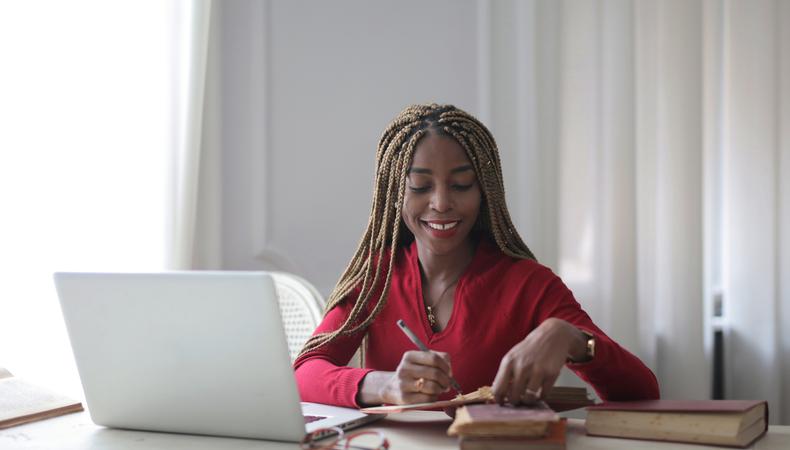 When you're stuck at home, it's even more challenging for actors to stay sharp and engaged in the artistic process. Of course, there are lots of ways to practice acting from home, such as Zoom classes or getting together with fellow actors for a virtual staged reading. But what can you do to develop your technique that doesn't involve other people? Below are three practical things you can do to practice acting alone—all from the comfort of home.
1. Watch films, listen to music, and exercise your creative muscles
It goes without saying that nurturing your physical body is essential for the actor. Whether it's movement, dance, yoga, or martial arts, there are endless remote options for keeping your body limber. But what about your creative muscles? Set aside time every day to connect to your creativity. Watch a great film or hold your own private festival of films of your favorite actor or director. Listen to jazz, your favorite rock album, or break out your paints and your canvases. Setting your creativity and inspiration free on a daily basis will keep those muscles strong and ready. Many of you may already be familiar with Julia Cameron's "The Artist's Way," but her incredible creativity workbook is something that I always love to return to and reopen the artistic channels.
2. Practice your scales
For the actor, "practicing your scales" can mean engaging with different elements of your craft: don't just wait for the next audition. Pull some audition sides and exercise your script analysis skills, visualize the story, personalize the character and record it in your home taping studio or on your phone. Pull out that monologue you haven't worked on in ages or look for a new one and break it down, personalize it, rehearse it, and film it. Open up your dusty acting books and revisit them. Do an acting exercise in your living room. Books such as Stanislavsky's "An Actor Prepares" always provide new perspective every time I go back to them.
3. Work on a role
An important acting teacher of mine told us that as actors, we should always be working on a role. Nothing can compare to the joy of reading an entire play or screenplay, imagining living in the world of the circumstances, and building the character step by step. There's a powerful exercise called a "character private moment" that you can do alone at home, exploring the private world of the character. In "An Actor Prepares," Stanislavsky really captures the passion of the young actor and the excitement of learning more about the craft. He also spends time-solving acting problems after class, alone in his apartment, his head filled with questions.
Practicing acting alone gives us an opportunity to recommit ourselves to the wonder and excitement of what we love to do. And what better place is there to practice acting than in the sacred space of our home?
Looking for remote work? Backstage has got you covered! Click here for auditions you can do from home!
The views expressed in this article are solely that of the individual(s) providing them,
and do not necessarily reflect the opinions of Backstage or its staff.