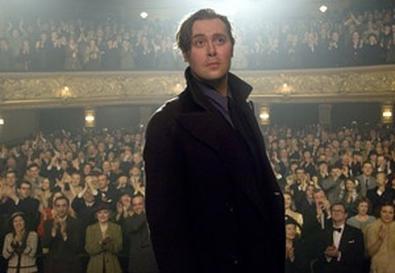 Christian McKay has been teased about his uncanny resemblance to Orson Welles, a comparison he did not like. He wanted to be compared to Richard Burton. Still, when he found himself relegated to playing eunuchs in Shakespearean productions—"and that's several rungs lower than spear carriers," he says—followed by 18 months of unemployment, he reappraised the idea of Welles as a kind of alter ego. McKay performed the one-man show "Rosebud: The Lives of Orson Welles," by his pal Mark Jenkins, at the Edinburgh Festival and in London, Toronto, and New York. In Gotham, the actor was seen by Richard Linklater, who cast him as Welles in his film "Me and Orson Welles." McKay admits it's a meteoric career leap. Nevertheless, he acknowledges there's something to be said for being an unknown.
"Audiences aren't going to say, 'There's so-and-so trying to be so-and-so,' " says the 36-year-old Lancashire, England, native. "Because audiences don't know who I am, they may be more likely to believe the character I play." In the lighthearted flick about the 22-year-old Welles and his legendary 1930s Mercury Theatre, McKay undoubtedly evokes the icon vocally and physically. He cuts a blustering, arrogant figure not devoid of charm. "I tried to show his vulnerability, but at the same time I didn't want to be an apologist," McKay says. "He did treat people badly. He was a flawed human being as all geniuses tend to be."
During his interview with Back Stage, McKay displays his talents for mimicry, impersonating, among others, Laurence Olivier and Winston Churchill. Indeed, the actor's dream role is young Churchill, and he has written a screenplay for himself as the British leader. McKay credits his voice training at the Royal Academy of Dramatic Art, as well as his own musicality, with helping him craft Welles. McKay is a concert pianist who has performed in Europe and Australia. "I'm a low-register tenor, and he was a basso profundo. It was quite a physical challenge to open my chest and throat to get that deep sound," McKay says of creating the character. He also tried to capture the "sincerity in Welles' eyes, which changed my face, and that changed my speech." The actor lost close to 30 pounds to play the young Welles.
'Not You!'
McKay was an actor and singer as a youngster, performing in school productions and serving as a chorister at Manchester Cathedral. But his love was the piano. He studied at the University of York, the Royal College of Music, and Queensland Conservatorium of Music in Australia. Yet acting still haunted him, and he decided to see if he had the potential for it—before he was "too old." He auditioned for RADA and was accepted, though he continued—indeed, continues—to practice piano every day, calling it "unfinished business. I still hope to do some more concerts and recordings."
He describes his experience at RADA as "interesting." "They deconstruct you in order to reconstruct you, and I was open to it," he says. "But I was annoyed that they wanted me to reconstruct myself so quickly. Suddenly, we were doing a public performance, and there was panic."
Still, at the showcase performance before an audience of industry insiders, McKay scored, though he admits he was skeptical about the whole event, not least
his classmates' choices of over-the-top material, where they were "hanging off the rafters, shouting, 'Hire me!'" In contrast, McKay performed the "lyrical and simple" prologue from Dylan Thomas' "Under Milkwood." Richard Attenborough, who was in the audience, was so impressed, he recommended McKay to the Royal Shakespeare Company, where McKay eventually performed in "Antony and Cleopatra." McKay also landed an agent the night of the showcase, although the actor later decided he wanted to work without representation.
The evening was memorable for another reason. McKay encountered an agent who gazed right past him when he attempted to talk with her. Finally, McKay asked, " 'What do you look for in a client?' " he recalls. "For the first time she looked directly at me and said, 'Not you!'" Fast-forward to the recent past as "Me and Orson Welles" began to generate buzz. A London agent invited him to her office, where he discovered she was that same agent. He reminded her of their introduction at his RADA showcase; she clearly did not remember him at all. "It makes me sound immature, but I couldn't resist," McKay says. "I looked at her directly and said, 'Not you!' and walked out of her office." He admits he spent the whole night regretting his action; though, thanks to the film, he now has agents on both sides of the Atlantic, including ICM.
Since filming "Orson," McKay has completed Bernard Rose's biopic of British drug smuggler–turned–author and raconteur Howard Marks, "Mr. Nice," and has a bit part in a new untitled Woody Allen film. Asked where he'd like to be in five years, McKay is ever the pragmatist. "I'm a jobbing character actor, available for hire," he says. "Orson Welles and eunuchs are my specialty. I'd like to be playing the great Shakespearean roles on stage, like Richard III. I'd also like to play 'Iberia Suite' for piano by the great Spanish composer Isaac Albéniz."