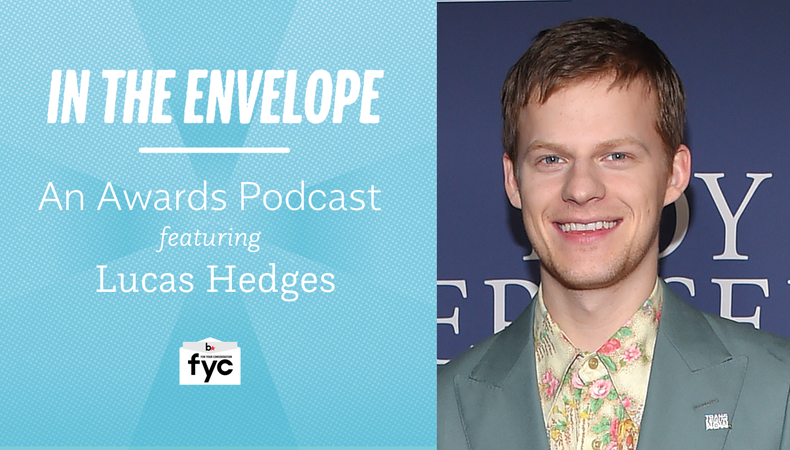 "In the Envelope: An Awards Podcast" features intimate interviews with award-winning actors and other creatives. Join host and Awards Editor Jack Smart for a front row seat to the industry's most exciting awards races, and valuable acting and career advice from contenders!
This year, the 21-year-old Lucas Hedges stars in three buzzy films—"Boy Erased," Joel Edgerton's retelling of Garrard Conley's gay conversion therapy experience; "Mid90s," Jonah Hill's skateboarding indie; and "Ben Is Back," an addiction drama written and directed by his father Peter Hedges—as well as on Broadway in "The Waverly Gallery" by Kenneth Lonergan, who penned the young actor's Oscar-nominated role in 2016's "Manchester by the Sea." This all after earning four SAG Award nods plus an ensemble win last year for "Three Billboards Outside Ebbing, Missouri" (he was also SAG-nominated for "Lady Bird"), and the distinction of counting Frances McDormand, Nicole Kidman, Russell Crowe, and Julia Roberts among his on-screen parents.
To call this early-career breakthrough a whirlwind is a bit of an understatement. Through it all, the Brooklyn–born Hedges has kept his bearings, his focus always on defining and enhancing his artistic philosophy and staying in touch with his own creative process. What has he learned so far? "I only ever really learn when I have to figure something out for myself," he tells Backstage. "The only things I'm ever going to do that are going to mean something to me are going to come from a place of listening to myself in an intuitive way as to the direction my life wants to go in, and I don't think it's about paving the career."
He also reflects on the catch-22 of choosing to be a working actor, the idea of a work-life balance, and the importance of playfulness, even when emoting in serious roles. Don't miss Hedges' wonderful "In the Envelope" podcast interview.
Listen now on: