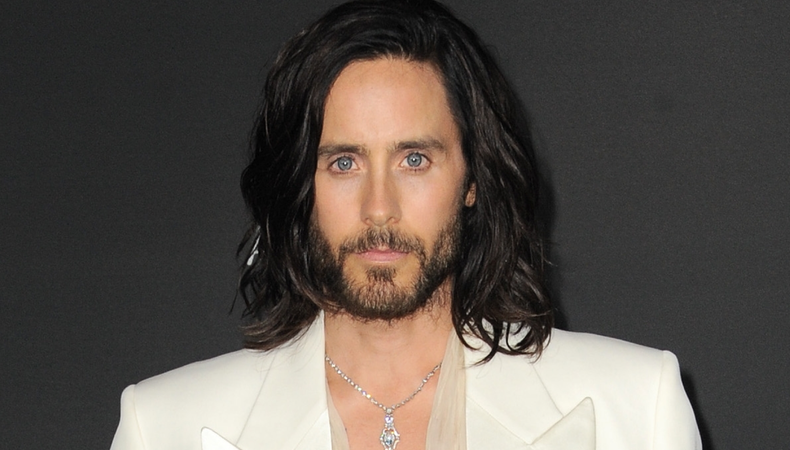 In the Envelope: The Actor's Podcast features in-depth conversations with today's most noteworthy actors and creators. Join host and awards editor Jack Smart for this guide to living the creative life from those who are doing it every day. This episode is brought to you by HBO.
There's a lot that goes into what Jared Leto calls "immersive" (and what some call "method") acting. What the Academy Award winner's full-bodied screen transformations boil down to, ultimately, is a willingness to swing for the fences. "I want to destroy things," he says of his process. "I want to make myself reconsider what's possible with acting—to put a dent in this proverbial, creative universe."
Particularly in the last decade or so, taking "fairly ambitious swings" with his characters, Leto has embraced risk-taking to the point of embracing failure. "It's OK to fail and to be wrong, and to be bad, and to miss," he says. "I've failed more than anybody I've ever met in my life. But I recognize the education that comes along with that."
It was the idea of failure that drew him to the role of Paolo Gucci, the pitiably, buffoonish black sheep of the family in "House of Gucci" from director Ridley Scott and adapters Becky Johnston and Roberto Bentivegna. "I really identified with his desire to be an artist, the fact that he wanted to do something special with his life," admits Leto. "I related a lot to his failures, which is very common for us artists. And I loved his heart and humor."
Leto's highly physical, heavily accented performance, complete with face-altering prosthetics that took over six hours daily to implement, has been nominated for Critics' Choice and Screen Actors Guild Awards. Born in Louisiana, and a student of visual art and filmmaking in Washington D.C. and New York City, Leto moved to Los Angeles in 1992 with only a couple hundred dollars to his name. After breaking into Hollywood with "My So-Called Life" and starring in "Prefontaine," "Requiem for a Dream," "Panic Room," "American Psycho," he took a years-long break from acting to focus on his band, Thirty Seconds to Mars. Then, "Dallas Buyers Club" earned him an Oscar, followed by equally acclaimed work in "Suicide Squad" as the Joker, "Blade Runner 2049," and "The Little Things." He'll next star in Marvel and Sony's "Morbius" and the Apple TV+ miniseries "WeCrashed."
"When I take on a role, I'm obsessed," he says of all his work. "I want to know everything. I want to know what my character's favorite food is. I want to know the last time he took a shower. I want to know, is he right-handed, is he left-handed? What's his middle name? Because you never know when it's gonna pay off." That's particularly true in moments of improvisation, he adds; after rigorous backstory invention and relentless preparation, it's the actor's job to let go and inhabit the character on camera, in the moment.
Of course, Leto has never approached two roles in the exact same way. "For me, once you have character, you're free," he says—but experimenting with how to get there starts from scratch each time. "Oftentimes, if there's room for things to grow, if you see that opportunity, it means you're probably walking down the right path."
Therein lies Leto's top advice for fellow working actors: Figure out your own techniques through trial and error. And the bigger the errors, the better. "Everyone's got their process. No one should apologize for it. People should explore and experiment—you're artists. Be bold, be brave, break some shit. And never, ever apologize for it. Show up, be kind, be respectful, be there for your partners, be there for your director. But don't be afraid to really challenge even your own expectations of what's possible."