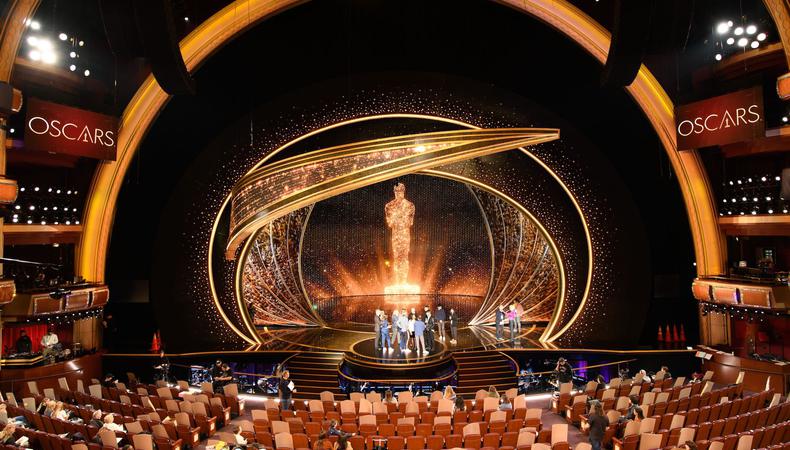 Everything you saw on the stage at the Academy Awards on Feb. 9 (minus the coiffed human beings, that is) was courtesy of production designer Jason Sherwood, who had the steep task of creating every visual for the 92nd annual ceremony. Here's how he created a set that shone as brightly as the year's film stars—and his actionable advice for those who dream of one day doing the same.
You were the production designer for the 92nd annual Academy Awards. What does that role actually entail?
On the Academy Awards, there is typically a producer or a pair of producers who are elected to work on the show by the Academy. Those people often have a relationship to the Academy, they have a relationship to filmmaking, and they bring on each year a production designer to sort of craft the physical stage. The interesting thing about the show is that, while it is a television awards show and while it is a show that celebrates feature films and moviemaking, it's essentially a stage show. It was something I hadn't done, putting a stage show that takes place in an actual theater on television live. My role is to craft what the physical space is going to be, prep what the visuals for the show are going to be, and take the producers' ideas for what they got excited about, in terms participating as producers of the Oscars, and bring those ideas to life. Ultimately, we deliver a few dozen awards, and we have to keep it moving. The program, to a certain extent, remains the same every year, so it becomes [about asking], How do you deliver that, craft that, and serve it up in a way that seems unique?
READ: Everything You Need to Know About the Oscars
How much are you designing for those in the room and how much are you designing for those watching at home?
The number of people in the room versus the number of people who will be watching on television, there's an exceptional difference between those two. However, the folks in the room are the folks who are being recognized or are present and participating because of the work that they've done this year and their relationship to the filmmaking community. Those folks are incredibly important. The show we make is predominantly for what we capture on camera, but the show you'd see in the room is exciting and very dynamic and certainly legible. The way we're able to guide the eye and bring an audience into the physical space is with camera, traveling up close with steadicam, dancing around in physical space in a way that you can't when you're in a fixed theater seat. It's definitely a fine balance. We often consider the fact that the show won't be a good show if the audience in the room isn't enjoying themselves or doesn't feel included, because their energy is a life force and will be detected on screen.
Considering the audience in the room and the audience at home, is it really like designing two shows at once?
I would say we're doing about 10 shows at once. It's a super wacky thing, because we have a responsibility to the folks in the room to make something beautiful, to make them feel comfortable. It's Hollywood's most glamorous night—especially this year, we had legends in the room, everyone from legacy artists like Martin Scorsese and Joe Pesci and Al Pacino all the way to huge new talents like Greta Gerwig and the cast of "Parasite." It's this unique opportunity to celebrate a melting pot of artists, culturally, and we need to create a space in the room that feels inviting and comfortable and exciting for all those people. What's always excited me about collaborating on anything that's in a live TV format as it relates to live performance is that with a camera, we get to create that closeup, create that intimate feedback. If I'm sitting in the back row of the Dolby Theatre, I'm never going to feel like I'm in the same seat as Frances McDormand. Yet, with a camera and with the ability to sort of capture that for the audience at home, there's this opportunity to make them feel like they're a participant in one of the most exclusive evenings on the planet.
There are many performers, presenters, and, of course, winners onstage. How much are you thinking about those people when designing?
It's sort of the starting point. The thing about a show like the Oscars is that the folks who are going to ascend that stage from the audience to receive an award are going to be experiencing a kind of adrenaline that I can't even fathom. They won't be playing a part, which is interesting. We're creating a space that's comfortable for actors who are not actually acting—they're coming up as themselves. We've spent a lot of time considering what the shape of flow is for stairs from the audience onto the stage, how we create railing situations for them after they've won, what's the pathway. How can it look gorgeous on-camera? Something we did on the show this year that's a little bit different is we created what we call the "Winner's Circle." The stage is one large circle, and all the way downstage, close to the audience, is another, much smaller circle that's surrounded by a ring of light, which is where the top honors of the evening will be accepted. The Oscar statue is an iconic element. And to watch the show and see many [large-scale renderings] of them onstage is almost against the point of what it represents. When we saw an Oscar statue on the stage on Feb. 9, it was one being given to someone as an honor they're receiving. That action should take place in a position of prominence, and that is where this winner's circle idea was developed.
What advice would you give someone who dreams of production designing the Oscars (or anything else) someday?
I always give the same advice, because it's the advice I still follow and it's the advice that's definitely rewarded me with very positive experiences. We live in the digital age. You can find the email addresses or websites or agent information of tons of people that you respect, including other designers. Just reach out. I've never sent an email—not once—to a designer or to a director or producer I respect and not heard back—and heard back positively. It's always "I'd love to meet you for coffee but things are kinda crazy, so check back in a couple of months," or "Of course, do you want to have coffee tomorrow?" People are just so generous with their time, particularly in theater and in show business. Those experiences have always been so informative for me, getting to meet people who I respect—work with them, work for them, intern for them, assist them. Identify the people you think are cool, who you want to be in the room with. That's half the battle. If you do that and then find a way to meet them, that's the clutch thing. Everybody on that side of the business is just so generous with their time and with their advice, because everyone has had an experience where they needed some guidance and wanted to be pointed in the right direction. We all grow up.
This story originally appeared in the Feb. 13 issue of Backstage Magazine. Subscribe here.