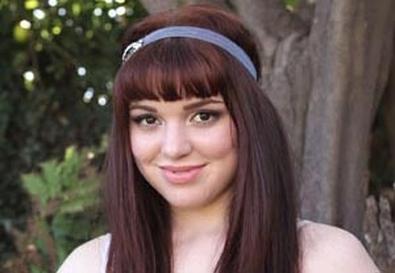 "I still haven't gotten there, dear," says Jennifer Stone of success, but we beg to differ.
This Texas native has been acting since age six, and has already accomplished more than most people twice her age. She's currently starring as Harriet in "Harriet The Spy: Blog Wars" on the Disney Channel, and can also be seen alongside Disney mega-stars Selana Gomez and David Henrie on "Wizards Of Waverly Place."
Jennifer is a bit of an old soul, and talking to her it's hard to believe she's only seventeen. She enjoys listening to old blues musicians like Son House, and—get this Disney—punk rock! Among all this activity, she somehow even finds the time to write an advice column for
Tiger Beat magazine
.
Chosen as this week's Girl2Watch, Jennifer will be featured in a series or articles, fun facts and social media tweets through this week for subscribers of
Girl2Watch.com
.
ACTOR2WATCH
: What was your first real break as an actor?
JENNIFER STONE
: The very first time I worked in front of a camera, in Hollywood at least, was when I did a non-speaking part on a cop show that is no longer around called "Line of Fire." I played a kidnapped girl that sister's boyfriend kidnapped her. It was very dramatic.
It was one of those one-season wonders that came on for one season and then went away. The person that kidnapped me was Aaron Paul; he's now on "Breaking Bad." I got my SAG card from that project actually.
A2W
: What was your worst audition moment?
JS
: Oh Lord. My very first audition in L.A., I went in and Taylor Momsen, who is on "Gossip Girl," was in the waiting room. She went in and she knew the casting director because she had been acting in L.A. a lot longer than I had.
And so they're like, "Bring your mom in here. Let's talk for a second." So that happened and they left. Then I did my audition and I was like, "Oh, don't you want to meet my mom?"
I thought that's just how it went. I thought you bring your mom in, they meet your mom and, you know, that's just the way it goes. But I learned very quickly that no, not every casting director wants to meet my mother.


A2W
: What kind of training did you get? And who do you study with now?
JS
: Most of it I got back in theater. I've only done one acting class out here, but the way that I really keep on it is by going to an acting coach on occasion.
I watch a lot of "Inside the Actor's Studio," and I try to really watch a lot of good movies with good performances. I will watch the fun movie, but for the most part, if I need to sort of keep sharp and keep my skills in place, I always try to surround myself with good performances.
A2W
: Is there anything you wish someone had told you when you first started out in acting?
JS
: I fall under this category, so I've got a lot of work ahead of me—but I wish somebody had told me, "Do not do this unless you can't live without doing this."
I am one of those people [who doesn't] know what to do with myself if I'm not acting. I've never found anything that I've loved as much. It's a hard business, it really is. It's not easy, and the only way you'll ever get through it is if there's nothing else you love as much as this.