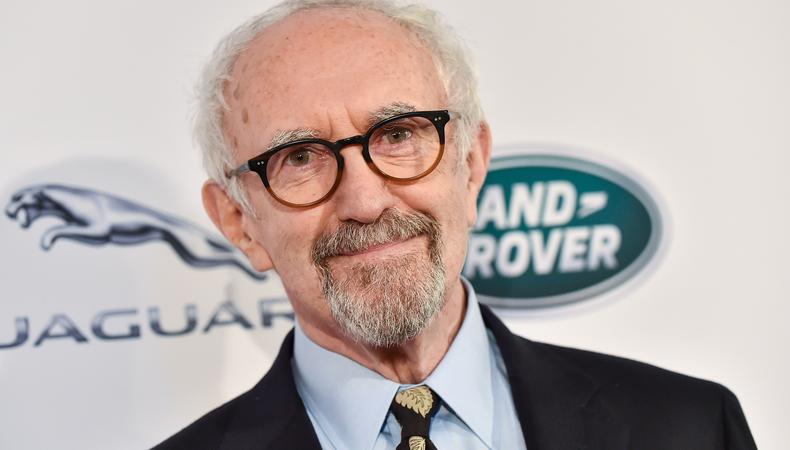 "In the Envelope: An Awards Podcast" features intimate interviews with award-winning actors and other creatives. Join host and Awards Editor Jack Smart for a front row seat to the industry's most exciting awards races, and valuable acting and career advice from contenders!
There's a kind of magic in watching Jonathan Pryce on stage or screen. The award-winning actor has built a career of fascinating, varied characters, from his theater breakout in "Comedians" at the Nottingham Playhouse, to the cult classic "Brazil," the first of many film collaborations with Terry Gilliam. Born in Wales and trained at the Royal Academy of Dramatic Art in London and then the Everyman Theatre in Liverpool, Pryce has starred in such pop culture hits as "Evita," "Tomorrow Never Dies," "Pirates of the Caribbean," and "Game of Thrones," as well as "Barbarians at the Gate," "Glengarry Glen Ross," "Taboo," and "The Wife." All the while, he continued working onstage, winning two Tonys and two Oliviers, appearing on Broadway as recently as this fall in "The Height of the Storm."
Jonathan Pryce on Present-Day Acting Culture, Theater, and Disliking Strasberg
How has he achieved such a high level of craftsmanship? By training in the basics until it's instinctive, he says. "The things that were most valuable to me," Pryce tells Backstage, "were voice work, diction, movement classes, Alexander Technique, and especially improvisation." He also has novel advice for performing with a live audience versus performing in front of a camera lens—tune in to hear.
Pryce is now nominated for an Academy Award (his first!) and a BAFTA Film Award for his leading role as Cardinal Jorge Mario Bergoglio (a.k.a. Pope Francis) in director Fernando Meirelles and screenwriter Anthony McCarten's "The Two Popes" on Netflix. Opposite Sir Anthony Hopkins' Benedict XVI in the two-hander imagining conversations between the current Pope and his retiring predecessor, Pryce is as endlessly compelling as ever. Check out his exclusive "In the Envelope" podcast interview below.
Listen now on: