In a dimly lit bar on the Lower East Side of New York City, Julia Garner looks like she's trying to hide. Clad in a buttoned-up black cardigan and a pair of distressed jeans, the only thing that would make the "Ozark" actor catch someone's eye this early July afternoon is her stream of golden, Keri Russell curls, which today are pinned back sans a few flyaways. She blends perfectly into the shadowy burgundy booth—minus the blinding diamond on her ring finger, that is.
The 1 Audition Trick That Landed Julia Garner on 'Ozark'
Garner, who just got engaged two months ago, begins gushing advice on selecting rings and becoming a bride-to-be as if we are longtime friends. She believes a person should know exactly what kind of ring they don't want. ("I was very clear," she says teasingly.) Garner and her fiancé have known each other for six years, but became a couple just last year. In hindsight, she's totally fine with the timeline, but recalls how antsy she felt on a trip they took together until the question was finally popped. "I was like, 'Are you ever gonna marry me?,' " she recalls. It turns out that trip was when it all began to happen—but that's not the only thing she has to gush about. Lately, it's all been happening for Garner, including a much-deserved Emmy nomination for her work on Netflix's "Ozark." But such personal triumphs have been a long time coming.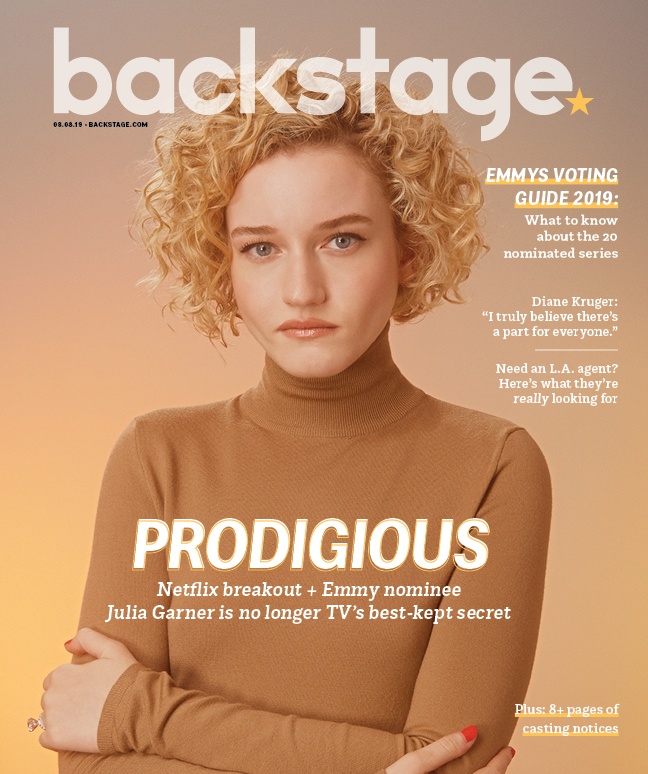 Acting began as a hobby for the New York–born Garner when she was 14, but two years later, it became a blossoming career. Her first professional audition was an open casting call at Susan Shopmaker's office for MTV's American version of the U.K. series "Skins," after which she declared she was "never going to work" when the part went to someone else; out of 1,500 actors, Garner got to the final two. Despite that rejection, Shopmaker called Garner's mother and said she was going to get her daughter a manager. A few months later, Garner nabbed her first role, in Sean Durkin's 2011 indie film "Martha Marcy May Marlene" as the titular character's cult comrade Sarah. That role got her a SAG-AFTRA card and set her career in motion.
What followed was a series of big breaks, including indie films "Electrick Children" and "Grandma" and TV roles on "The Americans" and "Ozark." Garner "views characters as if they're people," which has led to a diverse range of onscreen personas. "I'm very attracted to people who want to know things and how things work, and that's the same with the characters I pick," she says. "If the characters aren't curious, there's only so deep you can go." She also finds it easier to take on roles that aren't anything like her. "You don't come home to the accent—sometimes I do, so I don't forget—but you don't come home to wearing a wig," she says. "You just take it off and go home."
The past two years have seen the young actor further primed for the small screen. Along with "The Americans," Garner has starred on Cary Joji Fukunaga's psychological limited series "Maniac" with Emma Stone and Jonah Hill and on Bravo's TV adaptation of the true-crime podcast "Dirty John" with Connie Britton. But it's her current character on "Ozark," foulmouthed teen delinquent Ruth Langmore, that has cemented the 25-year-old's status as a prestige talent on the cusp of stardom.
When our conversation turns to speculation that she might snag an Emmy nomination for her Ruth, Garner is unfazed: "Emmy, shmemmy." She prefers to focus on the work, not the reward, saying that lots of people get nominations for work they're not proud of, and many actors don't get them for work they are proud of—"but they get respect." Earning that respect in the eyes of her peers is the real reward. "If I get one, great. If I don't, that's fine, too, because I'm on a great TV show," she says of the prospective nod. More than anything, she's humbled to be a working actor. "It's very rare that someone is an artist and they get paid for it," she says. (Even with her laissez-faire attitude, Garner found herself on the outstanding supporting actress in a drama series ballot the morning the 2019 Emmy nominations were announced.)
"Ozark," which premiered in 2017, centers on the money laundering world in which Marty Byrde (Jason Bateman) and his family get swept up as they relocate from the Chicago suburbs to a summer resort town in the Ozarks. Onscreen, Garner plays opposite Bateman as his sidekick in crime; offscreen, the "Arrested Development" star and industry vet has been a major source of guidance as Garner learns the ropes of TV. "Jason has been there for me; I feel so safe with him. I can literally ask him anything and he'll tell me the truth," she says, referring to the actor as her "teacher" and "mentor." She also counts co-star Laura Linney, who stars as Marty's wife, Wendy, as a source of sage advice who has stressed that "at the end of the day, it's about the work."
"That's what happens: You work with really great actors and you get to learn all the time," Garner says, laughing.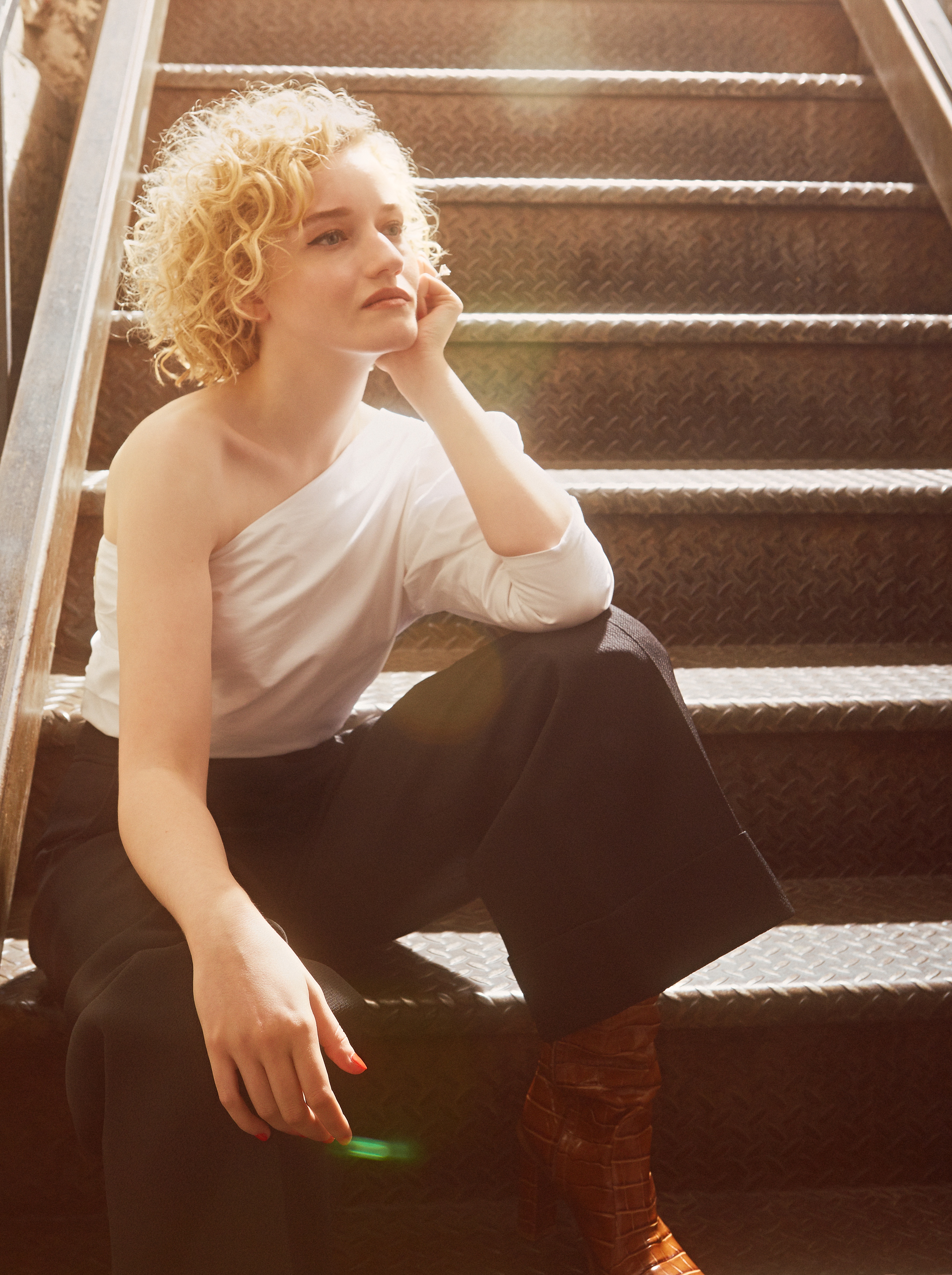 She had to take Linney's words to heart and focus on the craft when it came to portraying Ruth on Season 2 of "Ozark." She recalls shooting her most emotionally demanding scene for the season finale; during filming, she says, she felt like she was going to throw up. It was the moment Wyatt Langmore (Charlie Tahan) learns that Ruth is responsible for his father's death; Garner had been building up to the scene all season, just as Ruth was building up to that moment in her mind on the series. "That's why, that season, she felt so broken and weak," she says. "The guilt was killing her."
When presented with a complex, morally ambiguous character like Ruth, Garner insists that she can't come at the role from a place of judgment. She never judges the character she's playing, which enables her to tap into who that person really is. "People aren't as aware of themselves as they are with others because they can't be objective, so you have to treat that character like it's not a character—it's a person," she says. It's part of the reason she took on so much of Ruth's emotional state. "You judging the character makes it hard to have a motive in a scene," she says, adding that actors need "a motive for everything."
Garner's dedication to the craft is emphasized by the fact that she had no formal training. She started acting 11 years ago to combat her shyness, and she was never "properly trained in a conservatory." Her training has been scrappy: "Everything I learned was on a film set."
She does, however, fine-tune her skills as needed with her acting coach before filming as a way to feel "more secure… I always want to come home knowing I did everything I possibly could," she says. "Otherwise, you get heady, you get distracted, and you're not focusing."
Now in the midst of shooting "Ozark" Season 3, Garner is excited for what's to come in Ruth's story—but, admittedly, isn't sure where she wants it to go. "It's like asking me, 'Where do you see your life in five years?,' " she says. For now, she needs to see how the next installment will end to get a firm read on the character's future. "Just from this [past] season, her life can go two different ways, so it depends on which side she ends up picking."
As far as what's next on the docket for the actor, Garner has "The Assistant," a hot-button feature film from writer-director Kitty Green (of Netflix's "Casting JonBenet"), in which she stars as the titular aide. "It's pretty much about [Harvey] Weinstein, but from the assistant's perspective," she teases before backpedaling a bit, adding that it's not explicitly about Weinstein, though the thematic inspiration is clear: "It's about working in an abusive environment, a toxic environment." Due out in 2020, the film will also star Matthew Macfadyen and Kristine Froseth. On working with Green, Garner says she found immediate creative camaraderie. "When we were working, we talked, but we knew what the other was thinking," she recalls. She also has Amazon Prime's "Modern Love," based on the New York Times column of the same name, premiering Oct. 18. But "Ozark," which is filming for six months in Georgia, will take up most of her bandwidth until then.
With her ever-growing résumé and industry acclaim, Garner is a far cry from the girl who went home dejected from that "Skins" audition years ago. While she's found great onscreen success, the rejections still come on occasion, a give and take that she's learned to adjust to without giving up. She advises that in an acting career, "one bus comes, one bus goes," comparing auditioning and casting to dating. "You can't focus on that one person if it's not going to work out." Dwelling on a job that didn't come through won't change anything, in her perspective. In other words: Get out of your own way. Your ego will distract you from the work.
"The most important part of being an actor is focusing," she says confidently. To keep her ego in check, Garner thinks of an audition as a two-way street. Why? Because she's also auditioning them. "You want to work with a director where you get to that point where you don't need to talk to one another—you just know what the other [person] wants."
After all, Emmy nominations at age 25 don't just happen to anyone; it's a matter of hard, collaborative work and learning when to flag down the right bus.
This story originally appeared in the August 8 issue of Backstage Magazine. Subscribe here.
Photographed by Emily Assiran on June 12 at Home Sweet Home in NYC; Styled by Carolina Orrico.