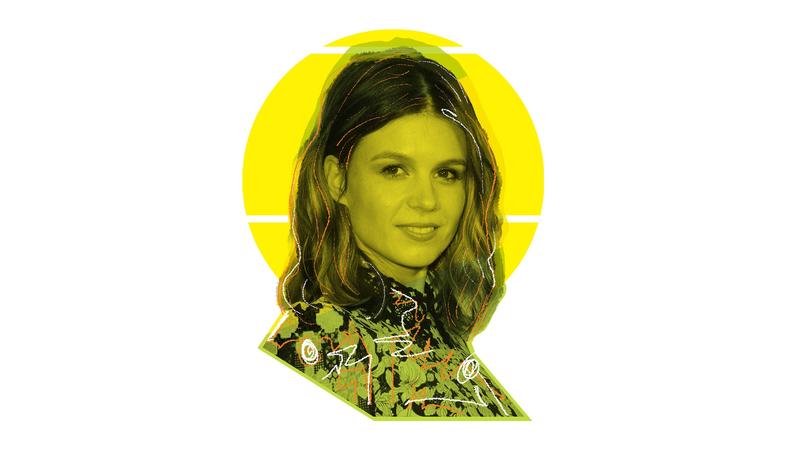 In the midst of studying psychology at the University of Amsterdam, Katja Herbers altered her course and made a move to New York City to attend the long-running HB Studio, which began her acting career. After a breakthrough role on WGN America's "Manhattan" and a surprise twist role on HBO's fan-favorite "Westworld," Herbers now leads a new network drama, CBS' "Evil." On the series from Michelle and Robert King, she plays Dr. Kristen Bouchard, a psychologist who's joined by a priest-in-training and a blue-collar contractor to investigate supposed miracles, demonic possession, and more. Here, Herbers tells Backstage about the power of a skilled reader and all the ways she has incorporated applesauce in her auditions.
READ: How to Play a 'Westworld' Host on HBO
How did you first get your SAG-AFTRA card?
My first role in America got me my card: Helen Prins on Sam Shaw's show "Manhattan." It was a bit of a bumpy ride landing the role because, coming from Europe, it was hard getting my visa in time. I had to go to Ottawa a day before shooting to get [it]. I remember the cast joking that they had a backup Helen in case immigration wouldn't grant me my visa.
What's the wildest thing you've ever done to get a role?
Nothing too crazy except give it my all in auditions. I landed my role on "Westworld" by making a tape in Amsterdam while the person I read with was in Australia and reading his lines over Skype. Those auditions are the hardest, in my opinion, when you can't really connect with the person you're acting with and you have to block out the reality of what's happening, namely that you're Skyping and the Wi-Fi signal keeps cutting out.
What is your worst audition horror story?
When I was 19, I went to New York to study at Uta Hagen's HB Studio. There was an exercise where they made us go to a museum, pick out a portrait, and imagine the life of the person portrayed. I picked out a Diane Arbus photograph and did an improv of her setting the table for dinner very lovingly and precisely, but nobody showed up, and she ended up taking the applesauce can and rubbing it on her face. The response I got was amazing and, at 19, I thought I might've come up with something utterly brilliant. When I was back in Holland auditioning for the Theaterschool, I had to do an improv and I thought, Great, I'll do my applesauce number and blow them away. I did it and got called into the artistic director's office. He said he really wanted to give me a chance and would admit me into the first year of school if I promised to never ever, ever do that applesauce bit again. They thought it was absolutely horrendous.
What performance should every actor see and why?
I've found going to the theater incredibly inspiring; even if it's bad, you learn something. Also, going to see dance, opera, classical music, and other art forms inspires me greatly.
READ: How to Make it in Hollywood as a Foreign Actor
What advice would you give your younger self?
Exercise more. Take care of your body. Hydrate.
How did you land your first agent?
Oh, that took forever. I would go to New York most summers and bring DVDs with my reel just in case I'd meet someone who could help me find one. I had no idea how to get an agent. I once had a meeting at [an agency], and the mailman came and delivered this insanely huge garbage bag of reels from people who were looking to get an agent. I'm pretty sure nobody went through that bag. I finally met my wonderful manager Estelle Lasher when she saw a film I did in Holland. She did watch my reel and took a chance on me, for which I'm very grateful.
What has playing Dr. Kristen Bouchard on "Evil" added to your acting skills?
Endurance, for sure. I've never led a show before and it's a wild, intense, and wonderful ride. I have no life outside of this show—it is literally all I do. On the weekend, I prep the next week's work. It's a lot, and I love it.
How did you get your first big break? Who was the casting director who cast you?
It was the wonderful Jeanie Bacharach, who cast "Manhattan." She is one of the loveliest people and a really good reader, too, which, for me, really makes all the difference. I have a hard time being any good if the reader I'm acting with is just looking at their sides or, even worse, their phone. Or gives a really odd performance. Reading with Jeanie is wonderful, and at the end of the scenes, they made me do an improv with her. Luckily, I didn't bring any applesauce.
You studied psychology at university. What was the moment you decided you wanted to be an actor?
I knew from a very young age, but was afraid to tell anyone because I thought that if you wanted to be an actor, you must be incredibly vain. I struggled with that. I was shy and introverted and really not a "Hey, everyone look at me" kind of a person.
What's a big mistake or faux pas you made early in your career, and what did you learn?
Not preparing enough—I now know I have to know something very thoroughly in order to let go of everything and let things happen in the moment.