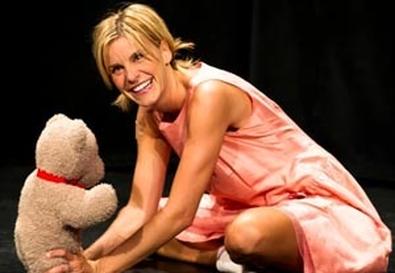 Jenn Colella achieves the impossible with her magical portrayal of the title role in "Kiki Baby," a smart new musical about a child whose extraordinary singing voice is exploited by her mother and needy neighbors. A captivating adult actor, Colella is utterly believable in the role of a four-year-old celebrity singer. Rather than bounding about with child-like abandon or producing high-pitched "little girl" speech, she talks very quietly, yet firmly, pauses a lot, stands still and tenses her fingers—this is a kid trying to be taken seriously. She also physicalizes Kiki's lisp, the tip of her tongue slipping out of her mouth each time she tries to pronounce an "s" sound. Colella is side-splittingly funny, never cloying, and incredibly lovable—even when Kiki turns into a monstrously spoiled brat, the result of her blinded-by-greed entourage indulging her every wish and whim.
Therein lies the powerful message and political relevance of this splendid show. With an insightful book by Lonny Price and Kitt Lavoie, stirring music by Grant Sturiale, and witty lyrics by Price and Sturiale, "Kiki Baby" uses the affecting child's tale to represent the larger issues of materialistic greed and capitalist exploitation that infect societies in the name of "business." Kiki's father, dressed in signature proletarian fashion, is the only character who recognizes the absurdity of the overindulgence of his daughter, with the exception of the child's grandmother, rendered speechless from a stroke. Especially emblematic are Wade Laboisonniere's brilliant costumes, which combine suggestions of fairy tale characters and European opera with references to Marxist theory.
Directed with panache by Price and Matt Cowart, and featuring lively orchestrations by Michael Starobin and Steve Cohen (played by a six-member combo under the fine musical direction of Mark Hartman), the production is performed by a first-rate cast. The only weak link is Louis Hobson who, as the father, rushes through his lines and lacks the dramatic weight the role requires.
"Kiki Baby" should be required viewing for anyone trying to understand our country's current economic crisis and for all those ridiculously permissive parents spawning a society of overindulged monsters.
Presented by Jeffery and Elizabeth Passero as part of the New York Muical Theatre Festival at Theatre at St. Clement's, 423 W. 46th St., NYC. Oct. 8-Oct. 16. Remaining performances: Mon., Oct. 10, 9 p.m.; Thu., Oct. 13, 5 p.m.; Sat., Oct. 15, 9 p.m.; Sun., Oct. 16, 3 p.m. (212) 352-3101 or www.nymf.org. Casting by Jeffery Passero.