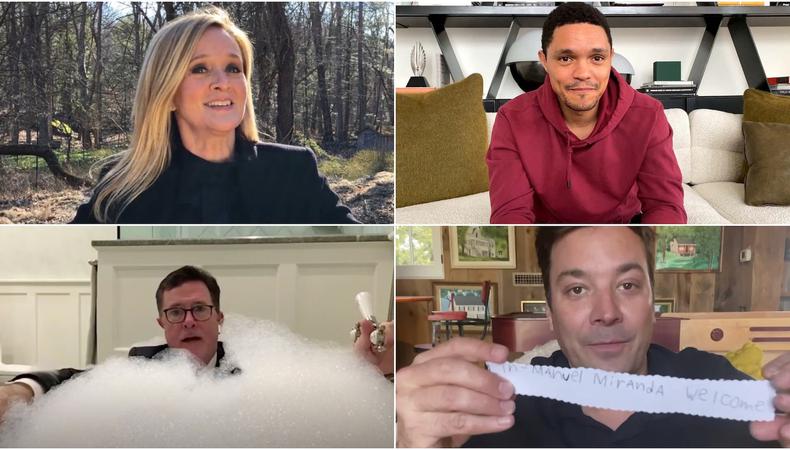 If one more person reminds you that Shakespeare wrote "King Lear" while quarantined during a plague, you might explode, right? The pressure for content creators to "use this time" to produce something amazing can feel overwhelming. How are you supposed to create anything worthwhile without a crew? A cast? Anything more than the camera on your phone?
There's no need to reach Shakespeare-levels of creativity here, but this also isn't an excuse to stop creating; just take a queue from the people who are still managing to turn out watchable, enjoyable content on a regular basis despite this whole stuck-at-home thing: late-night hosts.
Thanks to their commitment to regular output, their broadcasts have become unexpected blueprints for creating during unprecedented times.
Accustomed to huge budgets, large staffs, top-tier equipment, house bands, and live audiences, it's been incredibly interesting to watch how hosts below have pivoted to stripped-down, DIY modifications to their usual offerings. And while you may not be streaming to millions of screens every night—yet—the way these hosts are adapting to their surroundings, figuring things out on the fly, and reaching studio-level professionalism from their basements/backyards/bedrooms can serve as a powerful lesson to any creator who's not sure how to produce art in lockdown. Whether it's employing your partner as a cameraperson/gaffer/cue card holder, experimenting with an ad-hoc lighting setup, or having everything remotely edited, here's what all content creators can learn from late-night right now.
When Colbert began hosting "The Late Show" from his house in mid-March, it was a homegrown production replete with raw footage, gaffs, and untamed chaos. March 18's episode featured Colbert coughing and choking on smoke after accidentally knocking his baseball cap into the fire pit he was filming next to in his backyard, an April 1 interview with Daniel Radcliffe went mute due to a tech issue, and the April 21 monologue was interrupted by his wife entering his office to deliver a drink and stay for some marital giggling.
According to a chat with fellow late-night host Conan O'Brien, the first few weeks of Colbert's show were shot "on an iPad, balanced on the side of the bathtub, with a bottle of bubble bath to keep it from tipping in." He's since upped the ante a bit with a small, remote production crew to provide light editing and graphics, and a Sony XDCAM—and the upgrades show. The picture and sound are much clearer, and he's transitioned to a better-lit home office for the bulk of the episodes. Though watching a man in a suit deliver a monologue from a bubble bath isn't unenjoyable, the improved picture and supporting imagery goes a long way in making the segments infinitely watchable.
What creators can learn: First things' first...throw away the script. You've heard a million times how uncertain and unprecedented these times are and embracing that will only make creating content easier. Be prepared for things to go off-script and get a little messy—just lean in. That said, stack the odds in your favor. The things you can control should be controlled: finding suitable, safe places to film (like, maybe not next to a smoldering fire pit), investing in a quality camera you can use well after quarantine ends, etc. Whether you're shooting self-tapes, remote auditions, or the beginnings of an indie film, the better the picture quality, the better the finished product will be.
Without his standard production crew and fancy equipment, Fallon has not only managed to make due amid the pandemic but "The Tonight Show" is thriving online. According to a report from social video analytics company Tubular Labs, Fallon's videos wrangled nearly 45 million views on Youtube between March 17 and April 5. In that same stretch, the videos received significantly higher views in their first seven days of publication than anything "The Tonight Show" put on Youtube in all of 2019 (1.2 million vs 517,000).
What do these numbers prove? We have a few guesses. Social video is and will continue to be huge. When Fallon was still broadcasting nightly from his studio at the start of 2020, "The Tonight Show" averaged a viewership of 1.84 million per episode. By comparison, the first 10 episodes of "The Tonight Show: At Home Edition" averaged 4.5 million views (based on the aforementioned Tubular Labs report). The shorter, DIY, homegrown segments are clearly resonating with digital viewers.
Second: There's something to be gained from working with and embracing what you've got, no matter how lo-fi. "The first few things we did very much feel like YouTuber content," said showrunner Gavin Purcell, referring to the early episodes of "At Home Edition" where Fallon's wife served as camera operator and producer, his kids were credited as the graphics department, and Fallon read his monologue off his iPhone. "It kind of feels like watching a YouTuber discover how to shoot movies in real-time."
What creators can learn: Embrace social- and digital-first video. Gone are the days when films or series needed to make an appearance on a TV set or in a theater. If Fallon's numbers prove anything, it's that pushing online content can have a massive impact on reaching a large, engaged audience. Yes, the internet is crowded and not every Youtube series is going to see Fallon-level viewership, but getting smart about what you produce and where you place it can be the difference between success and failure.
How to Put Together a Digital Video Crew
What's more, digital-first allows for much more experimentation and quick pivots than, say, a traditional feature-length film. When Fallon's daughters crashed his first episode, the audience loved it; they became regulars from that moment on. Whether it's the fact that they're painfully cute or that viewers see a little of themselves in Fallon—a parent trying to work from home while juggling childcare and homeschooling—doesn't really matter. What does is the fact that they struck a chord and thanks to the creativity and resourcefulness afforded by digital, the show was reworked on the spot. As Purcell puts it, "I'm a big believer in the idea that you're a better creator in a box than in an open sky."
During non-pandemic times, it takes 70 crew and staff members to produce an episode of "Full Frontal With Samantha Bee." Lighting, camera, sound, hair, makeup, wardrobe, editing—all done by professionals with years of experience in their specific fields. These days, it only takes five: Bee as host/footage uploader, her husband operating the camera (an iPhone 11), and her three kids handling miscellaneous crew jobs and equipment. (Bee also revealed that her husband, Jason Jones, employs a tripod for the phone, a battery-powered light, and a "Flexfill, which reflects light up into your face and casts a nice golden light onto [me].")
Though the show may look different—a wooded upstate New York backyard instead of a sleek studio set—Bee has managed, more so than any other late-night host, to keep the tone and style of the show as close to normal as possible.
What creators can learn: Utilize a skeleton crew but not at the expense of the creative. Bee may be filming entire episodes with a group of four highly untrained crew members, but her writing staff, the minds that make the show what it is, are still operating at full capacity even though they're doing so remotely after years of working side-by-side in a writers' room. "We've really adjusted our process," says "Full Frontal's" co-head writer Kristen Bartlett. "We have [our staff writing] and then me and the other head writer assemble the show and punch it up on Saturday night...we have these marathon three-hour phone conversations. Things have changed but we're still able to hear each other laugh and find the funny things."
Oh, and yes, if an iPhone is good enough for Samantha Bee, it's good enough for whatever you're creating in quarantine. With a few affordable accessories, no one will know the difference between your built-in camera and something you may not be able to afford right now.
While most other late-night hosts are leaning hard on feel-good news and celebrity video chats, Trevor Noah has stayed true to the winning formula of "The Daily Show": a healthy dose of satire mixed with hard-hitting interviews with politicians (New York Governor Andrew Cuomo), thought leaders (Bill Gates), and the people tasked with actually making decisions for the country during this unprecedented time, like infectious diseases expert Dr. Anthony Fauci, whose segment has been viewed 43 million times.
Despite the fact that the renamed "The Daily Social Distancing Show" is shooting in Noah's apartment with a couple of cameras he's set up himself, Comedy Central has chosen to broadcast these new episodes in full during the show's standard Monday-through-Thursday slot. (Other late-night series are airing nightly episodes, though they're hybrids, combining new, DIY segments with best-of moments from previously-aired shows.) The show also continues to incorporate its regular correspondents—albeit via video conferencing—and employ its full staff of writers and editors. (It was recently reported that Noah is personally paying the salaries of 25 furloughed in-studio crew members until regular filming can resume.)
What creators can learn: Stick with what you know. Yes, the quarantine version of "The Daily Show" may look different, but it's the same pre-quarantine formula at its core. Even from his couch, Noah delivers comedy bits (sans audience), leans on his correspondents, and stays true to informative, expert interviews. Sure, the picture isn't HD and Zoom interviews aren't as polished as talking to someone across a desk in a studio, but the heart and tone of the show are the same.
Another bit of wisdom you can learn from "The Daily Show"? Take your time. According to showrunner and executive producer Jenn Flanz, the team has added 30 additional minutes to their filming schedule (taping 3:30-5:30 p.m. instead of 6:30-8 p.m.) to allow for technical issues, reworked scripts, and more communication. There's no need to rush into creating just because you've got free time on your hands right now. If you're inspired, go for it, but if you want to take a beat to think and plan and land on something that feels absolutely right, you've got the space to do so.
Looking for remote work? Backstage has got you covered! Click here for auditions you can do from home!