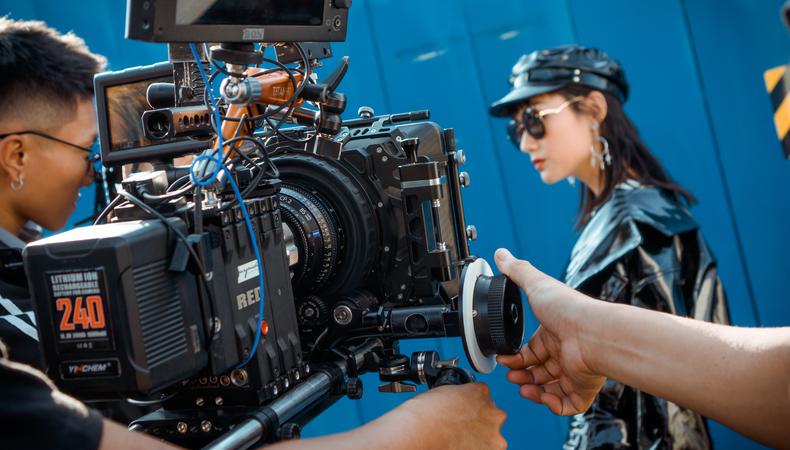 Oh, the joys of filmmaking on a budget. Miss the days of yore when making a movie was as simple and cheap as enlisting a pesky neighbor and pressing record? The challenges we encounter as filmmakers (adult ones, that is) ultimately come down to finances and chances are you and I are in a similar boat: I'm a filmmaker with a modicum of experience still pretty fresh out of school, itching to get to work but frequently set back due to budget constraints. But, through my humble experience as both a crew member and director on indie projects, I've learned that there are many ways to scale back your crew to not only fit your budget, but work for you creatively. Here are some tips on how to form your own skeleton crew, the bare essential crew members you need to make your production work.
Let the producer produce.
If you're reading this, you might be the writer, director, and producer all wrapped up into one. Love that ingenuity! But I'd suggest seeking out a producer with at least some industry experience if you want your production to run smoothly. Depending on your story, you will most likely need to navigate the wonderful worlds of legalities and permits, budgeting, casting and more, and the best person to do this is a delegated producer who knows the workflow like the back of their hand.
On a really small shoot, your producer might take on the role of a line producer and UPM as well, saving you a few more paid positions. They will also be working closely with your 1st AD for all things scheduling. These masters of communication will ensure your actual physical production is properly prepared and safe; plus, they're in charge of keeping the production schedule on time, saving you money!
What's a Call Sheet + How to Make One
I was tempted to try producing my current project until I enlisted an industry-savvy, down-to-earth, proper producer, who's been absolutely schooling me on what producing really involves. Oh, and hot tip: Find a producer who's super passionate about your story. They might negotiate their rate for a low-budget production like mine did.
Give your DP the crew they need.
Your director of photography is your partner-in-crime. In order to successfully oversee the visuals of your story, they need support. A strong AC unit (one 1st AC and one 2nd AC) can get the job done on a small set. You'll also want a gaffer and/or a key grip who can spring into action when your DP requests a lighting adjustment. But all productions differ; maybe your set is small enough to have your 1st AC swing between camera loading and operating the clapperboard. Maybe your gaffer acts as all of your grips because your story requires only natural light.
There are no hard and fast rules here. Find a productive flow that works for your specific set-up. (Although, in my experience, having a few extra grips always helps. You don't want to sacrifice the integrity of your shots.)
Speaking of integrity, does your script have dialogue? Make sure you have a reliable sound mixer to record high-quality sound. Ask if they're willing to boom op as well!
A Filmmaker's Guide to Finding a Great Crew on a Small Budget
Lastly, it's easy to overlook costume designers, hair and makeup artists, and production designers on skeleton crews, but if your story demands any kind of set dressing or includes specific visual character descriptions, you'd be doing yourself a disservice if you do. Having your set and characters look fresh throughout the shoot is a morale booster and a great way to ensure continuity across shots.
To cut down on costs, perhaps you have a friend who can help with both HMU and costume. Or maybe out of your handful of production assistants (which you should always have on set), there are a few aspiring PDs waiting for the chance to work those creative muscles. Collaboration and flexibility are a few of the reasons why small shoots can be the most rewarding!
The bottom line? These positions are almost always essential for most sets:
Producer

Director

DP

1st AD

1st AC

Gaffer

Sound Mixer

Production designer

Hair/makeup artist

PAs
If you can only afford a few of these positions, start by adjusting the story to accommodate these needs. Creativity is truly engaged when faced with challenges. Can you forego heavy set dressing? Can you use natural light instead of complicated lighting set-ups? Can you rewrite the story to take place in the present-day to keep costuming and makeup needs down? Maybe a few of your crew members are willing to extend their responsibilities. Make some changes, hire your friends for free or cheap, and just get your story out there.
I know, hearing that can be annoying, especially when you know how perfect your story would be if you just had enough money. But most filmmakers have humble beginnings and some of the greatest indie filmmakers—looking at you, Duplass brothers!—created insanely good movies on a low or no budget. Think of your ability to hone in on the emotional core of your story with a close-knit crew supporting you. Embrace the restraints and get your movie made.
For more on how to get work on a film crew, visit Backstage's crew hub!