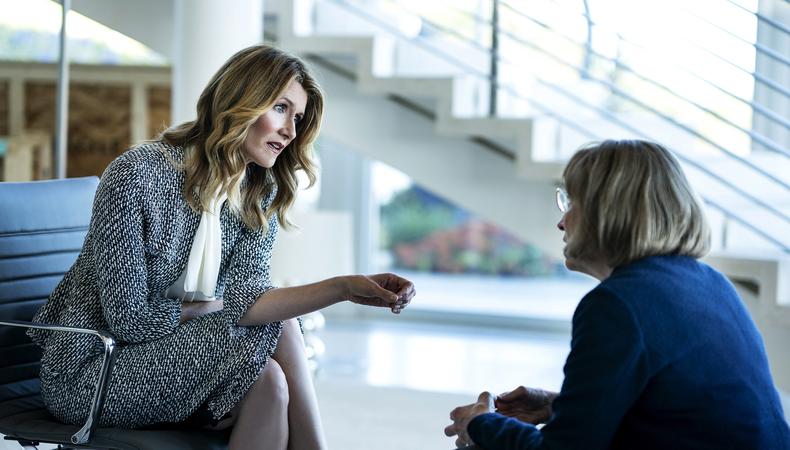 Oh, to be a fly on the wall of the set of HBO's "Big Little Lies." The between-takes banter alone would be more revaltatory than your average feature length film. But while we'll never know all the savory conversations between the starry cast—which includes Nicole Kidman, Reese Witherspoon, Laura Dern, and in its second season, Meryl Streep—we do know at least one.
During her taping of "Inside the Actors Studio," while being interviewed by fellow legend Greta Gerwig, Dern shared some wisdom passed down to her from none other than Streep herself. You may want to take note.
READ: The Acting Trick Laura Dern Picked Up From Airports
"Of course I get stuck, and if you're stuck in life it's often the same time you are stuck as a creative person," Dern told the rapt audience at Pace University. "So you keep asking the right guides to help you get unstuck and hopefully dive deeper to get to the truth of what you're either not seeing or running from or don't understand about the text. But another thing that has helped me immensely is when heroes of mine that I'm working with tell me how afraid they are. And Meryl Streep did give me a gift of talking about how afraid she is every time she starts something new. And that was a very delicious gift to be reminded of."
Dern relates that advice not just to a project at hand, but to her future projects, too—both when she does and does not know what she'll be working on next.
"[Now,] I really love that I let myself have no idea what I'm going to do next because if I did, that means I've done it before, and that's not what we're here to do," she says. "And the great Carl Ferman, who spoke so beautifully about acting… I paraphrase, but you need to watch this, in talking about when there's shit, that's the fertilizer that brings you to the truth of the thing. Now I am going to try to totally quote him, but at the end he was like… 'Life is a flop, you die at the end!' It's like the most gorgeous gift."
If life is a flop then why in the world would you worry about a little thing like your career being one, too?
Catch the full interview for even more acting career insight when Dern and Gerwig's episode of "Inside the Actors Studio" airs on Sunday, Nov. 17 on Ovation.