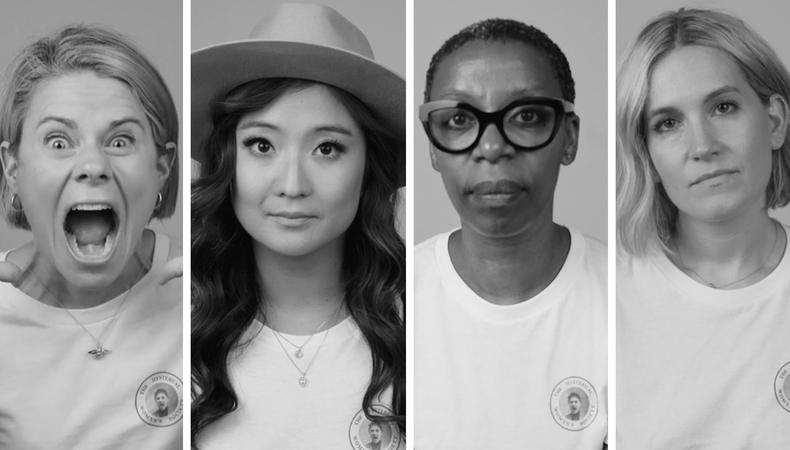 Lora Lee Gayer is hysterical—and thinks maybe it's time you were, too. Like many others, the actor, best-known for starring in Broadway's "Holiday Inn," watched with horror as the recent spate of laws restricting women's reproductive rights passed in several states. Taking to social media, she posed a question: What can we do? She was quickly inundated with responses, and by the end of the following day, the Hysterical Womxn's Society had been born. The group "of womxn and allies whose individual talents and strengths are uniting to protect womxn and human rights" will hold Voice for Choice on July 29, the first of what Gayer hopes will be many galvanizing opportunities for those both in and outside the theater community. She also hopes that with the support of fellow actors like Celia Keenan-Bolger, Ashley Park, Noma Dumezweni, and others, the Society will ultimately be part of a broader shift within the industry to more thoroughly protect and advocate for its womxn/women+, who are ready to reclaim what it means to be "hysterical."
Where did the idea for Hysterical Womxn's Society come from?
I have always been pretty outspoken about my views and beliefs, which is mostly attributed to my dad, who, growing up around the dinner table, we debated. That's what we did as a family. Typically, when different things would arise [in the world], I found friends and people in our community sort of asking me about something that just had been announced in the news. When the abortion bans happened I, again, felt like I had people asking, "Hey, I feel like you would know, where do we go? What do we do? Where do we donate? How do we volunteer?" The truth was that I didn't know. There's Planned Parenthood, which is amazing, but they are so inundated that really all you can do is give money. I feel like given today's climate, people don't want to just give money. They want to be active. They want to actually be doing something, which is how I have felt, as well. So the night of the Alabama abortion ban, when it was passed, I posted on Instagram, just saying, "Who wants to do something?" And I got a huge response. And then the next morning, I texted 30 women, saying, "Let's meet tonight," and within an hour, every single one of them responded. It was so indicative of the fact that there was a need for this and a void and I've always wanted to find some way to use the community that we have and tie it into being active and doing something.
Did it result in part from a sort of feeling of powerlessness?
Yes and no. The climate and the news, that makes me feel powerless. If we don't even know what truth is, then how do we do anything? But then, there is power in that I think we're in a time where we've never had so many people be so involved and tuned into the day-to-day of what's happening, policy-wise and news-wise. That, to me, is powerful. But honestly, I feel like it changes on the hour. One hour, I'm like, "Yes! We can do anything!" and then the next hour, something else comes and I'm like, "I give up. I hate the world."
Right, it oscillates with every headline.
Oh yeah, and even with the Hysterical Womxn's Society, it was born out of the abortion bans, but that's not our only goal or objective. This is just our first thing we want to tackle, but we'll eventually start getting into other issues and hopefully raising money and campaigning for candidates and things like that. But it's interesting because there are so many different issues, I mean, just the other day, I was in the shower and there was a second where I was like, "We're scrapping Voice for Choice and just doing things for kids in cages." There are so many things happening, it's like, which way do you go? I think it's important to stick to something, see that through, and then hopefully move onto the other things.
READ: Celia Keenan-Bolger on How Actors Can Change the World
And what is the Hysterical Womxn's Society?
"Hysterical," I think, is just the best possible word for this, because it means so many different things. Typically, "hysterical" means loss of control of emotions, which I think so many of us feel at this point. Also the history of what hysterical is, where it comes from: the Greek word of "hystero," for uterus, which they thought was an organ that literally strangled women to death. It was then transformed into "hysterical," which was just another way for men to control women that were outspoken and didn't go along with their rules and regulations. It's also hysterical because we're predominately a group of people from the performing arts world, and we're really fucking funny. I think that's a huge advantage for us because we're performers, we have a huge reach when it comes to social media. And because we're performers, we have a way of empathizing with people and communicating with people. We are a group of people who are hysterical about what's going on and cannot sit still any longer and have to actually do something.
Do you feel like the broader gender disparity in theater is in concert with the fact that it's taken until now for the community to rally for women's rights in this way?
Oh, for sure. Our community is very great about being active politically and outspoken. When it comes to Broadway Cares and things like that, we do amazing things, but when it comes specifically to women's health issues or people that identify as a woman or people who were born with woman reproductive parts, there hasn't been anything, and I think it's really important. Women still make up the largest percentage of people in the performing arts, and the fact that we don't have anything geared towards [protecting them]—it's crucial that we do. Broadway Cares came out of the fact that there was an AIDS epidemic. That was the most important thing at the time. Now, I think that it's a woman's time, and I mean that in the most inclusive sense, because it's not just women. It's anyone who's been marginalized. But especially women right now, with #MeToo and Time's Up, enough is enough. I mean, still, the fact that on Broadway, if you're a pregnant performer, you don't get maternity leave. You get 12 weeks of disability. Are we joking?
Talk to me about the spelling of "Womxn"? Why was that important to you?
I have to attribute that to one of my childhood friends, who's been amazing in helping with this. She's actually not in the Broadway community, she's in marketing and she was the one who said, "We should include the trans community in this," and she was the one who suggested the [spelling]. Of course when she said that, I was like, "Of course," and I started looking things up, and I had never thought of the trans community when it comes to women's reproductive rights. I find myself to be pretty liberal and progressive and informed about things, and I still had never really thought about that. When abortion itself already has such a stigma, and the trans community already faces so much stigma and backlash just getting other medical attention, it's twofold when it comes to reproductive rights. The Broadway community, we obviously have a long ways to go, but we try to be as inclusive as possible, and we have an amazing trans community. The thing is, I'm learning everyday about these things. Maybe Burke is part of our society, and they have been incredible in opening my eyes to different things. They are part of the Honest Accomplice Theatre. They have an amazing video series called Trans Literacy videos, and even that, I just learn so much. And, you know, there are some people in the trans community that don't like the spelling of women [as] "womxn." They feel that it is exclusive instead of inclusive—and in that spelling, does it include trans masculine? All of these things, I'm learning, and my main goal is to be as open and as informed as possible. Will I make mistakes? Yes. But if I know that we, as a group, are coming from a place of inclusivity, that's what matters.
Tell me about Voice for Choice, the first event for the Hysterical Womxn's Society. What will this night look like?
It's gonna be an unbelievable show, obviously, because we're performers. We have a full band with horns and we have unbelievable performers. We have a bunch of surprise people that are coming that we haven't even announced yet. What I'm fan-girling over the most is, we have some incredible speakers. We have Donna Lieberman, who's the head of NYCLU. Talk about a trailblazer when it comes to human rights. We have Linda Prine, another massive trailblazer, who is a family practitioner, but she has been extraordinary when it comes to women's reproductive rights. We also have different women that are talking about their own personal stories when it comes to abortion, which I think is so important because some of these women are incredible, prolific people in our community who have incredible lives and had to make a very tough decision but stand by that decision. We're also going to have an auction with the coolest stuff, things you just can't get anywhere else. And then, not only just the performers and speakers, but also just the people that are going to be in the audience—it's going to be a really extraordinary night.