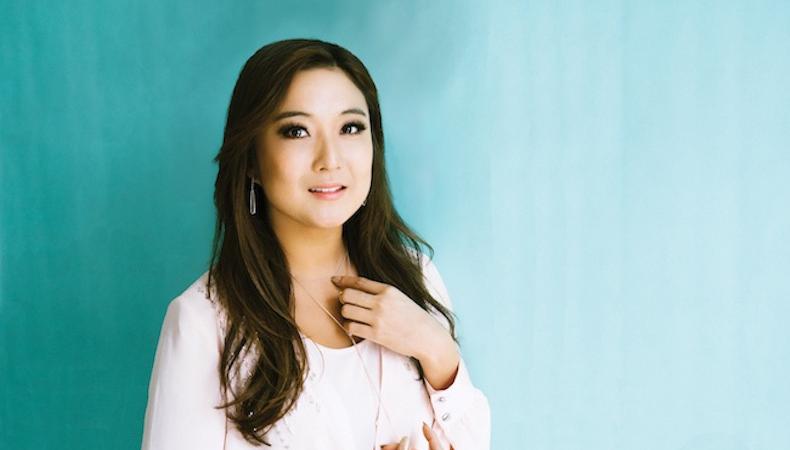 Ashley Park wasn't allowed to sleep in the morning after her opening night with "Mean Girls" on Broadway. Roughly 12 hours after the fittingly fetch performance and celebration on April 8, Park made her way to our Backstage Live studio to discuss her audition for Tina Fey (who penned both the film's script and the tuner's joke-a-minute book), how performing onstage has allowed the cast to explore these well-known characters even deeper, and why her role as Gretchen Wieners is a step forward for Asian-American representation on the stage.
She's always been a fan of "Mean Girls."
"A lot of people asked me [at opening] last night, 'When was the first time you saw the movie?' And I don't remember a time when I hadn't seen the movie. It's so ingrained in our generation's rhetoric, especially among my friends growing up. It's always been in my life."
"Fetch" really did help her book it.
"I think my audition was, like, seven minutes. I had taken the red-eye. It was the day after my opening night of 'Robin Hood' in Dallas. I went in and all I remember is I did all the sides and I sang Gretchen's song, and then before I left I said, 'Can I just say "fetch" to Tina Fey once?' And then I said 'fetch' and I left. Then, a few hours later, I got the call that I got it."
Fey is the ultimate actor-collaborator.
"What's amazing about Tina is she's not precious with her words at all. She is so open to collaboration and conversation, especially about these characters because she wants them to feel as honest as they can on a stage. Living and breathing [the role] eight times a week is very different than getting it right once for a film."
On paving your own path in the theater.
"Being a kind and genuine person and being as supportive to everybody as possible only nurtures the community, it only forges your own path forward. Someone else's success is not synonymous with your failure. The more we lift each other up—as cheesy as it sounds—it makes the work so much more fun. The biggest thing I've learned is, 'This is mine now.' When I go into the [audition] room for those 10 minutes, that role is mine. [Casting directors] want to find us as much as we want the part."
READ: How to Nail an Audition for Tina Fey
Film and theater are incomparable.
"The big difference is we're singing and we're dancing, and it's a completely different medium, film versus theater. What's so amazing about Tina's screenplay and the movie is that so much of the story is told by how each person is captured in the camera work. What we have [with the musical] is that songs [are] a way into a character's soul and emotion in a way that you can't get in other mediums."
Self-care involves both mind and body.
"I hydrate a lot. Every day before the show, I stretch and I gargle with a little bit of apple cider vinegar and warm water. I have lemon slices—I have a lot of phlegm for some reason; I'm allergic to everything in the theater—and I'm always clearing my throat. So I take a little bit of lemon juice and put it on my throat and it just cuts the phlegm. I really feel like a lot of [self-care] is mental, especially when you have to do eight shows a week."
Gretchen marks progress on Broadway.
"Gretchen is just a high school human. She's the fragile, flawed, insecure, wannabe girl; she's not the Asian girl. It means so much to be on a marquee or a poster and to know that at the end of the day, what goes out in the character breakdown is not going to be 'Gretchen Wieners must be played by an Asian woman.' Telling stories about race and racial divides is so important, but to be able to tell human stories about friendships and relationships and growing up and have it not be about being Asian is amazing and it means the world to me that it is not a headline. It is a norm—or it is becoming a norm."
Ready to hit the stage? Don't miss Backstage's theater audition listings!