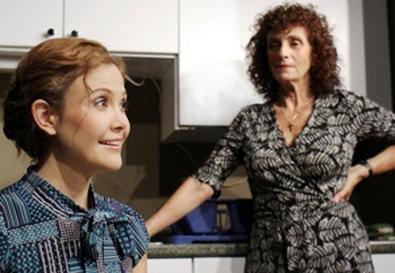 With enough material for a dozen plays, John Pollono's "Lost and Found" is an Italian stew, with moments both touching and volatile. Through gritty dialogue, the play is a testament to the vagaries of love and regrets for the might-have-been.
Boston matriarch Eva Broncato (a fiery Geraldine Librandi) is a widow with two children, Tommy and Marie. When Eva's love child, Vincent, appears, he sparks layers of guilt, remorse, and acceptance. Vincent, who's gay, shows up with his lover; Marie is sleeping with the goofy Keith; Tommy's bedmate is the wife of a next-door neighbor; and Eva conjures her one-time lover.
Recalling but less rich than such works as "Death of a Salesman" (it also has a fantasy scene and a car crash), "Lost and Found" is an insular domestic drama with impassioned confrontations. Though the characterizations are animated and well-drawn, and Andrew Block's direction is fervent, it lacks overall focus and a through-line the audience can care about.
Presented by Andrew Block and John Pollono in association with Rogue Machine Theatre as part of the New York International Fringe Festival at the Cherry Pit, 155 Bank St., NYC. Aug. 16–27. Remaining performances: Mon., Aug. 23, 10:15 p.m.; Thu., Aug. 26, 9:15 p.m.; Fri., Aug. 27, 3 p.m. (866) 468-7619 or www.fringenyc.org Casting by Cindi Rush Casting.