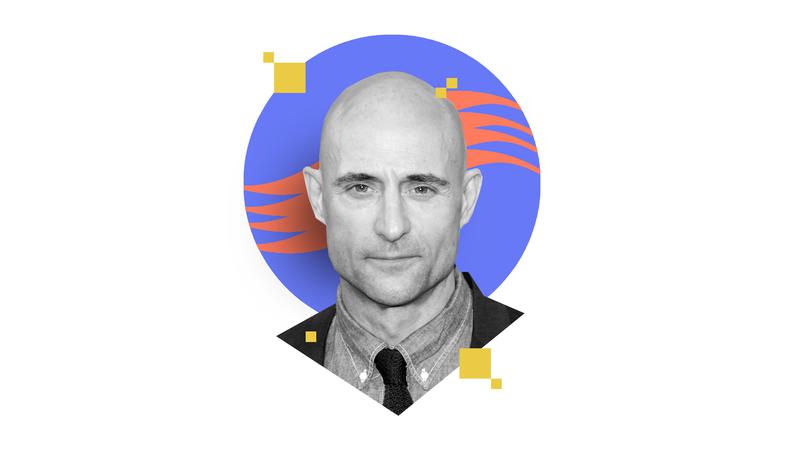 After his start on the U.K. stage led to a breakout TV performance in 1996, Mark Strong made the transition to film acting, building an impressive résumé playing spies, soldiers, and villains in "Sherlock Holmes," "Kick-Ass," "Zero Dark Thirty," "1917," "Shazam!" and more. Now, Strong is making a return to TV, starring in and executive producing the medical drama "Temple," airing in the U.S. on Spectrum Originals.
What has working on "Temple"—both as an actor and as an executive producer—added to your acting skills?
What it did was made me realize how much scaffolding is required to put together any kind of production, let alone an eight-episode television series: the number of people involved, how hard those people work, the number of different departments, everything they've got to do. Suddenly, I was getting involved in the writers' room and giving advice on dialogue. I was watching actors' audition tapes, something an actor would normally never be privy to. It did mean, of course, when I was on set, that I'd get nervous every day. If they were setting up a shot I didn't think was necessary, I'd be nervous about it. Whereas in the past, as an actor, you'd come on set and all of that decision-making would be made by someone else. It's great having both strings to your bow, being able to perform in front of the camera and being involved in the setting up of the whole show.
"Every job feels like your last. The advice I'd give my younger self is: Relax, enjoy the moment, and know you're lucky enough to have a career in the business."
Now that you have experience on both sides of the audition process, what advice would you give actors on how to nail an audition?
Just be as natural as you possibly can. There is a way of behaving on camera that needs to be truthful. The advice that I've learned from watching all of those tapes is: Be it, don't show it. When actors get really keen to get a job, it can affect them and make them do a little too much.
You initially went to school to study law. When was the moment you decided you wanted to be an actor?
There was a combination of things: One was realizing how difficult law actually is, how dry it is, and how it wasn't for me. And the fact that next door to the law facility I was in, there were guys and girls doing trust exercises, script examinations, [and] putting on little plays. Every day I used to walk past that building and think, They look like they're having way more fun than I am. So I got involved with it that way. I was intrigued about what they were doing. I thought, If I have to do a degree course, I want to make sure I'm doing something I'm genuinely interested in, rather than something I feel like I'm chasing.
How did you get your first big break? Who was the casting director who cast you?
I think you have a number of breaks over the years. I started out, like most of the actors of my generation here in the U.K., doing theater. Television did exist, but we only had a few channels, and there wasn't an awful lot of it being made. And as far as movies were concerned, you could count on the fingers of one hand how many British movies were getting made—or it felt like it, back at that stage. I trained for the theater, so that's what I wanted to do. I did nearly 10 years of theater. My first big break in theater came when I was in ["Richard III"] with Ian McKellen; he was playing Richard III, and the company was going to be kept on to do another play as well as "Richard III," and we would do the two plays in rep. I got a part in an Eduardo De Filippo play, and I got the part of the young male lead in that. I think a few people noticed that, and that got people who were making television interested.
When I got into television, I did bits and pieces, but the show that gave me my break there was called "Our Friends in the North," and it was with a woman called Gina McKee and another couple of actors called Christopher Eccleston and Daniel Craig. The four of us played friends. The story spans from the '60s all the way through to the '90s. It was a big hit in the U.K. It won a lot of awards, and it gave us all our careers. Then I got into the movies basically on the back of that.
What advice would you give your younger self?
As a younger actor, you're never aware where the next job is coming from, and every job feels like your last. The advice I'd give my younger self is: Relax, enjoy the moment, and know you're lucky enough to have a career in the business. The advice I'd have for other actors is not to despair and not to let anybody else's success interfere with your own journey.
All you can really do is know that you love it, work as hard as you can, and keep your fingers crossed that you get a job that puts you in the right place at the right time. Or you get a job where you meet people that might like your work and then decide to give you work further down the line. Really, just stay as focused as you can, and try not to sweat too much.
The problem is, it's not a meritocracy. It doesn't follow that the harder you work, the more success you're likely to have. It's pretty random. It relies on contacts, lucky breaks, and hard work and dedication. I think if those things all mix together well, then that alchemy might give you some kind of a career.
What's the wildest thing you ever did to get a role?
I haven't, actually! In the U.K., when I started acting, you would meet directors in the room, [and you wouldn't] be required to learn the scenes. You would usually just talk about the part and read the scenes, the implication being this is the first stage of a process. Now, I feel quite sorry for younger actors; you've got to deliver instantly in your audition tape. I can understand that they might employ any means possible to stand out from the pack, particularly as it's become so easy now for everybody to go on tape. I was fortunate in that I was never required to have to use that kind of thought process.
Do you have an audition horror story you can share?
I did an audition once for a Bond movie, and I hadn't really prepared properly. It was a friend's birthday party the night before, and I should've really been at home refining the scenes. I went in underprepared, thinking, This is going to be fine, but totally underestimating that on the day, I would be intimidated by the number of people in the room and the fact that there was a camera pointed at me. I'd usually just read the scene for the director. Suddenly being faced with a camera and a whole bunch of people and the scenes you were meant to have learned, I quite crumbled and didn't really deliver what I was capable of.
I always try to prepare, which is another piece of advice I'd give: Preparation is all. I recently did a play with Ivo van Hove. He did the Arthur Miller play "A View From the Bridge" that played in London and went to the West End, then went over to Broadway. We won a Tony for it, and it was a really amazing production. That was the first time I'd ever been asked by a director to learn the whole part before rehearsal started. I've done that ever since to make sure I'm always totally prepared.
Some actors would say, "I need to learn it during rehearsals, because what if I learned it one way before we started rehearsals and I'm asked to do it a different way?" I'm not convinced by that. If you're a good enough actor, you can totally change your perception that you might've had before you started the play if you're asked to do something different. The most useful thing was to have the words already prepared, so you didn't spend time holding a script or dropping it or not being aware of what you're supposed to be doing during a scene. I found it incredibly useful. "Preparation is all" is a good mantra.
How did you first get your Equity card?
In the U.K., when you left drama school, every theater had two Equity cards to give away back in those days. If you were employed by a theater, you could have one of these cards. I basically left the Bristol Old Vic Theatre School to go to a job. It was a tiny repertory theater called the Worcester Swan Theatre.
What performance should every actor see and why?
One that I watched was Antony Sher playing "Richard III." And he played it on crutches, because the phrase that he took from the play that he remembered most vividly was Richard was described as a bottled spider. So he played it like a scuttling spider all over the stage, and it was absolutely magnetic.
This story originally appeared in the Nov. 12 issue of Backstage Magazine. Subscribe here.
Looking for remote work? Backstage has got you covered! Click here for auditions you can do from home!