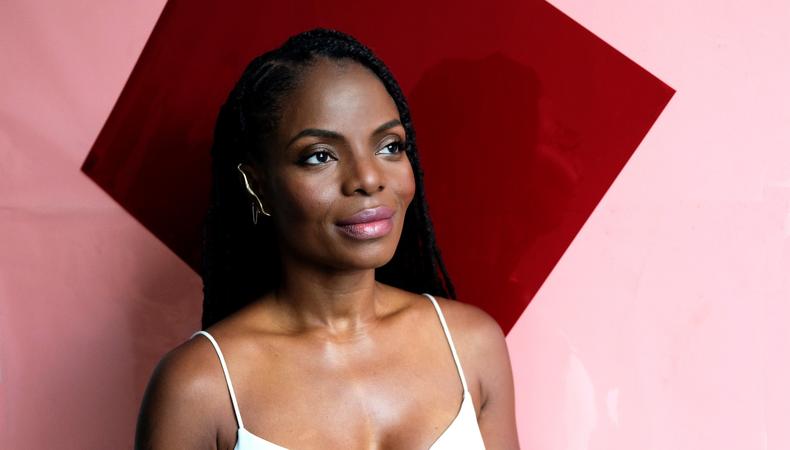 While acting was never something Marsha Stephanie Blake dreamed of doing (she refers to her career choice as being a result of lacking other "marketable skills"), she's nailing it now. Her new film, "Luce," starring Octavia Spencer and Naomi Watts, was released on Aug. 2, and she most recently starred as Linda McCray on the Netflix miniseries "When They See Us" from Ava DuVernay, which focuses on the wrongful convictions of five black and Latino teens accused of the infamous 1989 Central Park rape. Fresh off her Emmy nomination for the role, Blake stopped by Backstage HQ to discuss playing a real person, getting your start in the biz, and maintaining your reputation as an actor.
Playing a real person requires more than just reading the script.
"I have a lot of practice [playing a real person], luckily, from my theater experiences, and so this was just a matter of listening to [Linda McCray]. I had a phone conversation with her, so I was listening to cadence and quality of voice, tonal quality, things like that. But also information that I got from reading about her or talking to other family members, friends. A lot of the moms of the other four men were on the set, and aunts and uncles—we had a lot of family coming in and out of the set, but they all knew Ms. Linda. She was a tiny woman with a big presence, and that's all information for me. It's really more important than anything that's written down: what you're hearing other people say about your character."
Don't worry—even the pros get nervous.
"Whenever you're playing a real person, you just always feel like, I gotta get this right and I want the person to watch it and love it. Of course, you don't want them to judge it, or if they judge it, you want them to judge it well. You want to make sure you don't offend them. There's so many levels, but I think I was all right with that, and especially after speaking with her, she was such a generous, kind, funny woman. I think I said to her, 'I hope I get this right,' and she was like, 'Ava thinks you're wonderful, so I'm sure you'll get it right.' Very sweet, in that way, so it took a little bit of the pressure off."
READ: What Ava DuVernay Looks for in the Audition Room
Want to nail auditions? Consider becoming a reader.
"I encourage everyone who's starting out [to] go apply at a casting house or office and be a reader. You will learn so much from what to do that works and what to not do. All those things. You won't really know because I don't think that our experiences in audition rooms are—we're not good judges of what happens to us, ourselves, in the audition room. I'm not a good judge of how my audition went, not really. We're better judges if we're watching someone else, so I think that's the best way to learn."
CDs don't want you to fail; it's actually the total opposite!
"I remember I was [a reader] at Lincoln Center. It was Daniel Swee, who a lot of people know, and I remember him saying, 'What they don't realize is that we want them to be good.' We were at this open call, we were seeing hundreds of people that day, and honestly you want someone to be good because you're seeing a lot of not-good. So, if someone comes into the room and they blow you away, you are so relieved because finally you're getting the thing you're searching for. And so I always remember that he said that. You feel all this apprehension in the audition room, and you're like, 'They hate me.' But, actually, they're your biggest champions. They actually want you to be wonderful."
Want to act on camera? DIY it!
"Dive in. Do videos with your friends. Do a short. I did a lot of shorts; I do a lot of shorts. Just teach yourself, because my grad school was primarily theater, and I think most grad schools are still, and we get a little bit of film work toward the end of grad school, but it's not enough. The best way to learn is to be on set. So create your own set."
But most important: "Don't be an asshole."
"I gave the commencement speech at my grad school a few years ago, and one of the most important things I think I said to everyone was, 'Don't be an asshole.' It's exactly what I would tell my younger self. Not that I was an asshole, but you have the chip on your shoulder. You're young. You think you know everything. But the truth is, you can learn from anyone and also you can get a job from anywhere. So if you think you're treating the costume assistant horribly but it doesn't matter, well, you're wrong, because one day that costume assistant is going to be either the costume designer or be married to the director who's trying to hire you. We have a very small community. We're all connected, and your reputation sometimes matters more than your time.
This story originally appeared in the August 15 issue of Backstage Magazine. Subscribe here.