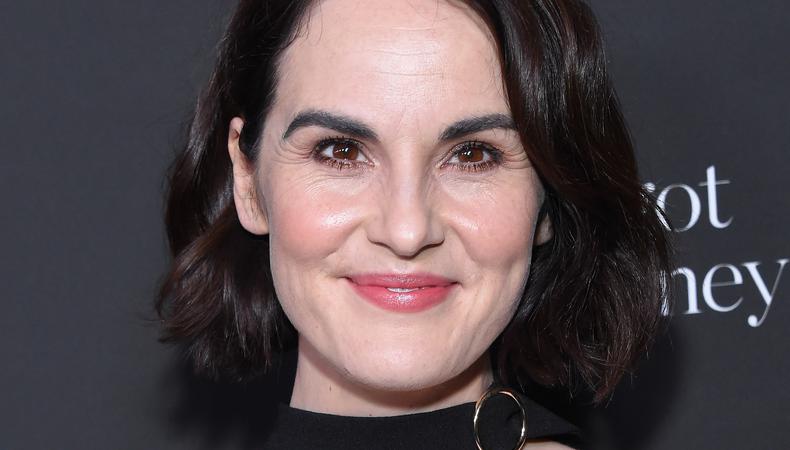 "In the Envelope: The Actor's Podcast" features intimate, in-depth conversations with today's most noteworthy film, television, and theater actors and creators. Full of both know-how and inspiration, "In the Envelope" airs weekly to cover everything from practical advice on navigating the industry, to how your favorite projects are made, to personal stories of success and failure alike. Join host and Awards Editor Jack Smart for this guide on how to live the creative life from those who are doing it every day. This episode is brought to you by AppleTV+.
Even actors with Michelle Dockery's level of craftsmanship and experience get nervous.
In fact, as the actor reveals in her deep-dive "In the Envelope" interview, Dockery is at the point in her career where she's turning nerves into the kind of vulnerability required to create authentic characters. "I think a little bit of nerves is good," she says. "It's partly excitement, it's feeling vulnerable. But it's also why we do it. We love the suffering."
Sharing her nervousness and vulnerability with her collaborators on set is one of Dockery's actorly tricks. "This job, you walk on every day feeling vulnerable," she points out. "We're all just holding hands and jumping in and seeing what happens."
Dockery's approach to the craft is evident in every one of her performances, each dramatically different from the next. Born in London with dreams of becoming a dancer, she trained at the Guildhall School of Music & Drama before breaking out at the National Theatre, in "His Dark Materials," "Pillars of the Community," and "Burnt by the Sun," as well as "Pygmalion" and "Hamlet." Her London stage work caught the eye of Gareth Neame, co-producer of a little television series called "Downton Abbey;" the ITV and PBS period drama from Julian Fellowes earned every accolade in the book, including three SAG Awards and three Primetime Emmy nominations for Dockery's work in the leading role of Lady Mary Crawley.
Although a glance at her post-"Downton" résumé—"Anna Karenina," "Good Behavior," and Western series "Godless," which earned her another Emmy nod—suggests a conscious avoidance of stories resembling 1920s British aristocracy, Dockery says she's not overly strategic in her career choices. "It really depends on the role, the story, the people," she says.
After the 2019 feature film of "Downton Abbey" and 2020's "The Gentlemen," Dockery was drawn to a small-town crime drama focused on a crumbling family: writer Mark Bomback and director Morten Tyldum's limited series adaptation of William Landay's novel "Defending Jacob" from AppleTV+, opposite Chris Evans and Jaeden Martell.
"As I'm on this journey, I'm learning more and more that you can be quite subtle and it reads very, very boldly sometimes on camera," says Dockery of what she's learned from the project. "I found that that could be a challenge at times because, of course, you want to be as subtle as possible, but even more so because the whole courtroom scenes are about not showing any emotion and everything's hidden. And [Laurie Barber] is a character that very much wears her heart on her sleeve."
The rigorously emotional material on "Defending Jacob" presented as many learning opportunities as challenges for Dockery. "In the past, I've had a tendency to over-prepare and make assumptions about a scene and the way it should be played," she says. "Actually, walking into something with a much more open interpretation—'Let's just see what happens'—is actually quite liberating. I'm finding that, more and more, I work better when I don't overthink and over-prepare too much."
A singer and voiceover artist as well as stage and screen actor, Dockery offers specific thoughts on accent work (she studies "how an accent is formed and dependent on the geography of where they're from") and details the audition approach that would have been helpful to hear earlier in her career. "What I've learned is to play the role in that audition the best I possibly can and leave everything else at the door," she says. "The part of you that they see in the room as yourself, it's a tiny percentage of who you are as a person."
Embarking on an acting career, she adds, should be a joyous process. "Just enjoy the spontaneity and the unpredictability of it all.... Because it goes so quickly, this career. Sometimes I look back and think, I wish I'd have joined in a bit more, I'd have enjoyed it more and not over-thought things." For more even more invaluable insight, tune into Dockery's full interview at any of the links below.
Listen now on:
Looking for remote work? Backstage has got you covered! Click here for auditions you can do from home!