When it comes to choosing projects, producer Mike Jackson operates according to a guiding principle: What will be meaningful to others, ultimately, is what is meaningful to him. To see that objective through, Jackson, along with his childhood friend Ty Stiklorius and EGOT winner John Legend, founded Get Lifted Film Co.; having produced projects including "La La Land," WGN's acclaimed "Underground," and Broadway's "Jitney" revival, the company now has an Emmy and Tony Award to show for its work. At this crossroads moment for the entertainment industry, Jackson spoke with Backstage about how he finds stories he wants to tell, and how he finds the right actors to help tell them.
How did you first begin producing?
I started producing events in my 20s. I really loved the idea of having a concept or an idea and then executing it, and it always ultimately culminated with people showing up and having a good time. I liked that feeling, but, also, I was an English major in college, and I was always reading. And it dawned on me that producing an event felt similar to what I thought making a movie would be. I thought I could do that. I ended up getting a job at a production company producing unscripted television for a network that doesn't exist anymore called the Learning Channel. I produced a show called "Trading Spaces" and a bunch of other shows, and that was like my baptism into producing. Unscripted is like, you've got your story, you put it all together, and you go shoot it, you go into post, you cut it, and then you deliver it. From that moment on, I was hooked.
How did you make the move to scripted?
I realized that I wanted to transition into scripted, and ultimately I moved from Philadelphia to L.A. to pursue my producing career here. And I had the good fortune of being able to partner with financiers out of Philadelphia, which allowed me to come to L.A. and make movies. I was able to finance three films out of the gate over my first two years, and I consider that like my film school, because I threw myself into the fire and learned through those films what it takes to make a movie. That was really the beginning of my career in L.A, and I've just been grinding ever since.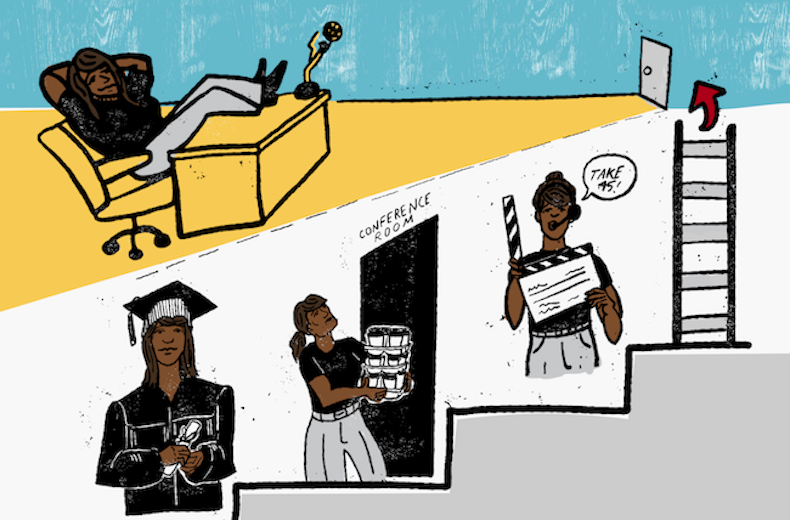 How to Become a Producer
What would you say is the role of the producer? How do you actually get a movie made?
It's very layered. What we do at Get Lifted is, we like to identify something that resonates with us. That can start from reading a book or an article or seeing something on television like a news story or just everyday life; something happens or there's a person you know who you're like, "Wow, there's a character within this human that could lend itself to a greater story." The inspiration can come from anywhere, but it's about what you do with it, right? So the job of the producer is to take whatever that inspiration is and figure out the roadmap for the screen. And that typically starts with a story, so whether it's writing something up yourself or finding a writer and having them break the story and figure out a way into that character and that world, that is an important first step. Once you have that kind of working document, which ultimately becomes a script, it's about putting the other elements in place: the financing, the cast, the director, finding the best option for that project to be seen. I know that's kind of vague, but producers, we just wear many hats, and at the end of the day, our job is just: Figure it out, get it done, and make sure that all the elements are available to execute.
When weighing a project, what are the things that make you decide to put producing muscle behind it?
For myself and for Get Lifted, we are naturally and organically drawn to stories that highlight the multicultural experience. That can be, again, a specific individual, a person in in history who resonates with us, or it can be a circumstance or an event. But whatever those things are, it has to be something I'd want to see, and I ultimately trust my pace, my internal clock of what makes sense, what's interesting to me in this moment. What will be interesting to others, I believe, will be what is interesting to myself.
Do you generally have a hand in casting your projects?
Absolutely. My partner [John Legend] is an artist. He's a musician first, he's done some acting, but our company as a whole is an artist-friendly company. We love working with talent; we have a lot of projects where we are working with actors and actresses and developing material around them. In that regard, we love identifying talent and building story and projects around specific talent. On the opposite side of the spectrum, when we have a project that isn't cast yet but all the elements are in place, I certainly work hand in hand with my producing partners [and] the casting director, whether it's looking at tapes or going into the audition rooms—obviously, we're not doing that now. I'm very hands-on in who we cast in every production.
READ: What It's Like to Actually Be a Producer
What are the things that excite you about a prospective actor and make you want to work with them?
It's a weird thing, because it's still the business of filmmaking and television. There's always that pressure to cast the name that people know because that'll give you the path of least resistance, whether it's getting greenlit or just having people buy the ticket, you know what I mean? That familiarity with certain actors and actresses helps drive your business. But for me, I love talent more than anything, and I believe that there's a way that you can always make a film or a series where the best actor gets the job, whether they have incredible name power or not. We hope and believe that the stories we're part of are significant enough on their own that they will attract eyeballs, and then once the story attracts the eyeballs, then the talent we put in place will drive that narrative home and create an environment where people are just really excited, because they saw a really great piece of work, as opposed to seeing "fill-in-the-blank star name" performing.
Since you are very hands-on, what are they ways you work with the writers during the developmental phase of a project?
At this point in the game, we're so blessed that we get to work with some amazingly talented people. I trust the people that we partner with—the writers, directors, other producers—to do their jobs. With writers, you go through the initial conversation of what you think it could be and how you see it, and there's that back-and-forth between the creatives about how to tell the story. Once you find that common ground of how you want to move forward with the storytelling, I then let the writers go write. I trust that process. Obviously, along the way, they'll send us a note or send us some pages or [ask,] "What do you think?" And we'll weigh in. But I really do trust professionals to do their job, and more often than not at the end of that process, you're very happy with where you're at. Nothing is ever perfect, and there's always work to do. But ultimately it's about trusting the process, trusting the partnerships with the writers and the directors, based on the conversations we had about what's being asked of them.

What advice would you give someone who wants to produce?
My advice for anyone who wants to be in the entertainment business, whether it's producer or actor, writer, director, editor, whatever it is, is you really have to want it. It's a fun place, it's a fun environment to work in and there's a lot of opportunity to thrive. But it's still uber-competitive. Every day when I'm out in the world, on sets and in meetings, [I know] there are people from all over the world who descend on L.A. to pursue their dreams in the entertainment business. That creates a very competitive environment. So you really have to know you want it and you have to work really hard. Be good with "no," because you're going to get a lot of them in this business. But I tend to think that people who really have strong desires to succeed, they stay the course. It's important to remember there is no blueprint to being successful in the entertainment business. A lot of it is just about attrition and staying focused and staying in the community and making sure you're exposing yourself to as many access points as possible.
Looking for remote work? Backstage has got you covered! Click here for auditions you can do from home!