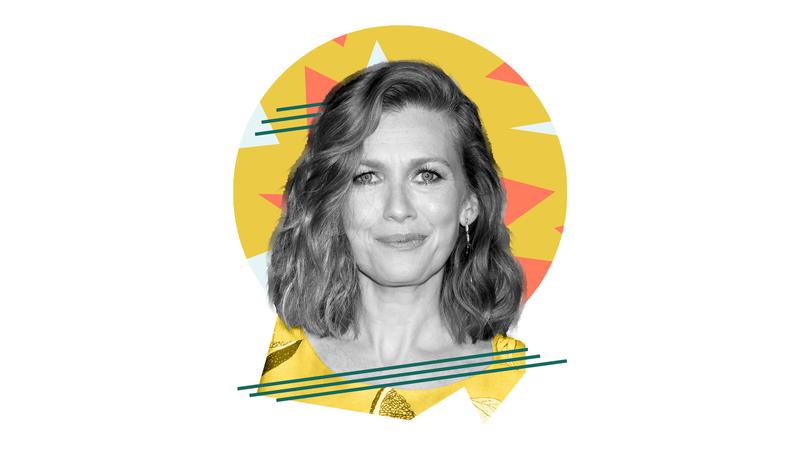 Mireille Enos is known for high-intensity thrillers like her Emmy-nominated turn on "The Killing," Amazon Prime Video's "Hanna," and the mind-bending feature "The Lie," coming to Amazon Oct. 6 as part of the streamer's new Blumhouse slate. So it's fitting that Enos' screen acting break was also on the set of an action-packed series, albeit a different kind of action; she got her SAG card thanks to a single line on "Sex and the City." That story—plus the audition nightmare that prompted a train ride full of "mortified tears" and why doing her own stunts is more relaxing than yoga—below.
What is one performance every actor should see and why?
This is random, but I just rewatched "My Favorite Year," which was one of my mom's favorite movies, and Peter O'Toole's performance in that is just breathtaking. He's so wonderful.
Do you have an audition horror story you could share with us?
I was living in New York, I was working on "Hamlet" out of town at the Long Wharf Theatre, and we were in the middle of tech rehearsal and it was really intense. I got asked to come into the city for an audition for a comedy, and I was not in a funny mood, but I slogged it out and took the train and came in and did my thing, you know, "La, la, la, la," trying to be a funny girl. I got done with my audition and they just sat silent, stone-faced. So then I tried to put a cherry on top and I went, "Silence." And then they still didn't laugh. They were still silent. And then I took the train back with mortified tears down my face. It was awful.
How did you get your SAG-AFTRA card?
I believe I got my SAG card doing an episode of "Sex and the City." I was a newbie and it was my first TV job in New York City, and it was one line. I couldn't show up on set without having paid my dues, so there was a lot of scrambling around trying to get that taken care of before I could go do my episode.
What is the wildest thing you ever did to get a job?
For "World War Z," it was a self-tape, and I was shooting Season 1 of "The Killing" and I had a 5-month-old baby. I had shot a 14-hour day and then got home, and at midnight said to my husband, "I need to put myself on tape for this audition." So we worked on it in our living room with him reading the scenes with me and holding the phone as our camera. We shot the scenes and then I sat up watching the tapes and deciding which ones to send, and then I sat and learned my lines for the next day of shooting on "The Killing," and then I nursed my baby and then got two hours of sleep and got up and went back to work. Usually, you send those tapes off into the ether and you never hear another word about it, but what came back on that one was, "We want to fly you to L.A. to read for the director and meet Brad [Pitt]." So that was a very happy ending to that crazy night.
What advice would you give your younger self?
Just stay in the game, trust the process—and be kind to myself.
Shifting to "Hanna," how has the show informed or changed you as an actor?
I always think it's interesting to play people who have a very rich private life. Dermott Mulroney and I were having an interesting conversation while we were doing press for Season 2, and he was talking about how his character is like a company man. What drives him is allegiance to the cause, and I had a lightbulb moment, and I was like, "That's actually not what drives Marissa at all." What drives her is being unstoppable. The idea of losing is intolerable to her, so she aligns herself wherever she is, but ultimately her only allegiance is to herself. And I think that's where things have shifted for her: She's brought Hanna into her inner circle, and now Hanna's cause is her own, and that's new territory for her.
READ: How Rachel Brosnahan Is Staying Creative in Quarantine
You do all your own stunts on this show. How does that add to your interpretation of this character?
I'm a martial artist. I've been studying tae kwon do for 14 years, and it has become a very important part of my life. It's a place where mind, body, spirit kind of all show up on the mat and I get calm and I get happy. It's ridiculous. In a yoga class, where you're supposed to be Zen, I'm angry and judgmental, and when I'm kicking and punching people, I'm in bliss and peaceful. So this job is one in which I could take that aspect of my life I already loved and bring it to work, and it's a very different way of spending the day. Most days shooting, it's language and emotion, and a day of stunts is visceral work, and I just love it. It reminds me I'm alive. And it makes it easier for the camera, too, because then they don't have to edit around the amazing stunt artists who we're so grateful for when we're asked to jump off buildings—no, thank you.
You also have "The Lie," which you shot a couple of years ago, but is another suspenseful project. Why do you as an actor gravitate toward such high-intensity work?
That movie is a pressure cooker, and that's what it felt like shooting. We were mostly in one location, inside a house, just kind of trying to untangle these complicated inner workings of a relationship…. It's a really interesting question, because in my own life, I'm kind of bubbly, I smile a lot, I make cookies. But I think, obviously, there is an aspect of me that is quite focused and serious and is a problem- and puzzle-solver, and I can go there mentally and emotionally. In my normal day-to-day life, it's babies and all this other stuff, so when I step out to do my work, I definitely am drawn to those moments of intensity. I find that when I'm working on some project where I can put a lot of my emotional world into it, I don't have as much emotion in my regular life because I've exorcised that. When I was working on a comedy—I was doing "A Midsummer Night's Dream" in New York City in Shakespeare in the Park—in my regular life, I was weeping all the time and I was like, "This is terrible." I'd rather weep onstage and then be happy in my real life.
Looking for remote work? Backstage has got you covered! Click here for auditions you can do from home!