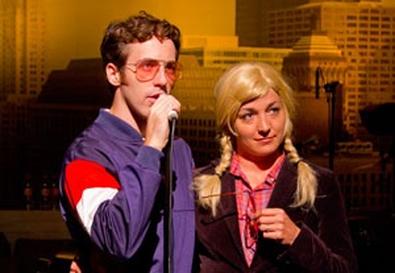 Promise me a hard-hitting critique of American capitalism, especially one from a spunky young avant-garde company in the form of a phantasmagorical musical that won awards at the Edinburgh Festival Fringe, and I'm there. Theatre of the Emerging American Moment, known colloquially as the TEAM, has been increasingly lauded since its 2004 debut, so it's with particular disappointment that I have to report that "Mission Drift," a production of Performance Space 122's Coil Festival, though decidedly energetic, is an awfully obvious and naive work trafficking in tired metaphors that is no match for the voraciousness of its target.
Written collaboratively by the company in association with Heather Christian, who also provided the music, and Sarah Gancher, the show begins with a narrated tale of two "mythic, beast brothers" that is largely dropped thereafter and fails to elevate the proceedings into any sort of mythical realm. Intermingled twin narratives quickly take over: In 2008, Chris, a cowboy of American Indian ancestry who lives in the desert outside of Las Vegas, pursues Joan, a bruised blue-collar waitress on the Strip. In 1624, Catalina and Joris, two Dutch 14-year-olds, marry and come to America to find their fortune. Across the next nearly 500 years they remain young and immortal while making endless babies and gluttonously chasing success from New Amsterdam across the continent to California and, once the frontier has been exhausted, facilitating the creation of Las Vegas. Overseeing the action is singer-narrator Miss Atomic—a figure "inspired by the 1950s Vegas beauty pageants that celebrated the testing of atomic bombs," according to a press release—who regularly comments but doesn't appear to have much control.
Vegas is an awfully shopworn symbol for greed, ditto the atomic bomb for apocalyptic moral emptiness, and the show does little new with them. The sullen Joan and insular Chris never transcend the Sam Shepard territory from which they spring and remain predictable victims. The coltish Joris and wide-eyed Catalina, who amusingly change first names as the eras fly by, are a bit more entertaining in their blank adolescent materialism and raging hormones, but their utter lack of introspection makes Catalina's climactic crisis artificial and unpersuasive. Miss Atomic provides the de rigueur injections of snarky attitude and global judgment, but they are too self-satisfied and mostly past their sell-by date.
At least the appealing six-person cast ameliorates the tiredness of the writing by virtue of its talent, energy, and commitment, despite Rachel Chavkin's rather haphazard direction. Amber Gray somehow scowls and sulks enticingly as Joan and shares good chemistry with Ian Lassiter's shy and wounded Chris. Brian Hastert and Libby King find a surprising vulnerability and charm in the rapacious Joris and Catalina. Lucy Kendrick Smith has a final-scene walk-on that she handles with aplomb even as we wince at the dangling dramaturgy.
Only Christian, as Miss Atomic, fails to ingratiate, playing with a level of smugness that seems to emanate as much from her as from the role and far too fond of the Cyndi Lauperesque idiosyncrasies of her singing voice. Fortunately, Christian is also responsible for the show's one outstanding element: its music. Her alternately haunting and thrashing score isn't interested in narrative but proves quite effective in both punctuating and driving the production (though her imagistic lyrics are often too lazy and gauzy for their own good, which is no doubt why they are accompanied by projected subtitles).
Nick Vaughan's battered-desert-patio set, populated with folding picnic chairs and scads of soda cans and plastic Poland Spring water bottles, makes for an appropriate environment, and lighting designer Jake Heinrich and sound designer Matt Hubbs combine to create an impressive atomic blast. Guitarist Gabriel Gordon and percussionist Matt Bogdanow join keyboardist Christian in making the memorable music.
Ultimately, the show's critique is subsumed by its earnestness. To successfully address such a take-no-prisoners subject, you have to be just as ruthless as it is.
Presented by Theatre of the Emerging American Moment (the TEAM) and Performance Space 122 as part of the Coil Festival at the Connelly Theatre, 220 E. Fourth St., NYC. Jan. 10–Feb. 4. Tue.–Sat., 8 p.m.; Sun., 5 p.m. (No performance Wed., Jan. 11.) (212) 352-3101, (866) 811-4111, www.theatermania.com, or www.ps122.org.