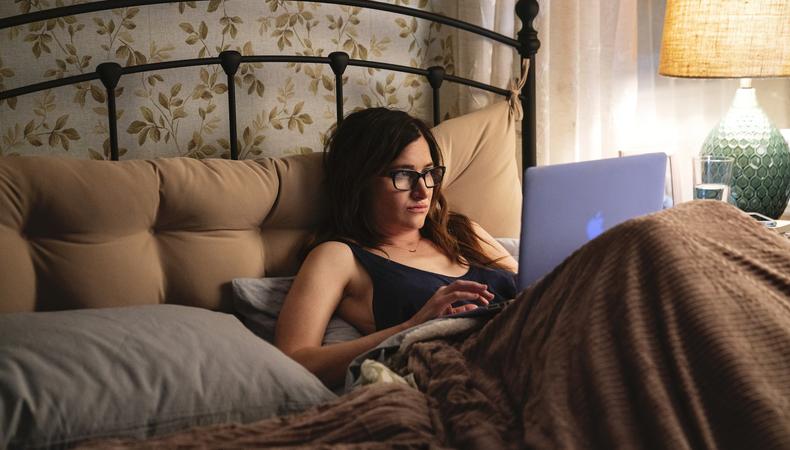 Sometimes a screenwriter's secret weapon can be the actor breathing life into their words—or, if Kathryn Hahn is that actor, their silences.
Tom Perrotta, author of the 2017 novel "Mrs. Fletcher," which he adapted for the new limited series on HBO, remembers Hahn taking a counterintuitive approach as a producer-star, asking for more pregnant pauses and wordless reactions in the titular role. "She understood that was where the character was going to live," he tells Backstage. "It was sometimes pushing for less dialogue and more quiet."
The task facing Hahn on "Mrs. Fletcher" would surely intimidate a lesser actor: After single mother Eve Fletcher sends her beloved son Brendan (Jackson White) off to college, her "empty nest syndrome" manifests as a series of unexpected awakenings. Alone and with little to do, Eve finds herself searching the internet for porn, attracted to women for the first time and tentatively unleashing cravings she didn't know she had.
Like Perotta's "Election," "Little Children," and "The Leftovers," and their award-winning screen adaptations, the original seed of "Mrs. Fletcher" grew from "reflecting on my life without really using it as raw material," says Perrotta. After his second child left for college, his own empty nest provided what he calls "the autobiographical impetus" for exploring what was really on his mind: changing norms around sexuality and gender expression.
"There's often something in the culture that is obsessing me," Perrotta says of his ideas. "When I started to write ['Mrs. Fletcher'] five years ago, Caitlyn Jenner [coming out as transgender] hadn't happened yet, #MeToo hadn't happened. But I could feel all that stuff bubbling under everything." (His current obsession? "Politics—but in this horrified way…. I just haven't quite figured out how to get from the monstrous politics of right now to some story that I want to tell.")
From Eve's fascination with sexually liberated "MILFs" to Brendan realizing he's out of step with today's notions of political correctness and consent, the true-to-life figures of "Mrs. Fletcher" live, as Perrotta puts it, "in a world where all the rules around sex and gender are up for grabs." As that world gravitates, culturally, away from clear-cut binaries and toward amorphous norms that defy labels or inspire new ones, his characters grapple with corresponding inner changes that are difficult to clearly identify.
That's why the series' wordless sequences fall largely on the actors' shoulders; when feelings are uncertain, they're often unspoken. "When you write for the page, you can really illuminate a character's inner life," says Perrotta. "You can just say, 'She thought this, she felt that.' Or 'Three years earlier, this happened.' It's much harder to do that onscreen. But what you have to compensate is everything that your actors bring: their faces, their technique."
For Eve, he says, "I needed to find an actor who could make that inner life visible." Hahn's name was at the top of the list. With the help of a stellar, all-female directing slate (Nicole Holofcener, Liesl Tommy, Carrie Brownstein, and Gillian Robespierre) and the depths of backstory in Perrotta's source material, the Emmy-nominated actor set about dramatizing everything that was written but unsaid in Perrotta's "Mrs. Fletcher" scripts. "You just know what she's feeling, but not in some broad sense—in a microscopic sense," says Perrotta. "It's almost like there's no difference between what's going on inside and what's happening on her face."
Often with only a laptop as a scene partner, Hahn projects every emotion, big and small, dull and strange, baring it all so thoroughly that watching her becomes voyeuristic. It would feel wrong to watch Eve experiment with spanking, trying out different positions and slapping herself harder and harder—if Hahn didn't also make it so funny.
As Perrotta points out, that's the ideal when it comes to adapting a novel to the screen. "You almost get that feeling of 'I have access to her thoughts.' That, to me, feels very much like your relationship to a literary character."
This story originally appeared in the Oct. 31 issue of Backstage Magazine. Subscribe here.