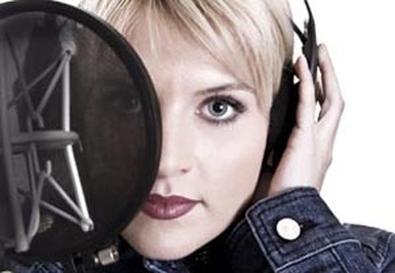 To discuss the differences between narrating and announcing, I went to Randy Thomas, one of America's most recognizable female voices. The first woman to announce the Academy Awards (she's now done it seven times), she has also worked the Miss America Pageant, the Tony Awards, the Emmy Awards, the Screen Actors Guild Awards, and the Democratic National Convention in a career of more than 20 years. Thomas is currently the voice of Entertainment Tonight and The Insider. Her book Voice for Hire, co-authored with voiceover artist and coach Peter Rofé, was published last fall. So what's the difference between narrating and announcing? "One underscores; the other presents," says Thomas. "Narration is the voiceover that wants to underscore a presentation. If it's a documentary, it's simply the words that are telling us what we're seeing on the picture. So it's not a news read; it's not a dramatic read. If anything, it's a flat, underscoring-type read. It tends to be staccato sometimes…with a downward inflection."
Announcing, on the other hand, "is very punchy; it's presenting something," she says. "Whether it's a benefit locally that you're hosting, or if you're announcing the Academy Awards, you're presenting something that is very special, and so your voice has to have that energy, that enthusiasm. Whether it's elegance or excitement that they're looking for, you have to be able to grab all of those aspects and project your voice appropriately."
Know the Field
Thomas says it's important to know what kinds of voices are being hired in each area: "You want to make sure you're watching the Biography channel, the History Channel, whether it's E! or MTV, when they're showing documentary-type shows. That would be a great way to listen to what narration is sounding like these days. And for the live announcing part, well, you can listen to a game show, you can listen to a live event, you can watch award shows, and that will certainly give you a sense of what the voice timbre should sound like in terms of being excited, loud, projected, but not all over the place. It can't go up in pitch too much when you project." To demonstrate, she adopts an even, projected style and punches certain words: "When you speak 'Live from Los Angeles,' if your voice goes up in pitch and it gets all whiny, then that wouldn't be good work. Or if it cracks when you project out, then that wouldn't be the proper field for you."
Before pursuing narration or announcing, a performer should have prior acting training or training in other voiceover fields, Thomas says: "You need to have trained to a point where someone tells you that it's time to make a demo -- and then you need to make a great demo." She also recommends taking an improv class: "Learning to think fast on your feet will definitely help you." But more than anything, you need to practice. "Go read to the blind, go read to kids, go read to anyone and everyone," she advises. "That's what Don LaFontaine always told me. Bring tears to your own eyes. Really make the words come to life."
To succeed in narration, Thomas says, you need patience, focus, and endurance: "If you cannot read for an extended length of time and keep your energy level up and in a strong place, then narration may not be for you." The same is true for announcing: "You must remain focused during a live presentation…because so much is going on. If you're easily distracted and can lose track of where you are in a script, and they cue you and you announce the wrong person or the wrong thing at the wrong moment, it throws everyone into insanity."
Your Take
How do you connect with the copy at an audition when you haven't been given specific direction by the director or casting director? "Always ask them what they think," says Thomas. "Casting directors, like writers, like producers, really do love to be involved in the creation of the material. So ask for their input. If they don't really know, then you're going to have to go with your gut, based on what kind of a voiceover it is, what the material is, and ultimately where it will air. How it will be used will determine the kind of read you're going to give."
And what if you receive direction but it's direction you don't agree with? Says Thomas, "Before you walk away from an audition, I would recommend -- after you've read it for them and they're happy -- say, 'Would you mind? I'd like to do it one more time, and this is just for me.' They're almost always willing to give you one more read." Thomas has a few other tips for success: "Learn mike etiquette and how to work around a mike. Learn the jargon that's used in the voiceover world…. Never take your eye off the written page. Because you're not acting on a stage; you're acting for a microphone. It is essentially an ear, so you have to keep your head exactly in the same place as you're reading the entire script. You can't be all over the place."
Her final words to all potential voiceover artists: "Break a lip!"
For more information on Randy Thomas, go to Randy Thomas. To learn about her book, go to Voice for Hire.