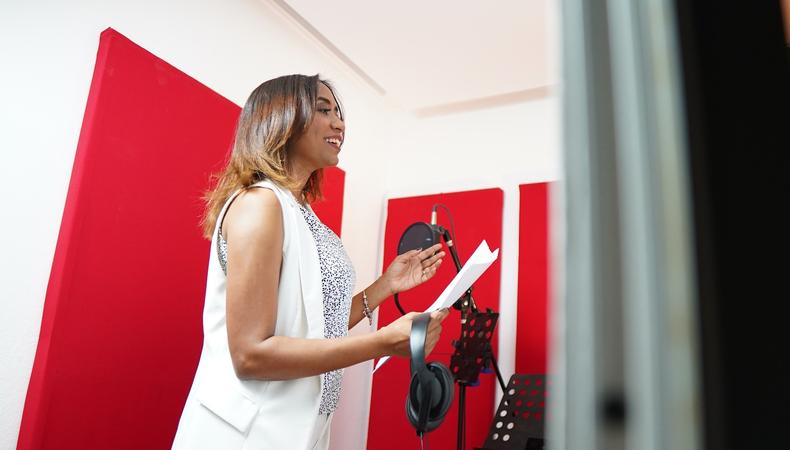 Voiceover work makes up a substantial percentage of jobs available to performers, and understanding those various opportunities will benefit the aspiring working actor. This is where different types of voiceover narration come in. Voiceover narrators lend their talents to projects and take on a variety of roles, from storyteller to instructor to salesperson.
We've provided a list of four major voiceover genres that focus on narrative skills. Read on to discover what kind of voiceover narration gig fits your natural talents, how to get your voice in front of agents and into the studio, and more need-to-know tips of the trade.
Sir David Attenborough in the studio recording 'The Sun' Courtesy Discovery+
A documentary often takes shape with the help of an unseen narrator, who guides viewers through stories in history, science, pop culture, and beyond.
It's nearly impossible to look at a colony of penguins without hearing the authoritative voice of Morgan Freeman narrating their movement. Such is the long-lasting effect of successful voiceover narration. Whether it's "March of the Penguins" or any true-crime series, a documentary narrator does more than explain topics. They use their acting and communication skills to tell a story, bring emotion to facts, and provide a voice to subjects who may not have one of their own (as seen in the case of "March of the Penguins"—because they're penguins).
When describing qualities needed to voice particular genres of documentaries and docu-series, Joy Johnson-Williams, a voiceover talent manager for Discovery networks, used the words "authoritative" and "confident" in an interview with Backstage. You don't need to become an expert in the field, but you should sound like you know what you're talking about. (Oh, and if you're narrating a true-crime, mysteries, or supernatural doc, she added that dramatic pauses are key.)
How to get a documentary narration job
Typically, casting directors may source narrative voiceover talent from agencies and management companies. Johnson-Williams told Backstage she has also gotten recommendations directly from producers, and has even found leads through social media. Establishing a solid portfolio is an important step in getting your foot (and your voice) in the door for an audition. When putting together a documentary narration demo reel for voiceover, consider including different types of subjects and tones to demonstrate your ability to remain engaging in a variety of fields.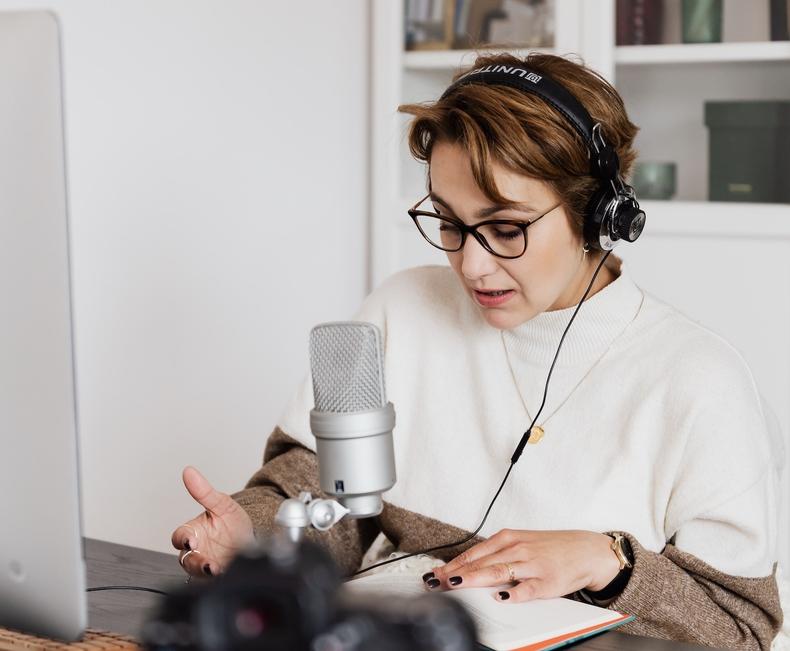 Karolina Grabowska/Pexels
Narrating audiobooks differs from many other types of voiceover narration because it allows for more characterization in the performance. You can play a number of different characters and develop a variety of voices. Having a foundation in the craft of acting is paramount to anyone who wants to go into audiobook voiceover narration.
Any book with dialogue will call for the reader to take on multiple roles. Sometimes, narrators will develop distinct voices and personas for each character. If the book is written in first-person, the performer is not just narrating—they are also allowing their own voice to become that of a character in the world of the book. Nonfiction is a form of storytelling, too, and compelling narration can make the difference between dynamic text and staid lecture.
Another major difference between audiobooks and other types of voiceover narration is time. A feature-length documentary likely won't require more than a few hours of recording; commercials and other voiceover gigs will require even less. But when it comes to narrating an audiobook, let's just say you're not going to read through Tolstoy in a couple hours. (Thandiwe Newton's recording of "War and Peace" for Audible, for instance, is a sensible 60 hours and 14 minutes.) "An audiobook narrator spends approximately four to six hours behind a microphone, per day," says voice artist Marc Cashman for Backstage. "This requires unflagging energy and the ability to sound as strong at the end of the day as the beginning."
How to get an audiobook narration job
Many casting sites, Backstage included, feature calls for audiobook narrators, so keep an eye out. There are also many networks that specialize in connecting authors and other publishing industry folks with potential narrators. The Audible-owned Audiobook Creation Exchange (ACX) is one such tool, and it includes opportunities for newcomers looking to gain more experience. With a proper portfolio, narrators can reach out directly to audiobook production companies to join their artist roster. Visit their respective websites for submission details.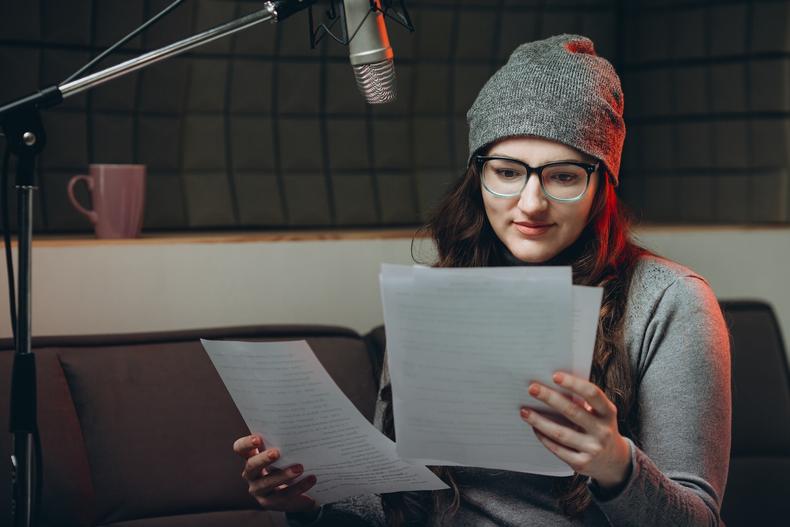 Dmytro Sheremeta/Shutterstock
In commercial narration, the goal is not to tell a story, but rather to convey a certain message (likely about a service or product) to the consumer. But that doesn't mean you aren't playing a character. A voiceover artist becomes an extension of the brand; this requires identifying the most effective tone and cadence to personify the company or product for audiences. You probably wouldn't use a flat, dry voice to advertise a theme park, and a bubbly, singsong voice may not be the right fit for a personal injury lawyer.
While an actor may be used to portraying a spectrum of characters, a commercial client will likely be interested less in versatility and more in the talent's authenticity. VO teacher David H. Lawrence XVII recommends establishing a consistent voiceover brand: "You want the casting director to instantly get who you are and what your core, natural voice can do."
Commercials make up less than 10% of voiceover work, but they are among the most commonly found genres in the industry. Provided you don't mute during the ad breaks, chances are you hear several voiceovers every time you watch TV, so it's important to be aware of what advertising clients look for in voiceover narration talent.
How to get a commercial voiceover gig
When it comes time to put together a commercial voiceover demo, it's best to have clips that sound like the real deal. Of course, that may be easier said than done before booking your first commercial voiceover. But with a little production value (and with the guidance of a reel producer), you can establish a reel of broadcast-worthy material suited to capture the attention of casting directors, talent agencies, and production studios.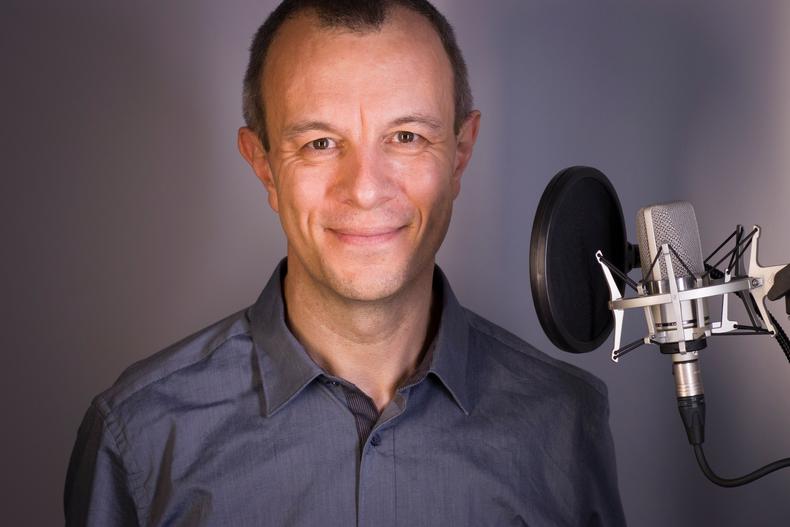 edwardolive/Shutterstock
This type of voiceover narration is similar to audiobook narration in that the projects tend to be longform. What differs is the content and audience. "Book narration is to tell a story, to entertain; e-learning is to educate and to change behavior," voiceover actor Christi Bowen says on the "VO School Podcast," hosted by fellow VO actor Jamie Muffett.
The audience here may be students or new employees looking to learn something new. This is partly why educational voiceover narration is such a lucrative arena.
"[As the actor], pitch yourself as the best insurance policy that that company or organization can buy to make sure that the people listening to the training narration you do stay engaged," voice actor J. Michael Collins, whose clients have included Facebook and McDonald's, told the "VO School Podcast." Once you establish that trust, the work may come in more steadily than in any other kind of voiceover gig. Collins has kept some corporate clients for several years.
How to get a corporate and education voiceover gig
When pursuing corporate and e-learning voiceover work, Collins says there are two major routes to go down: agencies and development companies (i.e., getting yourself on a talent roster to receive auditions down the line) and direct marketing (reaching out to prospective clients and pitching your services). He advises having a diverse reel that showcases the different types of work a corporate and e-learning voiceover narrator may be asked to accomplish. (Include a clip of you reading complex medical terminology for tech training copy, for example.)
So there you have it! These are the four main types of voiceover narration that all performers interested in the space should know about. Keep your demo reel and résumé well-rounded across narration types, and you'll be able to capitalize on an ever-growing field.