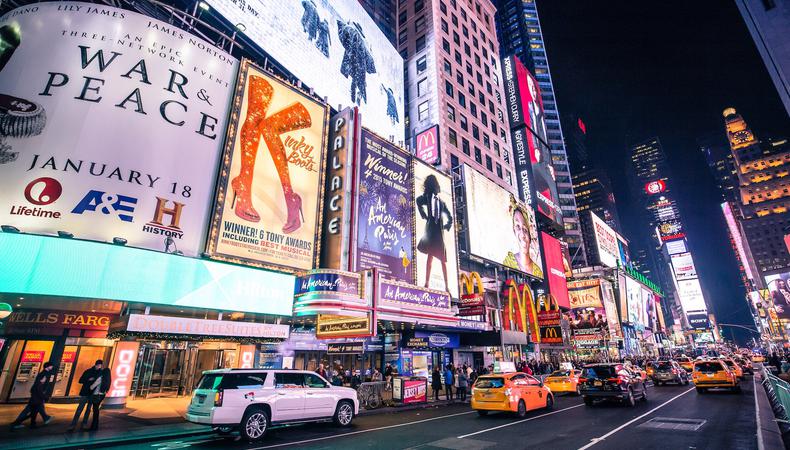 New York Governor Andrew Cuomo has a plan to bring back theater: In his State of the State address on Jan. 12, Cuomo detailed a new initiative called New York Arts Revival, which will help fund a series of pop-up performances and events across the state beginning Feb. 4. It will involve live shows by artists such as Hugh Jackman, Amy Schumer, and Chris Rock. It will also allow certain venues to strategize reopenings, potentially putting artists back to work.
"New York City is not New York without Broadway," said Cuomo in his address before citing a study by the National Endowment from the Arts which said that 52% of actors, 55% of dancers, and 27% of musicians were out of work in September 2020. "Almost no one has been hurt more by COVID than our artists." According to Cuomo, in New York, the arts and culture industry employs almost half a million workers and generates $120 billion, nearly 8% of the state's economy. But since March of last year, the live entertainment industry, including Broadway, has been dark.
Dr. Anthony Fauci recently said that if around 85% of the U.S. population was vaccinated, theaters could reopen in the fall to full houses. Cuomo doesn't want to wait that long: "The vaccine is the weapon that will end the war—but it won't hit critical mass until June, September, or even December," he said.
Cuomo is looking to get artists back to work as soon as possible. "The Reimagine Commission spoke with hundreds of artists and creative workers affected by the pandemic," he said. "One thing is clear—we must act. We cannot wait until summer to turn the lights back on the arts and provide a living wage for artists. We will not let the curtain fall on their careers, or on the future of our cities."
The New York Arts Revival is a public-private partnership. It will include a number of different components. Entertainment producers Scott Rudin and Jane Rosenthal will help spearhead a series of pop-up performances across the state; more than 150 artists will be involved, including Amy Schumer, Chris Rock, Renée Fleming, Wynton Marsalis, and Hugh Jackman. Ballet Hispanico, Ars Nova, the Albany Symphony Orchestra, the National Black Theatre, and Pendragon Theatre will be among the venues hosting these events. New York State Council on the Arts, which works with over 2,000 arts organizations in the state, will help coordinate.
Flexible arts venues, which can accommodate outdoor and socially distanced performances, will also be allowed to reopen for new programming. These venues include Park Avenue Armory, St. Ann's Warehouse, and the Queens Theatre. State parks and other state properties will also be used for outdoor performances.
Susan Feldman, artistic director for St. Ann's Warehouse, says that a coalition of theaters have been in talks with New York State for the past year to strategize a way for theaters to reopen safely.
"What we wanted to do was create guidelines and create a pathway for reopening that can happen incrementally," Feldman said. "Performing arts venues aren't one size fits all. In these flexible spaces like ours, you can have open floor space, great ventilation, multiple entry and exit points. We can adapt certain guidelines to be safe."
St. Ann's (which has transferred shows to Broadway, such as "Oklahoma!" in 2019) has been doing outdoor music performances during the pandemic, as well as outdoor visual art installations. The next step is allowing audiences back into its building.
New York will work a number of theaters on testing and ventilation, to see how those spaces can safely reopen. Those venues are meeting with the New York State Department of Health.
To Feldman, the New York Arts Revival is a way to see what live performances with audiences might look like in the time of COVID-19—especially in New York City's many outdoor stages. "Figuring that out will allow them to figure out how to mount Celebrate Brooklyn, SummerStage, the Delacorte [Theatre]—all of these things can get figured out in this process of experimentation."
Cuomo said that the state had been trying out mass rapid testing, where results are available in 15 minutes, which he said will help accelerate reopenings.
"We piloted our testing strategy at last Saturday's Buffalo Bills game, where 7,000 fans were tested by the New York State Department of Health before the game," he explained in his address. "Testing was done in a drive thru at approximately five minutes per car. The Department of Health is monitoring the contact tracing results. But all early indications suggest this model was successful, and it poses a great possibility to reopen events to the public. Why can't we use rapid testing to open restaurants in orange zones, theaters, offices? There are so many options."
New York Arts Revival will contain two other key events. First will be the Tribeca Film Festival in June, to celebrate the institution's 20th anniversary. There will also be the opening of a new public park: Little Island, located in Pier 55 in lower Manhattan—funded by the Diller-von Furstenberg Family Foundation.
New York State will also partner with the Mellon Foundation on the Creative Rebuild Initiative, which promises "to put over 1,000 artists back to work and fund dozens of community arts groups," said Cuomo.
More details about New York Arts Revival, and the Creative Rebuild Initiative, will be available in the coming weeks.
This news comes as theaters, live performance venues, and cinemas receive a dose of help from the federal government, with the passage of the Save Our Stages Act, which allocates $15 billion to the live entertainment industry in the form of grants.
New York City also recently announced a new program called Open Culture, where artists will be able to apply for outdoor performance permits in city-approved spaces.
For Feldman's part, she anticipates that to start, audiences will be small, which means venues will not be able to depend on ticket sales to survive. To her, this may be an opportunity for the state and the federal government to be more proactive in funding the arts.
"We're not going to be able to count on earned income as a major source of income, it would have to be state, federal government, philanthropy," she said. "It's an opportunity to think about how we've done things, how we can do things. Funders are looking at how they can fund more than just business as usual, how they can fund more diverse programming. It opens up a lot of opportunities. I think a lot's going to change, I'm hopeful."
Or as Cuomo put it, more optimistically: "The show will go on. The fans will be back. And New York will be New York again. We will go to performances and we will applaud like never before."