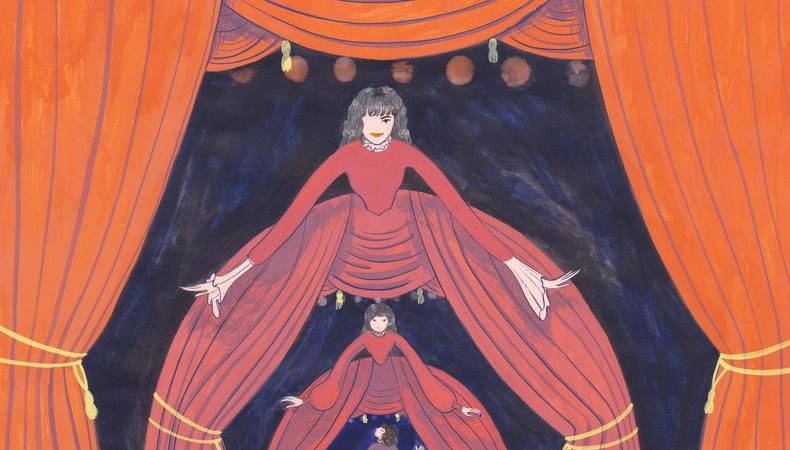 Casting director Nicole Arbusto is a veteran of the New York theater world, and although she left it behind to cast in Los Angeles, she's taken the stage's lessons with her. She now casts TV shows like HBO's "Room 104" while keeping in touch with her roots for productions at the Pasadena Playhouse and added film projects. She scours the city for big productions and 99-seat indie shows alike to find fresh talent, and because she's drawn to projects that offer variety, no two processes or pools of talent look the same when she's at work. Below, Arbusto explains why you should treat your casting director like an audience member.
READ: How to Get a Show on HBO
What can actors expect when auditioning for you?
I hope they enjoy the process and leave feeling like they did a good job and had the opportunity to explore something interesting. I know that when I respond to material that I'm working on, it's because there's something in it that speaks to me or I think is really interesting or worth exploring. I hope when people come in, they feel that way, too. I hope it's an enjoyable experience and it's material they enjoy working on.
What makes an actor memorable to you in an audition?
Focusing on the task at hand instead of thinking about trying to get the job and standing out from the crowd. The people who do best at auditions overall are the ones, as hard as it is, who are able to view each audition as an opportunity to perform—which is what it is. As we all can, sometimes actors get hung up on the idea of booking something or impressing someone. Every audition is an opportunity to act. I think the people who come into the room with that attitude just tend to do better and be more memorable, even if their take on the part isn't right or they're not right for the part physically or in some other way. If you're looking at it as "This is a role I've been given the opportunity to explore and perform for this tiny audience," you're going to do better.
What shouldn't someone do in your audition room?
[You should] leave the rest of your day and your expectations outside the room and walk into the room with an open mind. [Be] ready and willing to work within the confines of that room, then leave it when you leave the room. Come in fresh, and when you leave, you're leaving it behind you.
What advice do you have for actors?
I think any job in the arts, if it's going to be your career and lifelong work, is very challenging. It's a twisty, windy road. You just have to stay on it. I think the secret to it is being able to weather the ups and downs and not feel like there's some answer or key that will unlock your career. Just show up every day, do the work every day, and don't give up. It's something that I struggle with as a casting director. Sometimes I work on projects where I think, Oh, this is going to be so great and successful and so many people are going to see it, and that doesn't happen. It's disappointing, but I have to remind myself [that] it doesn't matter that three people saw it; I'm still really proud of the work I did. Then you move on to the next thing.
Where do you like to look for talent outside of agent and manager submissions?
I go to the theater a lot, and I try to see different kinds of theater and different kinds of performance. I go to some of the larger theaters here in L.A., but I see a lot of 99-seat theater, as well as school showcases. I try to see some comedy from time to time. I'm just watching a lot of film and TV and web content, as much as I can. I really do try and cross-pollinate. Before we start work on "Room 104," I go through things that I've seen recently and people I've come across in auditions or seen in a showcase, and I make a list of people I want to try to keep in mind for the show. That ends up working more than not, where I'm able to bring people to the show that I saw in a 99-seat play, or I auditioned for a play two years ago, or I saw in a school showcase. This season, I hired somebody that I'd seen in a small theater the year before. It was somebody who auditioned for a part on Season 1 that we didn't hire. It all feeds into everything else.
How do you prepare for a casting process?
I try to adapt more to the piece than the form, if that makes sense. Theater is always going be a little different, just because there are some technical things that you're often looking for in terms of people's vocal strength and their physical presence onstage and occupying the space. It's different from film. There are those technical aspects, but aside from that, I usually try to adapt it to the director or the piece itself and let that dictate the process. I really, really value the collaborative process. I'm looking for my collaborators to help dictate the process, because whatever media or form I'm working on, different people have different ways of working. I like to be able to adapt to them a little bit. "Room 104," aside from the fact that it's an anthology, it's a television show, but the process there is different from working on another television show because of the collaborators as well as the material.
How do you choose projects that you work on? What are you seeking out and how do you get attached to them?
One of the things that I really like about working freelance is the variety. I'm working on a film now, and shortly I'll start working on a play at the Pasadena Playhouse. I like doing a variety of material. That's what's been so great for me about "Room 104"—it's different moment to moment and it doesn't stick to one genre. I'm working on comedy, I'm working on horror, I'm working on straight drama, I'm working on experimental. We kind of hit every genre in a season, which has been great.
A New HBO Max Show Is Casting—Learn More!
What kind of changes have you seen in the industry that have affected casting?
When I started, the work was much more stratified—there were studio films and then there was a small amount of independent films, and then there was network and cable television, and that was it. There just simply wasn't the variety of work that there is now. Things were much more rigid in every technical aspect of the work. There were fewer SAG contracts. There were fewer agents. There was fewer everything. Actors who did a lot of TV did a lot of TV; it was a much more separate, stratified system. And now it's much more open across every element. It's faster and more far-reaching, geographically. When I started, you couldn't do all of the things online. I'm getting self-tapes from Europe and all over, just in the matter of a couple of days. You could not physically do that when I started. It's great in terms of access to different kinds of people. The push for more diversity in front of and behind the camera has been great, and it's so aided by the access that people have online to be able to connect with different places, different spaces, different people, but also for them to get you their work so quickly. I think that's had a huge impact.
What don't actors know or realize about what you do as a casting director?
I think sometimes they don't realize how similar the job is, in some odd ways, and that a lot of us work freelance. We go and interview for jobs just like they go and audition for jobs. A lot of actors say to me, "Oh, I always see those three people in the room when I audition," and for us, it's the same, too. It's like, "Oh, I'm on a list with those same people." We deal with rejection as they do—probably a lot less often, just because of the nature of the job. And I think sometimes they really think of us as "gatekeepers," which I never like. It's more curation than gatekeeping, because gatekeeping really implies an impediment, which we're not. We're facilitating and we're curating.
We're also your audience. I think that might be a more helpful way to think about it. If you think of somebody as a gatekeeper, you're going to walk in with a different attitude. Years and years and years ago, I used to work with a partner, Joy Dickson, and we were working on a pilot. It was Zachary Quinto's first pilot season in L.A., and he tested for the pilot that we did, and I noticed that Zach didn't seem nervous. He seemed to really have a fantastic attitude through this incredibly stressful process, when you're sitting there shoulder-to-shoulder with the other person up for the part with you. And I asked him, "What's going through your head, because you seem to really be enjoying this." He said, "Oh, this is great. It's all these people that are just here to see me perform," and I thought, Yeah, you know what? You're exactly right. It was so refreshing, and I thought, No wonder he's doing so great, because everybody else was there to get the job. He really, truly saw it as a great opportunity to perform in front of an audience.
This story originally appeared in the Nov. 28 issue of Backstage Magazine. Subscribe here.