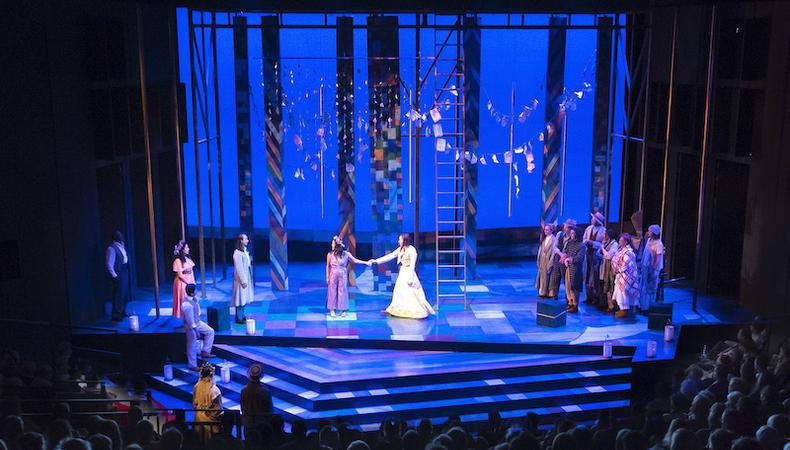 The nation's largest classical theater, the Oregon Shakespeare Festival, has announced the addition of a new position within their repertory company of artists: an intimacy director. Sarah Lozoff will be the theater's new expert on choreographing and designing moments of sensuality, eroticism, or intimacy on the festival's campus of theaters.
It's a landmark decision that cements the permanent need—rather than a contracted-per-project position—of the intimacy coordinator. And OSF theater not only produces moments of teenage romance in plays like "Romeo and Juliet" or violent flirtation in "Taming of the Shrew," but the festival also launches an edgy canon of Broadway-bound new works.
"We're thrilled to welcome Sarah Lozoff, a leader in the field of intimacy direction, in this new position to the OSF family," says OSF's Interim Associate Artistic Director, Evren Odcikin. "[W]e're always pushing to create safer and more equitable spaces that allow our artists to thrive and create exceptional and daring work." Lozoff, who has worked with OSF before, is certified with Intimacy Directors International, the nation's torchbearer on the practice, where she also serves as the organization's education director.
Although intimacy direction has been a codified practice for over 15 years, the cultural shift of the #MeToo and Time's Up movements brought the service into the national conversation. As revelations of industry-wide cultures of abuse on-and-off set came to light, many wondering how non-consensual habits worked their way into the norms of entertainment. Productions like "The Deuce" and "Sex Education" brought in intimacy directors on for their new seasons. Last year, SAG-AFTRA, the nation's union for screen talent, encouraged the standardization of the practice on sets. On stage, bylines for intimacy direction have become more common in Broadway playbills.
When it comes to the impact an intimacy director hire might have, Odcikin is hopeful that it will not only transform the festival but the industry, too: "I know that OSF's naming of intimacy direction as an essential artistic resource and committing resources to create institutional standards and training, will have long-lasting impact at our institution and nationwide."
For more on intimacy coordinators, click here.
Considered a landmark of the regional theater movement, the Oregon Shakespeare Festival (OSF) is beloved for its uniqueness. Not only does the festival undergird the economy of the small Oregon town where it is situated, Ashland, but the festival is also revered among artists for its repertory company. While it was once common for American regional theaters to have an in-house stable of rep actors, the economics of such a structure have proved to be unsustainable for many non-profit organizations. However, actors at the OSF, unlike stage actors in almost any other professional market in the country, are employed year-round, and the new addition of intimacy coordinator will be no different.
Such a structure encourages artistic excellence, Scott Kaiser—the festival's director of company development—told Backstage in 2017. "And artistic excellence, almost by definition, will always have a strong impact—on local economies, on cultural movements, and on the next generation of artists," Kaiser predicted.
The festival's 2020 season launches in late February with Shakespeare's "A Midsummer Night's Dream."