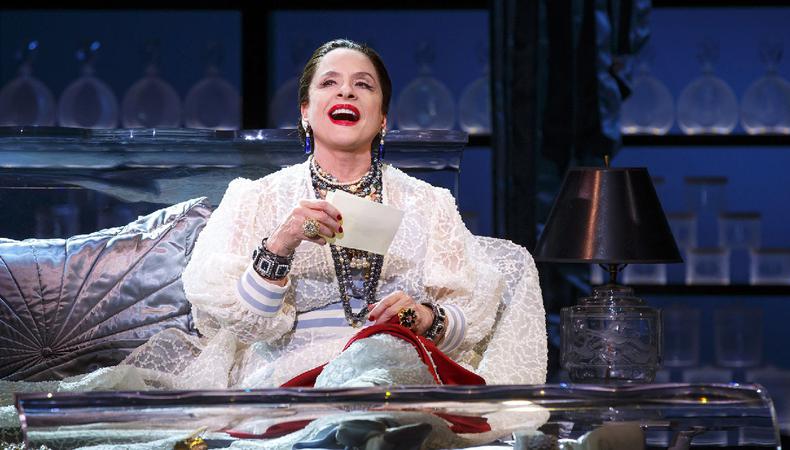 After 18 months away, Patti LuPone is preparing to make her return to the spotlight when she resumes performances in "Company" on Broadway this fall. To mark the occasion, LuPone sat down with her "Company" director Marianne Elliott for Interview, and discussed everything from her feelings about getting back onstage to her time going way back to Juilliard.
LuPone also revealed that, if she were to give advice to her younger self, it would be to take her studies more seriously. For example, on her first day at Juilliard, LuPone recalled "crashing hard on amphetamines." "So I went to Juilliard with a hat pulled down over my eyes because I hadn't slept all night," she says. "I would tell young Patti, 'Be more serious. Don't be such a fuck-up. Study harder. Respect your craft."
Well, there ya go! LuPone also described how, earlier in her career if she lost out on a role, she would become deeply depressed. This, of course, didn't serve her well considering every actor loses more roles than they book. Along the way, LuPone decided that the most exciting parts of her career would be the surprising ones. Even for "Company," the actor had given up musicals by the time Elliott's offer came around. "I don't go after roles anymore because I don't want to get depressed," she explains. "I just let it unfold. What happens is so much more interesting than what I think I should do."
READ: You Need to Watch Patti LuPone's Basement Tour Videos
Also in the interview, LuPone describes that throughout her career, she's felt as though "actor" is seen as a "dirty word." As an example she cites, during the pandemic, actors weren't even considered in the first two rounds of relief packages. She adds feeling at times like a "third-class citizen" her entire life due to her profession. But, to quote one of her most famous roles, considering LuPone is booked, busy, and has two Tonys to her name, don't cry for her, Argentina.
Looking for remote work? Backstage has got you covered! Click here for auditions you can do from home!