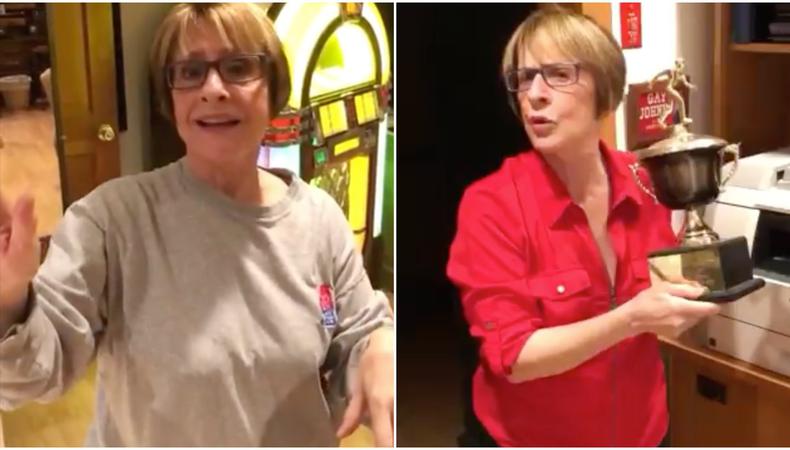 Patti LuPone knows we're hurting. And while she can't currently get onstage and perform for us—as she was meant to be doing on Broadway in "Company" before the coronavirus pandemic closed all theaters—she can still provide the balm we didn't even know we needed. Enter: Patti LuPone's basement Twitter tours.
It all started during the March 22 "Rosie O'Donnell Show" livestream, a fundraiser for the Actors Fund that included basically every Broadway star on earth. When LuPone was up, she spoke with frankness (there is no saying what the future of her Broadway revival is at the moment) and of course tore the roof off her own home singing not one but two songs. That roof, though…
READ: Patti Has a Warning for the New Generation of MT Performers
Twitter was quickly set ablaze, inquiring about LuPone's eccentric-looking basement. And like magic, before the night was through the two-time Tony Award winner had taken to her own social media to give us a personal tour of the sublevel surroundings. Unsurprisingly, it's bursting with treasures: a piano bought after she booked "Evita"? Of course. A desk purchased alongside David Mamet? Obviously, and that's to say nothing of the pinball machines and massage table. Watch it right here:
So little time, but so much to show you! pic.twitter.com/W2nz6emFFz

— Patti LuPone (@PattiLuPone) March 24, 2020
It gets better, still. There was just so much ground to cover (literally) and the response online was so virulent, LuPone released a basement tour part two the very next night, walking us through her cassette collection and more. She also, frustrated that a previous video attempt was too long, spoke for many of us: "What's with Twitter? What the fuck's with Twitter?"
Loss and cassettes. pic.twitter.com/prZZPdoYdm

— Patti LuPone (@PattiLuPone) March 25, 2020
No one knows, Patti. But we sure are glad to have you there with us.