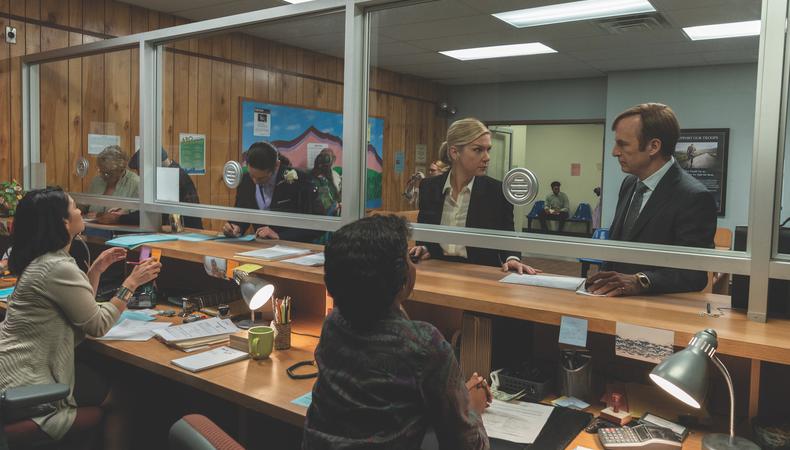 Peter Gould has an enviable but complicated problem: how to conclude a hit series that is a spinoff of another hit series.
Right now, the "Better Call Saul" showrunner and his team are breaking the sixth and final season of AMC's "Breaking Bad" prequel. "Intimidating" is the word he uses most to describe the process, both in reference to creating a satisfying ending to the show and having even started it in the first place under the shadow of the parent series' success.
"We've got so much goodwill from the audience and we're so lucky to be doing this," he says. "I think the key phrase is always 'Let's not screw this up.' "
Gould need not worry. With co-creator (and "Breaking Bad" showrunner) Vince Gilligan, he has created one of television's most compelling and well-written dramas, spinoff or otherwise. Starring Bob Odenkirk, Rhea Seehorn, Jonathan Banks, Giancarlo Esposito, Michael Mando, and Tony Dalton, among others, "Better Call Saul" takes the overarching themes and questions of morality that "Breaking Bad" addressed over its five seasons and amplifies them, blending genres and working in a palette of even deeper ethical grays.
The biggest difference is the payoff. The audience knows what happens to Saul Goodman, Mike Ehrmantraut, and Gustavo Fring in "Breaking Bad," but what happens to the characters never seen in Walter White's world, including Kim Wexler? And how do you believably complete the full transformation from Jimmy McGill, Esq., to Saul Goodman, criminal lawyer?
For Gould and his team, which includes several "Breaking Bad" collaborators, those answers come in rules of their own making. The showrunner has had the benefit of the fictional universe for 12 years already, having come on board "Breaking Bad" in the series' first season as a staff writer before being promoted to executive story editor in Season 2. The eighth episode of that season, "Better Call Saul" (which Gould wrote), is the audience's first introduction to Odenkirk's Saul, comic relief to the increasingly megalomaniacal Walter.
Now, on "Better Call Saul," the audience sees his backstory as the affable McGill, and Gould has conceived his arc—and the arcs of those around him—by learning from his inimitable cast.
"We have discussions with the cast all the time about who these people are and what they're thinking of," he explains. "But the biggest learning experience is watching what they do and learning how they interpret the material."
READ: How to Become a Showrunner
Part of the show's success has also come from playing with the unexpected and finding the surprising. "We spent a lot of time poking at every idea we have, every scene we have, every moment we have," he says. "Does it make sense? Is it true to the character? Is it a good expression of what the character's going through?
"We can make a lot of mistakes and maybe get away with them, but the one thing we can't do," he adds, "is lose sight of who these people are and what's going on with them."
The final season of "Better Call Saul" will have three more episodes than usual—13 instead of 10—to tie up all its threads, and Gould is writing (and sticking by) his own rules to take his biggest risks yet. It's how he and Jimmy McGill have gotten this far, after all.
"What I've come to understand about the work that we're doing is that you're always an inch away from failure, and you just have to learn to live with the fact that any time you take a risk, it's always a dangerous thing to do," he says. "But on the other hand, without taking the risks, there's nothing worthwhile to show. So, you have to learn to live with anxiety and develop a high tolerance for creative risk."
This story originally appeared in the Aug. 6 issue of Backstage Magazine. Subscribe here.
Looking for remote work? Backstage has got you covered! Click here for auditions you can do from home!