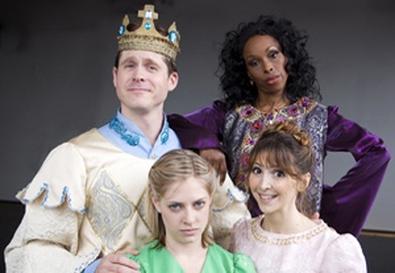 From the first downbeat of "Plagued: A Love Story," Casey L. Filiaci and Zak Sandler's orchestrations ring with enchantment, ushering in the aura of a land far, far away. The show, however, gets bogged down in confused storytelling.
Filiaci's music is an appealing blend of catchy pop-rock and fairy-tale lyricism, and the clever, witty lyrics by Vynnie Meli encapsulate the inner struggle of each character. Kindhearted Cinderella (a whimsical, airy-voiced Gina Milo) gets a softly yearning establishing ballad, "Ever After Is an Awful Long Time," in which she contemplates the state of her 20-year marriage to Prince Charming. Her selfish mother-in-law, the Queen (Brenda Braxton), has sassy numbers such as "Plant the Seeds" and "Not While I'm the Queen" that allow Broadway diva Braxton to dominate the proceedings with her soulful, powerful belt.
It seems that the Queen, who disapproves of her daughter-in-law because she's only royal by marriage, has ordered the wedding of her intellectually curious granddaughter, Dusty (Natalie Bradshaw), to an offstage prince. She thinks Dusty needs her royal lineage shored up and her inquiring mind shut down. But commoner Scoop (Pierce Cravens), who brings news of a plague ravaging the countryside, is Dusty's choice of husband. She flirts mischievously with him in "Little Mysteries" and gently shapes their duet "Wormwood and Lavender." At the end of Act 1, the queen sees them kiss and throws Dusty in jail.
Unfortunately, Meli's inconsistent book loses the Dusty-Scoop story in Act 2, focusing instead on Cinderella and her unhappiness. A visit from her Fairy Godmother (Lorraine Serabian) flies in from nowhere—well, 1970s South Florida, actually. The Jewish mother archetype is always welcome for a laugh, but the character needs further integration. Finally, an ill-fitting deus ex machina has the Queen abruptly relinquishing her crown, which allows her son to bless the union of his daughter and Scoop.
Ultimately, the cast and score of "Plagued" are strong, but its book is not nearly as fortified as its castle walls.
Presented by Kim Vasquez/Gray Lady Entertainment as part of the New York Musical Theatre Festival at TBG Arts Center, 312 W. 36th, 3rd floor, NYC. Oct. 10–18. Remaining performances: Thu., Oct. 15, 8 p.m.; Sun., Oct. 18, 1 p.m. (212) 352-3101, (866) 811-4111, or www.nymf.org. Casting by Joy Dewing.