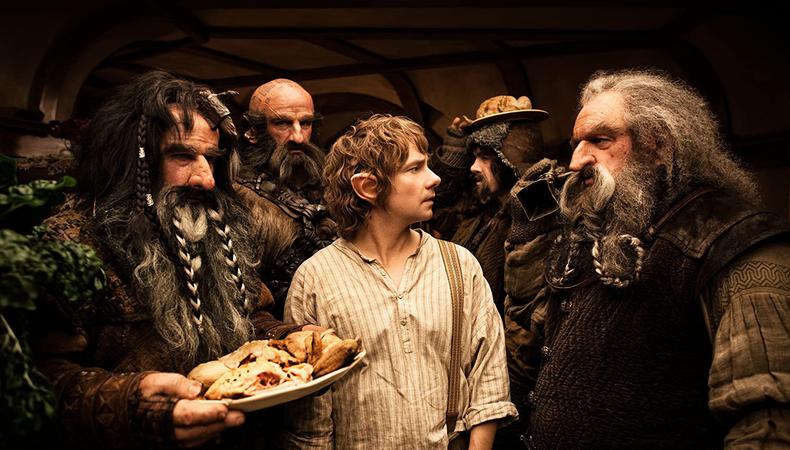 Looking for a new perspective? Here we talk to more of the top professionals in the field to bring you the latest career advice!
From screaming orcs to dwarves traveling across Middle-earth, Weta Workshop has brought fantastical images to life on the big screen for decades. The New Zealand-based special effects and prop company use SFX makeup and prosthetics to transform actors in ways that instantly transport viewers to other worlds.
The real-life wizards behind these magical feats? Kim and Jason Docherty, who lead the prosthetics team at Weta, and whose handiwork in everything from silicone to foam latex has appeared in films like "The Lord of the Rings," "The Hobbit," and "Ghost in the Shell."
They shared with Backstage their career paths and advice for anyone aspiring to work in prosthetics.
What does a prosthetics artist do?
Kim: We design and create prosthetic pieces to make a person look different. Turning them into a creature or monster, for example.
Jason: The life of a prosthetics artist, especially at Weta Workshop, is a varied one as we embark on many different types of jobs. At its core, prosthetic artists simply transform the look of a performer by means of augmentation of their own features.
How did you get started as prosthetics artists?
Kim: I started work as a prosthetic technician after my husband Jason and I raised our three kids. Jason had already been working in the industry for over 15 years and I knew if I really wanted to see him, I would have to join the team. It's been awesome.
Jason: I personally started in this line of work after I finished school, purely based on my desire to work within the film industry. The internet didn't exist yet, so my training involved a lot of reading, writing letters, and getting to know people in the industry. There was plenty of practice and experimenting on friends and loved ones.
What was your first film crew job?
Kim: My first real film work was "The Hobbit" trilogy.
Jason: My first real film work was with the [SFX] and art departments on Jane Campion's "The Piano."
What's your process when approaching a new project?
Kim: When we first approach a new project we look at what is needed and what we are able to do to give the best result within the timeframe and budget available.
Jason: Our approach or process for each job can be as varied as the job itself. It usually starts with scratching out what the basics of the job will be, followed by planning and quoting. This leads to both 2D and 3D design development before performers are even cast. Once the actor is cast, we then begin the build which often involves R&D and several rounds of testing before anything is presented on set for filming.
How does your work impact actors?
Jason: Prosthetics work, by nature, is a very up close and personal affair. Whether a simple nose or a full-body creature suit, a trustworthy relationship with the actor needs to be built up quite fast and we need to get along. The best days are when you bring something to set that blows the crew away: Sometimes it's that nobody recognizes what you have done to an actor because it is seamless and other times, it's just that what we have built is so darn cool.
What is the hardest part of your job?
Kim: It can sometimes be challenging to produce the physical quantities required for the job in tight timeframes. But the team and I always love a challenge and get a buzz meeting those challenges!
Jason: Personally, I prefer the build, so I'd say the quoting stage is sometimes hardest. I enjoy the challenges of the build so although it also can be tough, it's ultimately very rewarding.
What training do you have? What training does someone need to become a prosthetics artist?
Kim: I came from a cheffing background and was able to take these skills into the prosthetics world.
Jason: I had no formal training myself. I'm completely self-taught. As I moved through my career, I was able to meet and learn from many talented people. Today there are many avenues to learn from, particularly online.
What skills are essential to becoming a prosthetics artist?
Kim: Problem-solving, an eye for detail, and following detailed instructions.
Jason: Prosthetic artists have many essential skills. The first thing to decide is whether you want to be part of the build, or be on set, as the skill base is very different. If you want to do it all you will need a lot of different skills!
Do you have any advice for someone's first day on the job?
Kim: When you first start out, listen and follow instructions; there are always reasons why things are done in a certain way. That said, don't be afraid to put ideas forward to improve things.
What do you look for when hiring your crew?
Kim: When hiring, we always look for enthusiasm, an eye for detail, passion, experience, and an understanding of the materials and processes we will be using.
Jason: Many of my hires are experienced crew, so I look for the person I may have worked with before who has the skills that best fit the job. Many artists choose to specialize in one or two areas while others choose to multitask across the whole business. I'd look for a good portfolio or reputation. Of course, both are really important.
What advice would you give aspiring prosthetics artists?
Kim: Keep making things. Right now, we are so lucky that everything is online. So watch and learn. And keep making creations for your portfolios.
Jason: Make the best of the information available. Use the internet. Use books. Keep making stuff. Document what you do and build a portfolio. Then sell yourself!
What's one thing you wish everyone knew about prosthetics work?
Kim: It is amazing to me to think about just how much prosthetics have developed in the film industry over the years. People are often blown away when they realize the amount of time that goes into creating something that may only be onscreen for a single second.
Jason: Often, what we build is fragile and the timeframes to build it can be restrictive. Someone once told me, "I wish we could hold up a sign that said we only had two days to build this and it was shot at the end of the day."
For more on how to get work on a film crew, visit Backstage's crew hub!