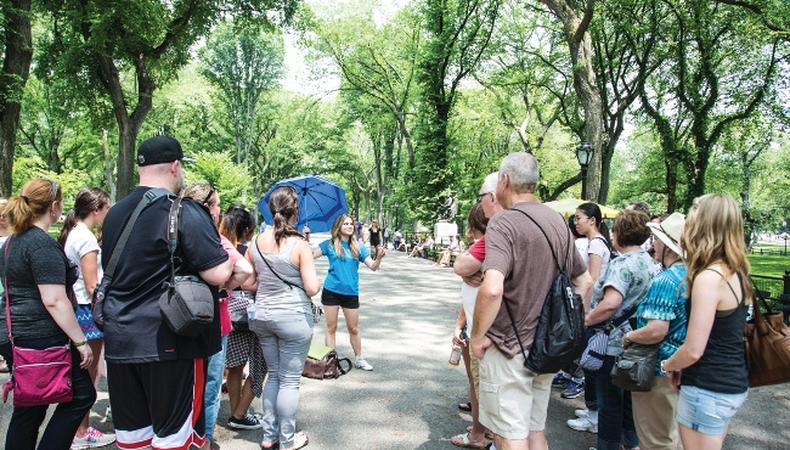 What if there was a gig that enabled you to perform regularly in front of a crowd, become intimately familiar with a big city and its acting scene, and put some cash in your pocket? Turns out such positions exist for working actors looking for a survival job with enough flexibility to also pursue their artistic dreams.
"Being a tour guide is fabulous," says Brian Donnelly, a Hollywood historian who has given tours at Los Angeles guide companies such as Starline and Dearly Departed Tours for years. His unbridled enthusiasm for all things L.A.—its geography, fascinating factoids, and, especially, little-known stories—provides customers with both a lively take on the city and a miniperformance. "My tour is very personal," Donnelly explains. "From the moment the door closes [to when it] opens, it's kind of a show. That's the best way to think of it."
Enthusiasm is a key trait in a tour guide, as is likeability and confidence. "It's interesting, because it's customer service in front of a lot of people," says Georgette Blau, president and owner of On Location Tours. Based in New York City and Boston, On Location has been offering tours since 1999, including ones centered on classic and current films and even "Sex and the City" hot spots. Blau says that because the "crowd control experience" is so important, the ideal employee is a people person, friendly yet firm. "Bending over backward customer service–wise, asking people for pictures, finding out where they're from, being nice but able to control a crowd, is helpful."
On Location is also the only guide company in NYC to hire exclusively actors. "We're usually very, very picky," says Blau. "We'll bring in over 100 résumés, bring in 30 or 35 people...and we're hiring about 1 percent!" The company counts accomplished actors Patti Murin, Gary Lee Mahmoud, and Paige Spara among its former guides.
Although theater training may be useful, Blau says her company prefers candidates with film experience, mostly so guides can share personal anecdotes from the sets of NYC-based shows and movies. "It adds an element to the tour," she says. "We also love when they have a little bit of standup comedy experience. On a given tour they're doing up to three hours of what could be standup."
Donnelly agrees that a tour comprises anywhere between 50 and 80 percent comedic banter and improvisation. "You have to know your set [and] your lines, but more than half of it is improv. Audiences are different. Their questions are different. I think it makes you a better performer because of that." In addition to honing on-the-fly skills, tour guides must juggle remembering facts and stories, reading and gauging their audiences, and sometimes, depending on the company, driving as well.
Tour guides also benefit from being connected to a network of like-minded performers. "We sort of have an internal minicommunity where they're all sharing tips with each other on how to make it in the acting world," Blau says. Universal Studios Hollywood, one of L.A.'s biggest tour guide companies, offers symposiums with industry pros, auditions for top casting directors, and free acting classes.
The indirect relationship tour guiding has with the entertainment industry makes such work a logical choice for actors seeking that ideal part-time job. As Blau points out, "Waiting tables is great. But this allows you to have at least one foot in the acting world."
Inspired by this post? Check out our audition listings!