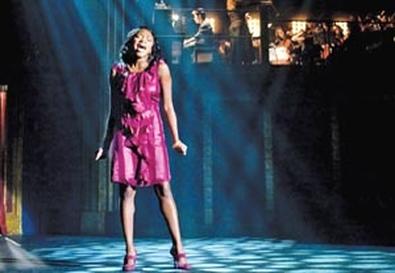 Kevin Tancharoen, the man chosen to helm "Fame," the new film about teens at a performing arts high school, wasn't even alive when the 1980 original came out. But the 25-year-old director already had an extensive background in dance, music, and directing videos when he was approached by producers.
More important, he was a fan of the earlier movie and the subsequent TV series and Broadway musical. "I wanted to keep the integrity of the original," he says. "I wasn't going to be that young guy who comes in and says, 'Yeah, let's make this like a music video.' I went against that."
Tancharoen wants to be very clear that the new "Fame" isn't a straight-up remake, even though it features Debbie Allen again playing a teacher and some of the same songs. "Simply put, I didn't want to screw up the original movie," he says with a laugh. "So we made a different one." The film still chronicles the struggles of students in and out of the classroom and, like his predecessor, Tancharoen was adamant about casting unknowns in the lead roles. "The thing that is so good about the first one is that you met the characters and the actors in the film," he says. "And if you're making a movie about high school students striving to be successful, you can't hire superstars. You blur the lines and lose the heart."
In casting the principals, Tancharoen and casting directors Deborah Aquila and Mary Tricia Wood wanted to find, first and foremost, great actors. "It took a long time," he admits. "But I think we found the best of the best." Some of them have years of industry experience and one is making her acting debut, but, like their characters, they share a passion and love for performing.
Naturi Naughton
:
Finding Her Voice
Much like her character—Denise, the petite, shy singer with the knockout voice—Naturi Naughton found her calling through song. "I began singing when I was 5 years old, in my church choir," she says. "I remember holding that mike and how singing made me feel so alive. I found my purpose." But unlike her character, whose family disapproves of her pursuing a singing career, Naughton had her family's full support. Soon she was singing professionally, and by 14 she had joined the girl group 3LW (an acronym for "three little women"). The trio not only toured with the likes of Destiny's Child and 'N Sync, but its debut album went platinum.
After leaving the group in 2002, Naughton enrolled in Seton Hall University and left music behind, but she continued to audition for acting roles. A friend who was serving as her manager called casting director Bernard Telsey, who agreed to see Naughton for the part of Joanne in "Rent." Unfortunately, she was told she was "way too young, too small, and looked nothing like a lawyer," the actor recalls.
But Telsey complimented her voice and continued to bring her in for auditions. She came close to getting cast in the Broadway productions of "The Color Purple" and "Little Shop of Horrors." "I wanted 'Little Shop' so bad," she says. "They were looking for three urchins and started with 50 girls at the callback. I made it to the final four and was cut. It was heartbreaking, but I know now it was meant to be. Because if I had gotten that role, I wouldn't have been able to audition for 'Hairspray.' " After six months as Little Inez in the touring production of "Hairspray," Naughton was offered the role on Broadway—a dream come true.
She had a similar experience auditioning for director Denzel Washington for the film "The Great Debaters." It was a role she desperately wanted, but had she booked it, she wouldn't have been able to play rapper Lil' Kim in "Notorious," the film biography of the Notorious B.I.G. Naughton says casting director Twinkie Byrd not only pushed for her in the part, but also introduced her to her agent, Ryan Daly at Innovative Artists. "I owe so much to casting directors," she says. "So many of them took chances on me and saw something in me, and that's a huge part of why I'm where I am today."
She also praises Aquila for helping her through the arduous casting process for "Fame": "On my first audition, I walked into the room and sang, and Deb was instantly supportive. She was like, 'I love this girl.' " Aquila brought her back for Tancharoen, and Naughton went through two callbacks before being flown to L.A. for a screen test. "It was months and months of work," she says. "When they finally called to say I got it, I started laughing and crying at the same time. It was such a long journey."
Naughton learned to play piano for the part, which she does onscreen while belting "Out Here on My Own." After filming "Fame," she returned to New York to wrap up the Broadway run of "Hairspray," which closed Jan. 4. Up next, she will appear opposite Ice Cube and Bow Wow in the film "Lottery Ticket." And there is already buzz surrounding her performance in "Fame"—which brings with it an unexpected advantage. "People have always struggled with pronouncing my name," she says. "But thanks to 'Fame,' no pun intended, they're remembering my name."
Walter Perez
:
Little White Lie
When Walter Perez walked in to audition for the role of Victor, he used an interesting tactic: He lied. "Victor is a self-taught musician and plays several instruments, so they asked me if I could play any instruments," Perez recalls. "And I said, 'Yes, of course.' It wasn't a total lie, because I do have a keyboard at home, and I played the accordion when I was younger." Once he landed the part, Perez had two months to become familiar with piano, organ, and drums. He had one advantage, however. "I play a lot of Rock Band," he says. "And honestly, it's probably the closest thing to really learning the drums. So if you can't afford a big drum set, buy yourself Rock Band!"
Perez, who grew up south of Los Angeles in the primarily Latino community of South Gate, has been performing as long as he can remember. At 7 he picked up his father's video camera, dressed as Charlie Chaplin, and made little films. He and his sister would occasionally collaborate on projects, such as their own episode of "Cops" or a fake infomercial. In high school he became involved with a nonprofit organization called Colors United, which exposed inner-city kids to the performing arts. "That was my training," he says. "We had professional instructors for every art."
Perez earned a B.A. in criminal justice from Cal State Fullerton, but he never stopped auditioning, earning guest spots on series such as "CSI: Miami" and "The Closer." "My professors were great, because I would always seem to book a show right around midterms or finals," he says. "They would say, 'Okay, you can make the test up this Saturday. But you've got to bring a copy of your TV show when it comes out.' "
When his agent, Garry Purdy at Momentum Talent and Literary Agency, sent him to audition for "Fame," Perez didn't initially realize it was connected to the movie and TV series. "I wasn't intimidated until I looked it up and realized it was the 'Fame,' " he admits. "Then I got nervous." Tancharoen says that down-to-earth attitude impressed him at the audition. "He was the last person I saw for Victor, and he was such a breath of fresh air," the director reveals. "I wanted someone who felt real and natural, someone who I wanted to be best friends with. With young actors it can be hard, because they get a little concerned about the wrong things sometimes, whether it be hair gel or their V-neck or something. Walter walked in with a baseball cap and big shirt and ripped-up jeans and dirty tennis shoes—I already liked him. And when he started talking, he was just like your friend from high school. He was perfect."
Perez has the independent film "Emilio" in the can, and a few other projects lined up, but he's hesitant to say too much. "It's not set in stone, so I don't want to jinx myself," he says. But he looks forward to doing more parts that aren't dependent upon ethnicity. "Most roles I go out for are very specific: They're for Latinos. I'm grateful for those auditions, but I'd like to widen that range."
Kherington Payne
:
Dancing Queen
A little over a year ago, Kherington Payne decided on a whim to audition for one of her favorite shows, "So You Think You Can Dance." Though she'd started taking lessons at 2, she had never considered going out for the show until her mother told her it was auditioning in Los Angeles. "I just decided to go and see what would happen," Payne says. "And it turned out to be amazing." She reached the top 10 in the fourth season, and her skill, combined with her upbeat personality, made her a crowd favorite.
Tancharoen admits that Payne wasn't the only performer they saw from the reality program: "We had a whole waiting room full of 'So You Think You Can Dance' stars. I was very ambitious about getting good dancers. I didn't want to use doubles; I wasn't going to cut away to try and cover anything up. But a lot of the great actors we saw couldn't dance. So we thought we'd call in dancers to see if they could act." Payne had a solid first audition and returned for a callback. She then met with an acting coach, her first professional lesson ever. A week after her second round, she found out she'd been cast. "We all knew Kherington could dance her ass off," Tancharoen says. "But as soon as we saw she could act, we cast her."
Payne plays Alice, the rich, beautiful girl who also happens to be the best dancer in school—in other words, "the girl you kind of hate for having it all," Payne says with a laugh. Alice ends up falling for Victor, who comes from a totally different social class, and Payne's role required love scenes with Perez. "Walter has more experience acting, so he helped guide me a lot," she says. "And he's a great friend, which helped our chemistry." Asked what the hardest part of the shoot was, she says, "The acting. I didn't want to be bad." She was far more confident about the dancing, which is second nature to her after so many years. Still, she had only two weeks to learn several complicated numbers.
Since landing "Fame," Payne has added acting agents Bonnie Lidetke and Thor Bradwell at William Morris Endeavor to her dance agent and is hoping to enroll in an acting class soon. "I've been so busy with the movie, I haven't had a chance to find a course," she says. "But it's not something I take lightly. I really want to learn the craft."
Collins Pennie
:
In Character
Collins Pennie walked into his audition determined to win the role of rapper Malik, a character that Pennie felt a special connection to. "I share a lot in common with Malik's struggle," says the actor-musician. "Neither of us had a lot of support to get where we are. I've been homeless and slept on park benches. But somehow I found the determination and the will power to get where I am today. Malik is the same."
Pennie grew up in the projects of Brooklyn, N.Y., and from an early age had an interest in performing but not the opportunity. "So I created my own little fantasyland," he says. "I would teach myself to sing and dance and watched a lot of movies and read books." At 15, he struck out on his own: "I had gone through foster care and been in juvie, and I wasn't getting anywhere in the system, so I ran away. I wanted to fight for my dream."
Pennie began pounding the pavement, dropping off his headshot at offices and taking classes when he could. If he couldn't afford them, he would audit; if he couldn't audit, he snuck in. If that failed, he went to a bookstore and read everything he could about acting. "I was honing my craft," he says, "so when the opportunity presented itself, I would be ready."
He landed his first agent because he had used his mother's house as the return address on his submission and the street happened to be the same as that of the agent's mother. "She told me that normally they don't have time to look through all the packages they receive," says Pennie, who is repped by Payne's agen ts, Lidetke and Bradwell at William Morris Endeavor. "But something told her to look at mine because of the coincidence. It was fate." He also had the assistance of actor Courtney B. Vance, whom he'd met at church and who has become his mentor. "Courtney has helped me throughout my career and is still helping me to this day," Pennie says. "He really guides me through all the decisions I need to make, and he even coaches me for some auditions."
After guest spots on series such as "Law & Order" and "Without a Trace," Pennie auditioned for a small indie film he had found in the casting section of Back Stage. That was "Half Nelson," which won two Independent Spirit Awards and earned an Oscar nomination. He continued to show his range in the thriller "Prom Night" and the comedy "Fired Up!" But in "Fame" he has by far his most significant role to date, and he was so set on playing Malik that he spent the entire audition in character. "At first I thought, 'Oh my God, this guy's a jerk,' " Tancharoen says. "But he wasn't that guy. He said later that he had to be in character or he wouldn't be able to go through the audition."
In addition to acting in the film, Pennie also got to restructure and rewrite the "Fame" theme song. "That was amazing," he marvels. "To redo one of the most popular, famous songs of all time." He is currently working on an album and will play the lead in the film "Beat the World." After that, perhaps he can take a break? "I don't believe in vacation," Pennie says with a laugh. "I've waited so long to get to this point, I want to keep it going."